Scores of countries are over pumping aquifers as they struggle to satisfy their growing water needs, including each of the big three grain producers—China, India, and the United States. These three, along with a number of other countries where water tables are falling, are home to more than half the world's people.
There are two types of aquifers: replenishable and nonreplenishable (or fossil) aquifers. Most of the aquifers in India and the shallow aquifer under the North China Plain are replenishable. When these are depleted, the maximum rate of pumping is automatically reduced to the rate of recharge.
For fossil aquifers—such as the vast U.S. Ogallala aquifer, the deep aquifer under the North China Plain, or the Saudi aquifer—depletion brings pumping to an end.
World Bank reports: "Anecdotal evidence suggests that deep wells [drilled] around Beijing now have to reach 1,000 meters [more than half a mile] to tap fresh water, adding dramatically to the cost of supply." In unusually strong language for a Bank report, it foresees "catastrophic consequences for future generations" unless water use and supply can quickly be brought back into balance.
Saudi Arabia, a country of 25 million people, is as water-poor as it is oil-rich. Relying heavily on subsidies, it developed an extensive irrigated agriculture based largely on its deep fossil aquifer. After several years of using oil money to support wheat prices at five times the world market level, the government was forced to face fiscal reality and cut the subsidies. Its wheat harvest dropped from a high of 4.1 million tons in 1992 to 1.2 million tons in 2005, a drop of 71 percent.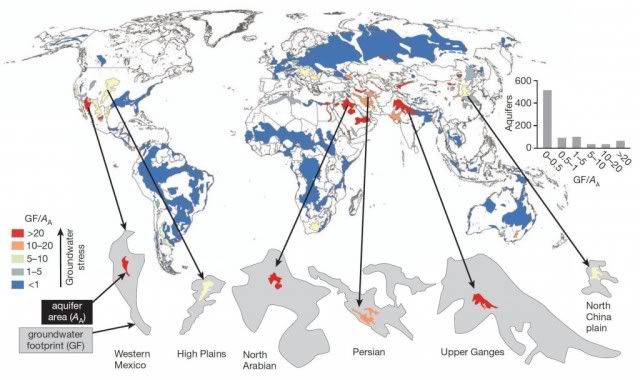 Link to Larger Version of Map
Ogallala Aquifer is the largest underground freshwater supply in the world, stretching from South Dakota all the way to Texas. It's underneath most of Nebraska's farmlands, and it provides crucial water resources for farming in Colorado, Kansas, Oklahoma and even New Mexico. It's called the Ogallala Aquifer, and it is being pumped dry.
This ancient freshwater was created eons ago and trapped underground in huge reservoirs, or aquifers. And like oil, no one knows how much there is—but experts do know that when it's gone, it's gone.
According to the National Geographic, When aquifers are depleted, they can be subject to an influx of surrounding contaminants such as saltwater—a particular problem near coastal areas. Also, like oil fields, depleting fossil water aquifers too quickly can reduce underground pressures and render large quantities of water essentially irretrievable.
USDA reports that in parts of Texas, Oklahoma, and Kansas-—three leading grain-producing states-—the underground water table has dropped by more than 30 meters (100 feet). As a result, wells have gone dry on thousands of farms in the southern Great Plains. Although this mining of underground water is taking a toll on U.S. grain production, irrigated land accounts for only one-fifth of the U.S. grain harvest, compared with close to three-fifths of the harvest in India and four-fifths in China.
No water means no irrigation for the corn, wheat, alfalfa and other crops grown across the world to feed people and animals. And each year, the Ogallala Aquifer drops another few inches as it is literally being sucked dry by the tens of thousands of agricultural wells that tap into it across the heartland of America.
The Encyclopedia of Earth notes "Since the over pumping of aquifers is occurring in many countries more or less simultaneously, the depletion of aquifers and the resulting harvest cutbacks could come at roughly the same time. And the accelerating depletion of aquifers means this day may come soon, creating potentially unmanageable food scarcity.
Countries Overpumping Aquifers in 2005
Country -- Population (million)
China 1,316
India 1,103
Iran 70
Israel 7
Jordan 6
Mexico 107
Morocco 31
Pakistan 158
Saudi Arabia 25
South Korea 48
Spain 43
Syria 19
Tunisia 10
United States 298
Yemen 21
Total 3,262