Often, when I get depressed, I scan for articles about developments in solar, wind, tidal, geothermal, and other kinds of renewable energy generation. Good news seems to be easily found in these areas. My brain is tired, so I'm just sharing links to these six articles without my usual pictures, analysis, attempts at humor, and wit, to see if I can get started today before it is time for bed.
The Economist reports A way to double the efficiency of solar cells is about to go mainstream.

SUNLIGHT is free, but that is no reason to waste it. Yet even the best silicon solar cells—by far the most common sort—convert only a quarter of the light that falls on them. Silicon has the merit of being cheap: manufacturing improvements have brought its price to a point where it is snapping at the heels of fossil fuels. But many scientists would like to replace it with something fundamentally better.

John Rogers, of the University of Illinois, Urbana-Champaign, is one. The cells he has devised (and which are being made, packaged into panels and deployed in pilot projects by Semprius, a firm based in North Carolina) are indeed better. By themselves, he told this year's meeting of the American Association for the Advancement of Science, they convert 42.5% of sunlight. Even when surrounded by the paraphernalia of a panel they manage 35%. Suitably tweaked, Dr Rogers reckons, their efficiency could rise to 50%. Their secret is that they are actually not one cell, but four, stacked one on top of another. ...

Dr Rogers gets round this by using a different material for each layer of the stack. He chooses his materials so that the bottom of the band gap of the top layer matches the top of the band gap of the one underneath, and so on down the stack. Each layer thus chops off part of the spectrum, converts it efficiently into electrical energy and passes the rest on.
Dr Rogers has overcome the cost barrier of the expensive materials needed for these "tuned" semi-conductors by placing them in a matrix of half a millimeter wide dots covered with a larger array of cheap glass lenses which focuses light from a much larger surface area onto the smaller more expensive photovoltaic material. This article is filled with brilliant production engineering innovation details for the more interested reader.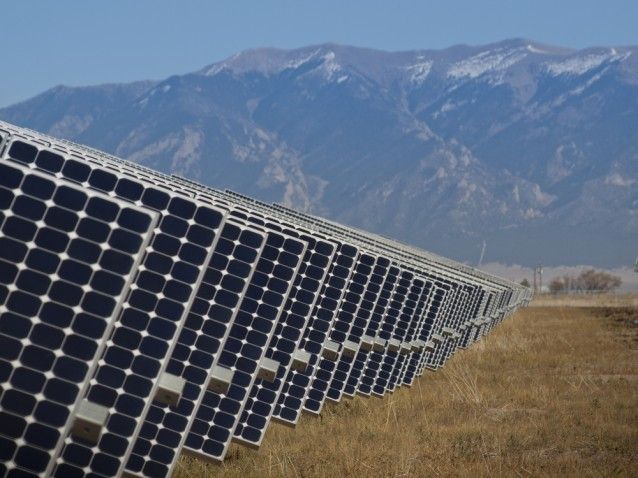 Photocredit: Shutterstock
Kiley Kroh, of Think Progress reports that 99 Percent Of New Power Generation Added In January Came From Renewable Energy


More than 99 percent of new electric capacity added in the U.S. in January came from renewable energy sources, according to data released by the Federal Energy Regulatory Commission (FERC) on Thursday.

Of the 325 megawatts of new capacity installed, solar led the way with 287 megawatts added in January. That was followed by geothermal power with three new units totaling 30 megawatts, one new unit of wind energy with an installed capacity of 4 megawatts, and three new units of biomass totaling 3 megawatts. In addition, there was 1 megawatt added that FERC defined as "other." ...

Big picture aside, the immediate renewable energy trend is clear. January's noteworthy numbers mirror those from several months last year — in November, 100 percent of the 394 megawatts of new capacity added came from renewable sources. In October, 699 megawatts were added, 99 percent of which came from renewable sources. And in March, 100 percent of new electrical generation capacity came from solar, as seven units with a total combined capacity of 44 megawatts were added.

From Micheal Freeman, of The Orlando Sentinel, we learn, New solar panels heating up energy in Winter Park.

It's now official: Winter Park has installed its rooftop solar panels at the Public Works Compound at 1409 Howell Branch Road, making the city a trailblazer in the use of solar energy as a way to deliver electricity to residents.

The city's electric utility director, Jerry Warren, used Valentine's Day to show off the new solar photovoltaic panels, calling it "a huge step for the city as it relates to entering into a more sustainable energy source." ...

This project, developed by Clean Footprint and ESA Renewables – a solar company that's also based in Florida -- generates 100 kilowatts of energy. ... This has become the city's first, largest and only solar energy project to date.

On a less encouraging note, Market Watch informs us that
The world's 'dumbest trade war' is being fought over solar panels.

The "world's dumbest trade war" is the spat between the U.S. and China over solar panels, according to an article on Slate. But it's not just dumb: it could threaten the future of solar power, the online magazine says.

Cheap and plentiful solar panels from China have fueled the boom in rooftop solar systems. But now that the U.S. is threatening to slap new tariffs on them, China could retaliate by slapping more duties on U.S. manufactured polysilicon, a key component of the panels, the article says.

It all started when the U.S. division of Germany's SolarWorld AG started lobbying the federal government for an investigation on alleged duty evasion. The Chinese Ministry of Commerce followed with a call to stop the probe, asking the U.S. government to be "prudent" in taking any further measures.

Lauren Williams, of Think Progress, asks
Could A Solar-Powered Currency Be The Next Bitcoin?
Oddly, enough, I find this article a little depressing, as well, since it reminds me that there are several aspects about this whole "Bitcoin" phenomena that I still don't understand even after several smart Kossacks have explained it to me.
A new digital currency that rewards solar panel users could not only encourage more people to switch to solar energy but provide a new, more stable model for future alternative currencies.

SolarCoin debuted last month and builds on the same technology as Bitcoin — the popular cryptocurrency most notable for attracting an online criminal element. Like Bitcoin's decentralized model, anyone can get SolarCoins by buying them via Twitter or helping create digital coins through mining. What separates the two is that instead of relying on mining, which involves solving complex math puzzles, SolarCoins are incentives for homeowners who use solar panels.

Consumers earn SolarCoins just by using the solar panels installed on their home or business. SolarCoin checks solar homeowners' meters to verify that they are producing solar energy and rewards them with coins. That passive approach, where consumers can simply earn money just by doing something they believe in, could be what makes the new currency more sustainable than other alternative currencies.

The more they try to explain it, the more confused I get. For example:

Still, at minimum, SolarCoin, which says its model is 50 times more energy efficient than Bitcoin, is an altruistic way for renewable energy advocates to show support and grow the solar community, Honeyman said. "The good thing is that there's a huge opportunity for homeowners," apartment complex owners and those who aren't solar generators to contribute to the cause, Honeyman said.

No matter how much I concentrate today, I don't have even the slightest clue about what this means. I do find it slightly amusing, and encouraging, that my lack of understanding doesn't prevent me from writing about it anyway. This proves the old adage, "if at first you don't succeed, lower your standards."
From AgriNews, we read Huge thermal plant opens as the industry grows
The Ivanpah Solar Electric Generating System, sprawling across roughly five square miles of federal land near the California-Nevada border, is formally opening after years of regulatory and legal tangles ranging from relocating protected tortoises to assessing the impact on Mojave milkweed and other plants.

The $2.2 billion complex of three generating units, owned by NRG Energy Inc., Google Inc. and BrightSource Energy, can produce nearly 400 megawatts — enough power for 140,000 homes. It began making electricity last year. ...

Using technology known as solar-thermal, nearly 350,000 computer-controlled mirrors roughly the size of a garage door reflect sunlight to boilers atop 459-foot towers. The sun's power is used to heat water in the boilers' tubes and make steam, which drives turbines to create electricity.
Well, I hope you found this interesting.
9:56 PM PT: Thanks to New Minas for explaining the artistic aspect of this new kind of solar photovoltaic. Because of the way the light is absorbed by the solar cells, artwork can be printed on them without interfering with their efficiency. I skipped this beautiful picture in the original post because I thought it was just a gratuitous pix. Only now do I realize it was one of the most interesting aspects of the article.