This post follows from President Obama suspends U.S. participation in G-8 preparation in 90 minute call to Validimir Putin which contains updates through midnight last night.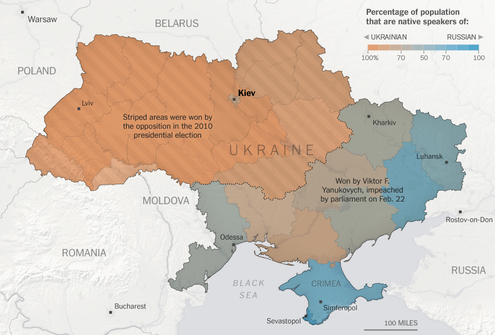 Steven Erlanger, of the New York Times warns us that After Initial Triumph, Ukraine's Leaders Face Battle for Credibility. Observers quoted in this article seem to agree that the new government of Ukraine is off to a rocky start and needs to reach out to Russian-speaking political leaders in the eastern regions and include them in the new government.

The challenges for Ukraine's new leaders are many and varied. With President Vladimir V. Putin of Russia now openly intent on a military showdown over control of Crimea, the government faces a powerful test of Ukraine's territorial integrity. Demonstrations are growing in the Russian-speaking east of the country, underscoring the tenuous nature of the government's control there. Washington and Brussels, Kiev's only hopes at this point for the aid necessary to avert economic collapse, are scrambling to deliver and have shown no desire for an armed confrontation with Russia.

As it met for the first time on Saturday in an air of crisis, the new government also faced questions of credibility, legitimacy and inclusiveness arising from the way in which it came to power. ... "You have a revolution, with unelected guys seizing power," said Andrew Wilson, a Ukraine expert at the European Council on Foreign Relations.

"The people on the Maidan might be right, they might be martyrs, and they have good arguments, but no one elected them," he said. "You need to get real politics and competition and more legitimacy. Of course, the counterargument is just concentrate on economy. But the credibility question is tearing the country apart, and the transfer of power cut a lot of corners constitutionally."

The new government has few representatives of the Russian-speaking industrial heartland in the east, and the area that includes what previously was the most popular political party, the Party of Regions. Instead, the new government is made up mostly of those associated with former prime minister Yulia V. Tymoshenko.
Also, the representatives of the new government erred strategically by overturning a law that allowed regions to make Russian an official second language, an action particularly offensive to the people of Crimea.
Ukraine is also dependent on Russia for financial aid, favorable customs duties, energy supplies - especially Russian Gas, and would be highly vulnerable to trade sanctions. Also, the eastern regions contain a majority of pro-Russian citizens.
Also, the new acting president, Oleksandr V. Turchynov, and interim prime minister, Arsenly P. Yatsenuk, were shocked on Sunday afer they got their first look at Ukraine's accounts. Apparently loans worth $37 billion are gone, and PM Yatsenyuk has alleged that as much as $70 billion was sent out of the country during former President Yanukovych's tenure.

"I want to report to you — the state treasury has been robbed and is empty," Mr. Yatsenyuk told Parliament. Last year, according to the economist Anders Aslund of the Peterson Institute for International Economics, Ukraine's current-account deficit was an estimated 8.3 percent of gross domestic product. Its foreign-currency reserves cover just over two months of imports. The budget deficit is nearly 8 percent of G.D.P., he said, and the economy has been in recession since mid-2012.
If we in the West want to improve the prospects of Ukraine remaining independent we will need to move quickly to offer more support, and perhaps more pressures than threatening to skip the next G-8 meeting in Solchi. We, and our western allies should consider suspending Russia's membership in the G-8, and consider sanctions on specific Russian's including international travel bans, and freezing assets.
7:18 AM PT: On Fareed Zakaria's GPS, former Secretary of State Madelene Albright, and former National Security Advisor, Zbiginiew Brzezinski, both urge greater support for Ukraine's new government, including recognition for the new government and stronger sanctions, although Albreit seems urges greater caution. And, believes Putin may have made a tremendous miscalculation that will cost him greatly internally, and he must pay a tremendous cost externally, by isolation from the West.