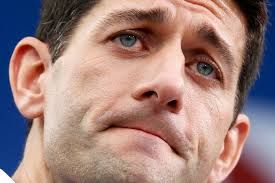 Representative Paul Ryan has called for cuts to welfare, child care, college grants, social safety nets, and just about every good government program for working, poor sick, or elderly people in his new budget proposal, under his brilliant theory that since poverty still exists, our existing social programs are not working!
Seriously! What else can one say, than WTF? (h/t Joan McCarter's Seriously, Florida. WTF? who has solved many of our future titling challenges. My people are talking to her people about a general sub-licensing program where other authors can use this format for a modest commission of 5% of related recs.) The LATimes gives us the sad, shocking, and pathetic details, but needs a warning label, MBRS, for Mind Boggling Republican Stupidity.

WASHINGTON — Rep. Paul D. Ryan (R-Wis.), the former Republican vice presidential nominee, launched an attack Monday on the nation's poverty programs, provoking an election-year confrontation with the White House amid a growing focus on income inequality.

Drawing on his political roots as a student of conservative anti-poverty thinkers, the House Budget Committee chairman said many aspects of the expansion of the federal safety net since President Johnson's "War on Poverty" 50 years ago were "making it worse." ... Welfare, child care, college Pell grants and other assistance programs are all under the budget guru's ax in a lengthy critique released in advance of President Obama's own budget rollout.
The inside political skinny is that Ryan is positioning himself for the 2016 GOP nomination, and is attempting to preempt President Obama's fiscal 2015 budget announcement, today, which is expected to shift tax benefits from the wealthy to the poor, as anyone with any compassion and commonsense would do. Ryan demonstrates that the "new improved GOP, is the same as the old GOP, and does not mind risking "alienating moderate and independent voters" with right-wing zealotry.
The theory that we can help the poor, improve poverty by slashing our already savaged government programs for our poorest, as well as our investments in helping to achieve greater prosperity and income equality, is so intellectually bankrupt that I am left nearly speechless. The fact that Paul Ryan can look us right in the eyes with his sly doe like smile, while he spouts this ideological and duplicitous crap, alerts us to his own hypocritical and, perhaps even sociopathic, and soulless core.
Paul Ryan lacks compassion for the needy, and lacks an understanding of the need to invest in programs to improve our working people's ability to generate economic growth. Many of these programs are not consumption, or "waste," but rather investments in a better future for all of us, as seen most clearly in college grants, and investments in child welfare, health, and education.
Representative Chris Van Hollen, (D-MD), our ranking House Budget Committee member sums up our reaction, skillfully, saying Ryan's report "is simply laying the groundwork to slash social safety-net programs."
"The GOP has never really given up on Mitt Romney's attack on the 47%," Van Hollen said, referring to the former presidential candidate's apparent dismissal of those Americans he said were dependent on the government.

Ryan's 204-page report concludes that the expansion of anti-poverty programs, which number more than 90 and cost almost $800 billion last year, have done little to achieve President Johnson's Great Society goals. The 17.3% poverty rate in 1965 is not much different from today's 15%.

The liberal leaning Center for Budget and Policy Priorities, points out the obvious - "without federal assistance, more Americans would probably be in poverty."
What's next? Will Ryan conclude that because international instability and threats to our security still exist, we should slash defense spending? Don't hold your breath. Republican theories about "trickle down deprivation," are only good for the poor, working class, and most needy.