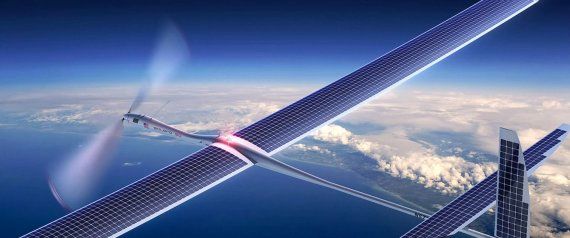 Alexis Kleinman reports, Facebook Reportedly Wants To Use Drones To Actually Make The Web Worldwide, as a humanitarian effort to bring Internet to people in remote parts of the world.

TechCrunch reported Tuesday that according to anonymous sources, Facebook is in talks to buy a drone company in order to bring Internet access to people around the world who don't have it otherwise. The social network is one of the founding members of Internet.org, a group working to make the Internet accessible to the two-thirds of the world not connected. According to TechCrunch, Facebook is looking to spend $60 million on Titan Aerospace, which makes huge unmanned aerial vehicles (UAVs).

One of Titan's UAVs, called the Solara 60, can stay in flight for around five years. Facebook plans to build 11,000 Solara 60s and use them to bring Internet access to Africa, according to TechCrunch. ...

In an interview last year with CNN, Zuckerberg said Facebook had a "rough plan for what we think we're going to need to do" in order to bring 5 billion more people online. Zuckerberg said that the Internet.org plan isn't about money, but rather, "we just believe that everyone deserves to be connected and on the Internet."

Kleinman observes that such a charitable plan would also create more customers for Facebook, but concludes this is a net benefit for the world.