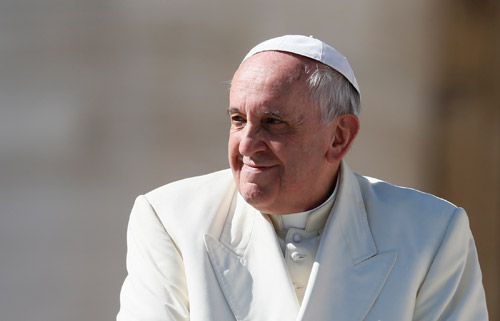 Photo Credit: The Catholic News Service
Pope Francis says The Catholic Church may be able to tolerate some forms of civil unions for same sex couples, reports The Catholic News Service. While somewhat tepid by today's standards, for a Pope of the Catholic Church this seems like a significant step forward.

VATICAN CITY (CNS) -- Pope Francis suggested the Catholic Church could tolerate some types of nonmarital civil unions as a practical measure to guarantee property rights and health care. He also said the church would not change its teaching against artificial birth control but should take care to apply it with "much mercy."

In the wide-ranging conversation with the paper's editor-in-chief, Ferruccio de Bortoli, the pope defended the church's response to clerical sex abuse and lamented that popular mythology has turned him into a kind of papal superhero. He also addressed the role of retired Pope Benedict XVI and the church's relations with China.

"Matrimony is between a man and a woman," the pope said, but moves to "regulate diverse situations of cohabitation (are) driven by the need to regulate economic aspects among persons, as for instance to assure medical care." Asked to what extent the church could understand this trend, he replied: "It is necessary to look at the diverse cases and evaluate them in their variety."

Pope Francis' comments also reflected a new found flexibility in church doctrine.
Asked if the church's teachings on sexual and medical ethics represented "non-negotiable values," a formulation used by Pope Benedict XVI, Pope Francis said he had "never understood the expression 'non-negotiable values.'"

"Values are values, period," he said. "I cannot say that, among the fingers of a hand, there is one less useful than another. That is why I cannot understand in what sense there could be negotiable values."
When asked about the global pedophilia scandals, The Pope responded:
Pope Francis said cases of sex abuse by priests had left "very profound wounds," but that, starting with the pontificate of Pope Benedict XVI, the church has done "perhaps more than anyone" to solve the problem.

That loud thundering sound is that of right-wing extremist rushing to check their bibles. "Is the Pope allowed to say this?" I have not heard, yet, if Rush Limbaugh has accused the Pope of propagating anti-religious values.
By modern standards, accepting only civil unions does not go far enough, however, on a day when he is taking such an enormous step forward, I'm inclined to congratulate him. This Pope Francis has shown much courage leading his spiritual community in more hopeful new directions, and I like his personality and vitality, even though I'm a scientific humanist.