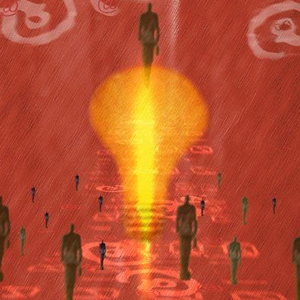 Commentary: African American Scientists and Inventors
by Black Kos Editor, Sephius1


Herman Russell Branson (August 14, 1914 – June 7, 1995) was an African American physicist, best known for his research on the alpha helix protein structure. He was also the president of two colleges.
Branson received his B.S. from Virginia State College in 1936, and his Ph.D. in physics from the University of Cincinnati, under the direction of Boris Padowski, in 1939. After a stint at Dillard University, he joined Howard University in 1941 as an assistant professor of physics and chemistry. He remained at Howard for 27 years, achieving increasingly important positions, eventually becoming head of the physics department, director of a program in experimental science and mathematics, and working on the Office of Naval Research and Atomic Energy Commission Projects in Physics at Howard University.
In 1948, Branson took a leave and spent time at the California Institute of Technology, in the laboratory of the chemist Linus Pauling. There he was assigned work on the structure of proteins, specifically to use his mathematical abilities to determine possible helical structures that would fit both the available x-ray crystallography data and a set of chemical restrictions outlined by Pauling. After some months of work, Branson handed in a report narrowing the possible structures to two helixes, a tighter coil Pauling termed "alpha," and a looser helix called "gamma." Branson then returned to Howard to work on other projects.
(con't.)
Branson went on to a significant career, eventually serving as president of Central State University in Wilberforce, Ohio, from 1968–1970, and then president of Lincoln University until his retirement in 1985. He was active in increasing federal funding for higher education, and helped found the National Association for Equal Opportunity in Higher Education in 1969.
In 1984 Branson wrote Pauling biographers Victor and Mildred Goertzel implying that his contribution to the alpha helix had been greater than the final paper indicated. "I took my work to Pauling who told me that he thought they [the proposed alpha and gamma helixes] were too tight, that he thought that a protein molecule should have a much larger radius so that water molecules could fit down inside and cause the protein to swell," he wrote. "I went back and worked unsuccessfully to find such a structure." When he received Pauling's note with the draft manuscript, Branson wrote, "I interpreted this letter as establishing that the alpha and gamma in my paper were correct and that the subsequent work done was cleaning up or verifying. The differences were nil.
Branson was co-inventor of the alpha helix and perhaps deserved a share of the Nobel prize. As the story goes somehow Linus Pauling got Branson excluded from the prize [new Yorker mag]....Read More
~~~~~~~~~~~~~~~~~~~~~~~~~~~~~~~~~~~~~~~~~~~~~~~~~~~
News by dopper0189, Black Kos Managing Editor
~~~~~~~~~~~~~~~~~~~~~~~~~~~~~~~~~~~~~~~~~~~~~~~~~~~

~~~~~~~~~~~~~~~~~~~~~~~~~~~~~~~~~~~~~~~~~~~~~~~~~~~
Instead of growing Afros, staging riots or organizing sit-ins, the millennial generation of protesters are crafting witty digital projects to rally themselves. The Root: Black College Students Launch Artistic Social Media Campaigns About Race.
~~~~~~~~~~~~~~~~~~~~~~~~~~~~~~~~~~~~~~~~~~~~~~~~~~~
The 1990s babies matriculating at top-tier universities are in the midst of active protest. They have been for a while now.
Back in November, several black students at the University of Michigan launched a social media campaign on Twitter, using the hashtag #BBUM, an acronym for "being black at the University of Michigan," to describe their unique and often irritating experiences as black students at a predominantly white school. Among their frustrations were the usual: hearing how they gained admission because of affirmative action policies; not being "black enough" because they achieved excellent grades and "sounded white"; having to be the spokesmen and -women for black America in history class; or, on the other side of that spectrum, being ostracized because they weren't acclimating to their new settings fast enough and instead were choosing to be rowdy, urban or culturally demonstrative on campus.
News of the campaign spread, and black students from peer schools like Cornell University and Duke University adopted the idea to articulate their own sentiments. But as is the norm for high-achieving students, these digital protests could no longer be contained in 140 characters and are now evolving beyond tweets. The black students at Harvard and Georgetown universities are kicking up the effort a few notches and incorporating a visual element into their respective demonstrations.
At Harvard, several black students took pictures of one another holding up signs with statements and questions that have been posed to them by their white peers (and, at times, by other black students). Their campaign is hosted on Tumblr and is promoted and shared using the #itooamharvard hashtag. There's also an accompanying video production about the campaign that will premiere on March 7. The visuals are compelling narratives and all relate to race:


~~~~~~~~~~~~~~~~~~~~~~~~~~~~~~~~~~~~~~~~~~~~~~~~~~~
For 17 years, the American Black Film Festival has celebrated diversity in the motion picture industry. The Grio: American Black Film Festival aims to discover new talent with Star Project.
~~~~~~~~~~~~~~~~~~~~~~~~~~~~~~~~~~~~~~~~~~~~~~~~~~~
Each year, Film Life Inc. has hosted a four-day event honoring black film creators and artists in TV and film and highlighting the work of established professionals.
Since 2009, ABFF has teamed up with the Star Project in hopes of discovering new talent and presenting them with exciting career opportunities in the field.
The sixth annual Star Project, which is sponsored by NBCUniversal, is an annual contest targeted to minority individuals who are aspiring to be actors and actresses. TheGrio is owned by MSNBC, which is a property of NBCUniversal.
The competition is now open and is accepting submissions through March 17 when six finalists will be chosen – three male and three female actors.


(Image courtesy of NBCUniversal)
~~~~~~~~~~~~~~~~~~~~~~~~~~~~~~~~~~~~~~~~~~~~~~~~~~~

~~~~~~~~~~~~~~~~~~~~~~~~~~~~~~~~~~~~~~~~~~~~~~~~~~~
Hate groups thickest in the South, but the largest numbers are in California. Washington Post: Where the nation's hate groups live.
~~~~~~~~~~~~~~~~~~~~~~~~~~~~~~~~~~~~~~~~~~~~~~~~~~~
Eleven Southern states are home to more than 500 groups that promote hate speech, according to a detailed breakdown by the Southern Poverty Law Center. But it's California that is home to the largest number of organizations that preach hate, the center found.
The SPLC tracks 939 active groups that promote racial, ethnic or religious segregation or hate. The eight types of hate groups the center has identified include white nationalists, black separatists, neo-confederates, Christian identity, skinheads, Ku Klux Klans and neo-Nazis, along with a handful of miscellaneous groups.
California has 77 such groups, while Florida and Texas are home to 58 and 57 hate groups, respectively. Here's the SPLC's map of where hate groups live:


Source: Southern Poverty Law Center
~~~~~~~~~~~~~~~~~~~~~~~~~~~~~~~~~~~~~~~~~~~~~~~~~~~


~~~~~~~~~~~~~~~~~~~~~~~~~~~~~~~~~~~~~~~~~~~~~~~~~~~
President Barack Obama's choice to head the Justice Department's civil rights division has failed a Senate test vote and his confirmation is in jeopardy. The Grio: Senate blocks President Obama's pick for civil rights post.
~~~~~~~~~~~~~~~~~~~~~~~~~~~~~~~~~~~~~~~~~~~~~~~~~~~
The vote was 47-52, short of the needed majority.
The controversy over Debo Adegbile (DAY-bow uh-DAYG-buh-lay) stems from legal representation of a man imprisoned in the murder of a Philadelphia policeman decades ago.
It was unclear what the next step will be for his supporters. Several Democrats joined all Senate Republicans in voting to prevent confirmation.
Adegbile was at the NAACP Legal Defense fund when the organization began representing Mumia Abu-Jamal, who was appealing his conviction in the killing in 1981 of a police officer.
The vote marked the first time a nominee has stalled since Democrats restricted critics' abilities to block confirmations.


NAACP Legal Defense and Educational Fund Special Council Debo Adegbile talks to reporters outside of the U.S. Supreme Court. Adegbile argued before the court in Shelby County v. Holder, a legal challenge to Section 5 of the Voting Rights Act.
(Photo by Chip Somodevilla/Getty Images)
~~~~~~~~~~~~~~~~~~~~~~~~~~~~~~~~~~~~~~~~~~~~~~~~~~~
With the announcement of the My Brother's Keeper initiative last week, President Obama unveiled his first effort explicitly aimed at the social and economic dimensions of racial injustice after nearly five years in office. Its focus on improving the life chances of men of color is welcome and badly needed. Color Lines: Four Ways to Go Beyond "My Brother's Keeper".
~~~~~~~~~~~~~~~~~~~~~~~~~~~~~~~~~~~~~~~~~~~~~~~~~~~
President Obama unveiled his first effort explicitly aimed at the social and economic dimensions of racial injustice after nearly five years in office. Its focus on improving the life chances of men of color is welcome and badly needed. But there's an open question as to whether My Brother's Keeper is structured in a way that can make any difference.
The truth is that given the limited goals of My Brothers Keeper it may be too unambitious for the task required. That's because nearly half of black and Latino men in communities across the country are without work. The level of incarceration for black and Latino men is higher than the incarceration rate in many authoritarian regimes around the world with black and Latino men up to six times more likely to be jailed than whites. College completion levels for these men is the lowest of any other group in America.
But the way that My Brothers Keeper is set up makes it appear that we are at the beginning of a crisis rather than in the desperate throes of one. Its two main objectives—the generation of another study on the challenges facing men of color and the coordination of $200 million in private philanthropy in pilot programs in communities across the country over five years—underscore the point.
The reality is that the economic, educational and criminal justice disparities faced by black and Latino men have been studied exhaustively for the past 50 years. All the while the situation has worsened. That's because the issues facing men of color are systemic rather than individual, and systemic problems require widespread remedy.


President Obama speaks about the My Brother's Keeper Initiative at the White House on February 27, 2014. Photo: Win McNamee/Getty Images
~~~~~~~~~~~~~~~~~~~~~~~~~~~~~~~~~~~~~~~~~~~~~~~~~~~
The Senate Republican, who shunned the Congressional Black Caucus, may be looking for some black support back home. The Root: Why Is Tim Scott Suddenly on a Black-Revival Tour?
~~~~~~~~~~~~~~~~~~~~~~~~~~~~~~~~~~~~~~~~~~~~~~~~~~~
If you're looking into clues explaining Sen. Tim Scott's (R-S.C.) recent revival of blackness, look no further than a recent Winthrop University poll of South Carolina GOP voters.
It's odd that pollsters would even ask largely white Republican voters in a hard red Southern state how they feel about their black Republican senator's relationship with his black constituents. But, "fraught with racial complexity" was the response from a voting bloc that's 95 percent white. When asked if Scott reflected black South Carolinian values, 66 percent said he did. That answer begs several difficult, multifaceted questions, ranging from "Since when did white Southern Republicans care what African Americans think about Republicans?" to "How does Tim Scott feel about that?"
South Carolina Republicans, along with their favorite black native son, might be worried. Long in the pantheon of most reliable conservative states, South Carolina and its crimson red could be shifting into a lighter shade given the demographics. While Republicans easily grabbed the state by 10 percentage points in both the 2008 and 2012 presidential elections, African-American voter share is still a quarter of the Palmetto State electorate—and that slice is more than 90 percent Democrat. More worrisome for Republicans is that black South Carolina voting rates were higher than that of their white and mostly GOP counterparts during the 2012 election.
What else explains Scott's sudden obsession with being a black senator?


Sen. Tim Scott's (R-S.C.)
~~~~~~~~~~~~~~~~~~~~~~~~~~~~~~~~~~~~~~~~~~~~~~~~~~~


~~~~~~~~~~~~~~~~~~~~~~~~~~~~~~~~~~~~~~~~~~~~~~~~~~~
A UN-appointed expert has publicly disagreed with the world body and called for "full compensation" for the victims of a cholera epidemic in Haiti. BBC: Senior UN expert calls for Haiti cholera compensation.
~~~~~~~~~~~~~~~~~~~~~~~~~~~~~~~~~~~~~~~~~~~~~~~~~~~
Gustavo Gallon also said in his report that "those responsible" for the outbreak should be punished. Mr Gallon is a UN-appointed expert on human rights in Haiti.
Evidence suggests UN peacekeepers introduced cholera to Haiti in 2010, but the world body has rejected compensation claims. The outbreak - which has killed more than 8,300 people and infected hundreds of thousands - has been blamed on leaking sewage pipes at a UN base.
The UN has never acknowledged responsibility for the epidemic, arguing that it is impossible to pinpoint the exact source of the disease. The organisation says it has legal immunity from a lawsuit filed for Haitian victims at a New York court last year.


More than 600,000 people are thought to have been infected since 2010


~~~~~~~~~~~~~~~~~~~~~~~~~~~~~~~~~~~~~~~~~~~~~~~~~~~
Welcome to the Black Kos Community Front Porch!
Pull up a chair and sit down a while and enjoy the company.