Of the thousands and thousands of Democrats in my town very few are ready to step up and actually be a Democrat except at voting time. We have a very active anti fracking group, Erie Rising, not sure what they are doing now that it comes time to actually work on voting. The former head of the Democratic Party in Colorado lives in my town and she has dedicated most of her life towards progressive Democratic goals, now she is retired and attempting to relax a little. She still shows up to be counted when it's important.
There is more to being a Democrat than actually voting. We have a platform that is our written statement of ideals and goals. Of the thousands and thousands of Democrats that live where you do, you could be one of those who actually wright the platform. The smallest unit of a party is the precinct, and if your precinct is like mine you could be the one to write the platform just by showing up. Pat Waak the former Chairperson of our state party was the only one to show up at her precinct, I was the only one at mine. There were two other sole members of precincts and one precinct that had no representation at all. This was at our Democratic caucus.
The next day I took our preferences up to county headquarters in Greely. I was the only person to make the commitment to be the person to work on GOTV in our whole town all 5 precincts. Others were happy to go to the county caucus or be election judges, both important contributions that we need. Halfway through our caucus a young guy came by, maybe 25 years old. He was running to be our representative at the state house.
I'm not overly partisan myself. I know plenty of conservatives and Republicans that I call friend. I can think of more than one issue where I'm more apt to side with what are commonly considered Republican sides of an issue. Despite that I'll always vote for any and all Democrats instead of a Republican, even if it's on an issue I feel strongly about. That's how our system is set up. Democratic and Republican majorities in our state and in our federal legislatures determine who sets the agendas and who makes the laws. It's that simple.
Of the thousands and thousands of Democrats where you live only a very small number of them are willing to stand up and donate just one evening to say what they think of any issue at all. You could be that Democrat. An even fewer number of Dems will knock on the door of another Democrat and ask them to go vote, or call that same Dem to ask them to return their mail in ballot.
Thousands and thousands of Democrats. What a difference it would make if more than one or two would do something, anything, to make sure Democrats voted in the upcoming election. ALEC has money, everyone has money, not many have people, you could be one of those people. Some will run for office, and I'll support them in any way I can, even if I disagree on them on some fundamental issues. Others will knock on doors, clipboard in hand, but running for office or knocking on a strange door or even calling strangers on the phone, is just a little too public for many people to manage, and that's ok, there are things for everyone to do. When I delivered those caucus results to Greeley the other day there were people waiting to take them and sort all the paperwork and tabulate results. There's always something that needs doing.
Will you take the next step to being a Democrat?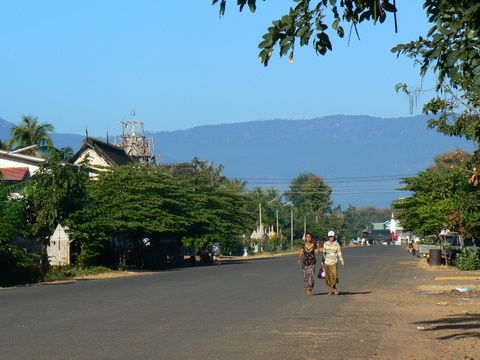 Main drag in Attapue Provincial Capital, Boloven Plateau in background, no caucusing here.