(Written by an American expat living in the European Union)

Did you know that the headquarters of Russia's warm water fleet in the Black Sea is located at Sevastopel (with various other Russian naval facilities located elsewhere in the Black Sea area) in the Ukraine. Are you aware of the strategic and economic importance that this warm water port has to Russia? Are you aware of what the loss of this port would mean for Russia and why. Additionally you may not be aware of what a warm water port is, which essentially means a port that has year round access to water without being ice locked, in a clear case where most of Russia's ports are in fact ice locked a fact that is especially exacerbated by winter. Therefore it becomes axiomatically clear that the loss of this port would have devastating effects for Russia militarily and economically. (Interestingly enough Russia is the largest country in the world in terms of geography). Additionally are you aware, in terms of the sea lanes how the Russian Black Sea Fleet connects to the Mediterranean and beyond, and that American warships now are in the Black Sea area. If these facts are of interest to you then please feel invited to read on....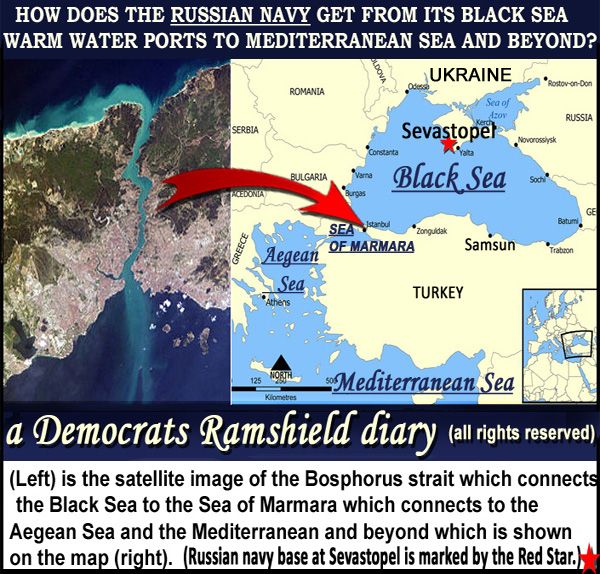 The Pentagon announced the deployment of United States warships in the Black Sea which borders on the Crimea where Russia's warships are assigned to Crimea at Sevastopel. The American military community newspaper the European edition of the Stars and Stripes (based in Darmstadt, Germany) reports these are scheduled navy exercises. Axiomatically speaking it becomes clear that if Russia loses its warm water ports in Crimea, which offer year around maritime access (which means essentially they are never ice-locked). It becomes clear that in the future if Ukraine joins the European Union and quite possibly thereafter NATO, Russia's warm water naval access to its bases in Crimea may well come into doubt .
This substantially under-reported fact must be seen with some concern, as our plutocrat owned media seems to be shying away from giving the voters access to information that makes the very exercise of democracy possible.
In doing so, we see the Pentagon has announced the insertion of two United States warships into the Black Sea area which connects directly to the Mediterranean and beyond. There's the USS Truxtun with a crew compliment of 300 sailors, this type of warship is an Arleigh Burke-class guided-missile destroyer. The USS Truxtun will be joining the USS Taylor which is a guided-missile frigate presently moored in the Black Sea port in Samsun, Turkey.
The USS Taylor recently ran aground and its present operational status hasn't been reported further in reliable sources.

Ivan Watson reporting for CNN on the Bosphorus Strait, Turkey,
8th March 2014

"Russia's traditional claim for more than a century as a vital and strategic warm water port with a country where much of its coastline is frozen in by ice especially during the winter months. Part of why it's so valuable to Russia to have the Crimea Peninsula as a place where its Navy can move in and out of."
http://edition.cnn.com/...
The next closest pseudo-warm water port is located in excess of over 2,000 miles away in the Baltic Sea HQ's at St. Petersburg; Kaliningrad and various other area ports. It becomes therein axiomatically clear to see that the loss of the warm water port for Russia will have substantial economic and military consequences, both now and in the long term future, in a clear case where these matters have been essentially under-reported in commercial US media sources for whatever reasons. Interestingly enough the Budapest Memorandum's validity under UK law has been under-reported in US media sources, so as to constitute a de facto form of censorship at a time when concurrently the US media accuses Russia of media censorship.
Additionally the European US military community's Stars and Stripes reports on substantial naval maneuvers which have been previously scheduled taking place in the Mediterranean, which includes movements of a Marine expeditionary unit. The clear advantage in troop movements on the high seas in international waters is that under maritime law permission generally must not be secured from any nation state on a one off basis or pursuant to any status of forces agreement (SOFA). The free movement of troops in this area therefore must be seen to fall under international law, save military movements through the Bosphorus Strait, which by treaty must be approved by Turkey for non-Black Sea nations. This is a thought which certainly must give Russia further cause for contemplation, as to its future position. In aggregate the position is a complicated one and I therefore ask and urge readers as voters in the democratic exercise to keep themselves well informed.
U.S. Military community news paper
Stars and Stripes March 7 2014
Destroyer USS Truxtun heads for Black Sea amid heightened tensions over Crimea
" NAPLES, Italy — A U.S. guided-missile destroyer is bound for the Black Sea in what the Navy calls a routine visit unrelated to events in Ukraine………The spokesman, Lt. Shawn Eklund, said the visit is unrelated to Russia's recent incursion into Ukraine. "Truxtun's operations in the Black Sea were scheduled well in advance of her departure from the U.S.," he said. Russia's Black Sea Fleet is at the center of the country's operations in Ukraine, where Russian soldiers continue to surround Ukrainian military bases. Other U.S. warships remain in the region on scheduled deployments. A group of amphibious ships with an embarked Marine expeditionary unit also recently entered European waters. The Bataan Amphibious Ready Group, which counts roughly 4,000 sailors and Marines, is training with regional navies before continuing to the Middle East."
What is the truth here? As ordinary citizens we don't really know, but what we do know is that there are so many continuously regularly scheduled military maneuvers at various ports of call throughout the world, as well as on the high seas, that any time a crisis forms anywhere in the world, it can be pretty much relied on that a claim may be made that current presence of military or naval forces are not due to any developing crisis, but rather are merely a part of previously scheduled and approved military maneuvers. The fact that these maneuvers however are allowed to continue even at a time of crisis, has traditionally been referred to as saber rattling or
gunboat diplomacy
, so as to give added weight and bargaining chips at the negotiating table. There is however a traditional danger associated with gunboat diplomacy at a time of heightened tensions, is the risk of escalation, which if history is a guide, in the past this led to war. In a clear case where those who can't learn from history seem to be doomed to repeat it.
Facebook quote: