Interstate 77 outside Sissonville WV on Dec 11, 2012.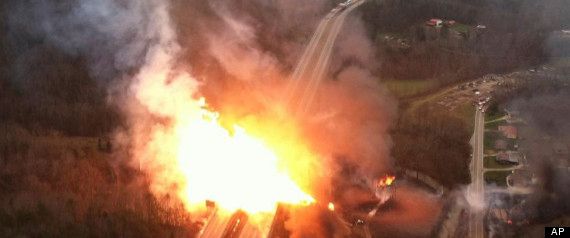 NTSB: Corroded pipe, lack of inspections led to gas explosion in W.V.

A corroded gas pipeline that had not been inspected in more than two decades contributed to an explosion in 2012 that destroyed homes and melted a section of Interstate 77 in Sissonville, W.Va., the National Transportation Safety Board said on Monday.
The explosion, just north of Charleston, grew into a raging fire 1,100 feet along the pipeline and more than 800 feet wide. It left a nearly 15-foot-deep crater just off the interstate and turned a picturesque valley with rural homes into a scorched moonscape with mailboxes melted to wood posts and charred foundations.
The 20-inch interstate transmission line ruptured at 12:41 p.m. Dec. 11. Despite several alerts at a Columbia Gas control center, the controller did not realize an explosion had happened for 12 minutes, the report said.

A line shutdown took an hour to complete and began only when someone from another gas company told Columbia about the rupture.
It was a near miracle that no one was killed when this gas line ruptured. Luckily this happened in a rural area but it still managed to close an interstate highway. Columbia Pipeline Group subsidiaries have about 15,000 miles of pipeline. The group reports it replaced more than 50 miles of pipeline last year. I know I feel safer.