A daily series, Connect! Unite! Act! seeks to create face-to-face networks in each congressional district. Groups regularly socialize but also get out the vote, support candidates and engage in other local political actions that help our progressive movement grow and exert influence on the powers-that-be. Visit us every morning at 7:30 A.M. Pacific Time to see how you can get involved. The comment thread is fun and light-hearted, but we're serious about moving the progressive political agenda forward.
Did you play games outside as a kid?
As a kid I was all about being outside or at school. I did everything I could not to be inside my home with my mother. There are some very serious reasons why that was that I won't go into. Fortunately I grew up in a time when kids loved to play outside since there were only four TV channels (ABC, CBS, NBC and PBS) that rarely had shows kids wanted to watch. Of course there were no computers or video game players. Kids stayed inside only to read books primarily, otherwise they all played outdoors.
The #1 thing I did was ride my bike. It was a standard balloon-tire red Schwinn Cruiser with no gears and brakes that worked when you rolled the peddles backwards. It weighed a ton and I rode it everywhere. The best fun of all was riding in the "sand pits." The sand pits were across the street from the largest cemetery in Denver. It was where the ancient course of the Cherry Creek had run for eons, so it was essentially a hundred feet deep sand pile. They'd mine sand from here to bury the graves. For us kids this meant huge hills up and down from the top of the land down into the "sand pits." I was one of only two kids that could start from a standing stop in the pit and ride all the way up one of the hills. Other kids had to first go down a hill, cross the pit with that momentum, and then get up a hill on the other side. This is what my bike looked like minus the bell and fenders:
For a few years, basically between the age of 7 and 9, I was fortunate enough to be able to play with kids in my neighborhood during summer vacation. That came to an end due to my home situation, but for those three summers I had a blast.
We'd play kick the can in earnest covering two entire blocks. This would last for a couple hours normally. The kids would come out after dinner and play until it was too dark to see. I assume you all know the rules. If not you can check them out here http://en.wikipedia.org/....
Later when my friends and I were old enough to drive, we'd go to up into the mountains and play capture the flag, which is pretty darn similar to kick the can. We'd play this over a huge area that covered the sides of a couple mountains and the river in between. This game would sometimes last 6-8 hours and included lots of serious stealth. http://en.wikipedia.org/...
Of course we'd play baseball in the closest place that had a baseball field. That was our elementary school about 1/2 mile away. This we played with a real baseball, even though we were all still in elementary school. We were very serious about baseball. Of course there has to be one horror story and here it comes. The girls across the street was named Lori. She was a true tom girl. Once she went to retrieve a fly ball and tried to climb up a chain link fence to get it. It went over the fence. As she came down from the fence her ring finger on her right hand got caught in the fence as she jumped down. Yup...it came right off at the second joint. We rushed her and her finger home. They sewed it back on and she had to have it stuck to her belly for two weeks for skin grafts to take from her belly skin onto her finger. The good news is everything worked out fine.
For two straight summers I created our own Olympics. There were open fields nearby. I took grass clippings from lawn mowing to make lines. We had a long jump pit, a high jump pit and a "track" to run races on. All the kids got into this so much that it happened off and on for most of those two summers. I kept getting more grass clippings to remake the lines.
Only later on when I was in Jr. High did I get into soccer. That was really strange back then. It wasn't like now when all kids play it. No one played it then. It was just some weird thing South Americans and Europeans played. We'd make our own soccer fields at a local park because there were no soccer fields. I loved it because you had to run non-stop for 45 minutes per half. They didn't even have soccer as a sport in the Denver Public School System until I was a junior in High School. I was one of 44 guys who tried out and one of 11 that made the team. I lettered in it too.
It amazes me that today they have to do anything to get kids to play outside and stop texting and playing computer games or watching any of the 800 channels on TV. It's sad they even have to coax kids to "Play 60" minutes by using NFL football players to make it seem like a cool thing to do. Sigh. When I was a kid, having to be inside meant you were being punished. No kid wanted to be inside the house.
So, tell me what outdoors sports you played as a kid.

Latest Updates on Kossack Regional Meet-Up News Can Be Found Below the Orange Group Hug.
Let's Build Communities!

Our team is here to provide support and guidance to new and existing volunteer leaders of each regional and state group, helping them with recruiting, organizing and executing social and action events.
We invite you to join in this effort to build our community. There are many ways to pitch in.
If there isn't a group to join near you, please start one.

Instructions on HOW TO FORM A NEW DAILY KOS GROUP

List of All Existing Meatspace Groups




---


THINK GLOBALLY, ACT LOCALLY

Three Star Kossacks & Nashville KosKats Meet-up
by marykk ♥ for Three Star Kossacks
The Three Star Kossacks and the Nashville KosKats met Saturday, March 8th for dinner and then a show afterward to welcome Sandy on Signal to town. About 15 people attended. The organizer marykk said it was the most well attended and succesful event yet for her Kossacks. State Senate Candidate Mary Mancini attended as well as a representative from Planned Parenthood due to an upcoming amendment to the state Constitution which would allow more restrictive abortion legislation.
Here's a couple of photos: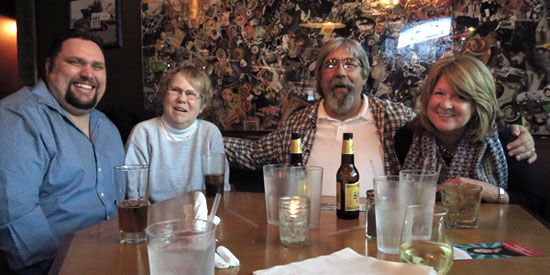 L-R: Patrick is Lucky, sow hat, Mr. sow hat, Sandy on Signal
L-R: Mr & Mrs JKTownsend
You can join Three Star Kossacks, which includes the entire state of Tennessee, by sending a Kosmail to marykk.
Also, you can join Nashville KosKats by sending a Kosmail to ZenTrainer which is for the city of Nashville.

Event Organizers! Please contact wink from Netrootsradio.com by KosMail to schedule airtime with them to live broadcast your Event. Wink & Justice will then promote it on The After Show radio program!

Saturday, March 15th

LAKossacks Roll Out the Red Carpet for shanikka!

TIME: 12:30 PM
LOCATION: City Tavern
9739 Culver Blvd. • Culver City

ORGANIZER: Send Dave in Northridge a kosmail to attend.

RSVPs:
1. Dave in Northridge
2. shanikka (Guest of Honor)
3. jakedog42
4. Gay CA Democrat
5. Otoelbc
6. susans
7. gmats
8. Mugwumpblues
9. Shockwave
10. SanFernandoValleyMom

Maybees:
homogenius
Former Chicagoan Now Angeleno


Latest diary: Los Angeles Kossacks - Rolling out the Red Carpet for Shanikka - March 15, Culver City




Saturday, March 15th

Sacramento/Central Valley Kossacks, Silicon Valley Kossacks and the SFKossacks Demonstrate at "Don't Frack California"

TIME: 1:00 PM
LOCATION: California State Capitol lawn
1315 10th St. • Sacramento
YOU CAN FIND US GATHERED AROUND OUR DAILY KOS 7 ft. BANNER
-courtesy of tmservo433.


After the protest ends we'll be heading over to a local watering hole. Meet us at KBar at 1000 K Street, a couple of short blocks north of the Capitol building.

The Don't Frack California website has also arranged for buses from all over California. Places as far away as San Diego and Los Angeles. Check out their ride board and buy a ticket STAT.

RSVPs:
1. Anthony Page aka SecondComing
2. mrsgoo
3. Dan Bacher
4. smileycreek
5. paradise50
6. navajo
7. Meteor Blades
8. dsb
9. Where4Art
10. remembrance
11. Glen the Plumber
12. TLO™
13. Glescagal
14. kimoconnor
15. stagemom
16. cooper888
17. gotmooned
18. aitchdee
19. ybruti

Maybees:
jpmassar
dharmasyd


Latest diary: The California Frack Wars: Episode 3 Revenge Of The Greed

Quick re-mention of March 15 statewide "Don't Frack California" demonstrations


Sunday, March 16th

NYC Kossacks Meet-up

UPDATE: Special Guest Star! It's Juliana Forlano, known on DailyKos as IronicNews. She's a political satirist and the host of the news parody series Absurdity Today.

TIME: Noon
LOCATION: Spitzer's Corner
101 Rivington Street (Ludlow) • NYC

ORGANIZER: Send sidnora a kosmail to RSVP

RSVPs:
1. sidnora
2. rubyr
3. joanbrooker
4. belinda ridgewood
5. MBNYC
6. jfdunphy
7. communitygis
8. No Exit
9. Its the Supreme Court Stupid
10. Denise Oliver Velez
11. Mets102
12. plf515

Maybees:
Laura Clawson
Rosalie907
Ian Reifowitz
kathny
Bethesda 1971
David Nir
wader


Latest diary: NYC Meetup, Sunday, March 16: Good times ahead, now with special guest!


Saturday, March 29th

Houston Kossacks Meet-up

TIME: 1:00 PM
LOCATION: Fadi's Mediterranean Grill
4738 Beechnut Street • Houston

ORGANIZER: Send Chrislove a kosmail to attend.

RSVPs:
1. Chrislove
2. htowngenie
3. Libby Shaw
4. MarciaJ720
5. Bree Davis
6. krwheaton
7. Mary (Honorary Kossack)
8. Alan (Honorary Kossack)
Maybees:
Mr. Libby Shaw


Latest diary: Houston Area Kossacks: Meet-Up Scheduled for Saturday, March 29 (plus a note on future meet-ups)

Saturday, April 5th

Seattle & Puget Sound Kossacks Meet-up

TIME: Noon - 3:00 PM
LOCATION: Pyramid Alehouse, Brewery & Restaurant
1201 First Avenue South • Seattle

ORGANIZER: Send EagleOfFreedom a kosmail to attend.

RSVPs:
1. EagleOfFreedom
2. Reetz
3. John Crapper
4. John Crapper's S.O.
5. WisePiper
6. bleeding blue
7. mlharges
8.

Maybees:
Ojibwa
otto


Latest diary: Seattle & Puget Sound Kossacks April Meeting




Saturday, May 3rd

DKos Asheville Kossacks Meet-up

TIME: 1:00 PM
LOCATION: The Bywater
796 Riverside Dr. • Asheville

ORGANIZER: Send randallt a kosmail to attend.

RSVPs:
1. randallt
2. davehouck
3. Joieau
4. Gordon20024
5. SteelerGrrl
6. SteelerGuy
7. GulfGal 98
8. Otteray Scribe
9. flwrightman
10. people power granny

Maybees:
Audri
Mr Audri


Latest diary: [Waiting for linked diary]


Tuesday, May 13th

SFKossacks Roll Out the Red Carpet for LeftOfYou & Expat Okie

TIME: 11:00 AM, Early lunch!
LOCATION: Yank Sing
Rincon Center, 101 Spear St. • San Francisco

ORGANIZER: Send navajo a kosmail to attend.

RSVPs:
1. navajo
2. LeftOfYou
3. Expat Okie
4. side pocket
5. Justice Putnam
6. dharmasyd
7. Lorikeet

Maybees:
annieli


navajo maintains the above event list. Kosmail her if you have any diaries
about your event or if you have changes or additions.

EVERYONE is welcome, tell us what you're working on,
share your show and tell, vent, whatever you want.
This is an open thread. Nothing is off topic.