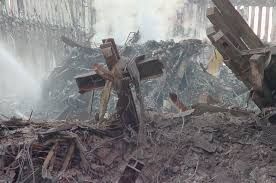 As if we are in a never ending game of political limbo, Governor Chris Christie keeps defying our expectations of "how low can he go?" Rachel Maddow reports Christie cronies' 9/11 'political goodie bag' makes bridge scandal even weirder.

MSNBC host Rachel Maddow expressed subtle disgust on Tuesday with the news that New Jersey Gov. Chris Christie's (R) administration has apparently been giving away pieces of salvaged metal from the wreckage of the World Trade Center as part of a "political goodie bag" in his quest for endorsements. ... "If you feel the need to hit pause and go take a shower to rid yourself of the feeling you are feeling right now, I understand," Maddow said. "I'm probably on DVR, so just hit pause."

But the Times report showed a picture of former Christie appointee Bill Baroni giving one piece of metal to Secaucus, New Jersey, Mayor Michael Gonnelli. Gonnelli was reportedly part of the top 20 in a list of 100 mayors Christie's team was wooing in his re-election campaign.

While saying the report "kind of wants to make you run into every social studies class in the country and tell the kids not to go into politics unless they're emigrating to a country where it isn't this disgusting," however, Maddow pointed out that the existence of the list runs counter to a popular theory regarding the August 2013 lane closures on the George Washington Bridge and Fort Lee Mayor Mark Sokolich (D), the apparent target. Sokolich, it turned out, was ranked No. 45 on the list.

So, Christie closes down the GWB bridge, on Mayor Mark Sokolich who is, at the same time, ranked No. 45 on his list of political targets to impress. Sounds a little bit like the Keystone Cops.
Sheesh, I would have loved to hear that conversation, "say, Mark, sorry, about the bridge thing, hey, here's a piece of metal from the World Trade Center. I gotcha a good one. It still has a little piece of a fireman's coat on it there."
Earlier today, I reported Christie's popularity hitting a new low. If this story doesn't floor him completely something is seriously wrong with America.
Seriously, Christie, WTH.

Wed Mar 12, 2014 at 9:41 PM PT: New WSJ-NBC poll shows Governor Christie's popularity drops nationwide
A Wall Street Journal - NBC poll released today, shows Chris Christie's popularity drops in new nationwide poll. Only 17 percent of respondents view Governor Christie positively, while 32 percent expressed negative views.

Twenty-seven percent of the registered voters who responded were neutral on Christie, while 24 percent said they weren't sure. ... In January, the last time this poll was released, 22 percent saw the governor positively and 29 viewed him negatively.


What's more, today's figure represent an about-face from the poll in October — before the scandal erupted — when 33 percent of respondents viewed Christie positively and 17 percent negativelty as he headed into his landslide re-election.

In addition, no group of respondents viewed Christie positively. Independents, by 28 percent to 12 percent, viewed him negatively; 29 percent of Republicans viewed him negatively against 23 percent who saw him positively. Northeasterners generally viewed the Republican governor negatively, 28 percent to 25 percent.

1,000 adults were surveyed nationwide between March 5-9. The poll has a margin of error of plus or minus 3.1 percentage points.
The daily barrage of allegations, bad news, and stonewalling is taking its toll. People are "beginning to suspect" something fishy is going on in New Jersey.

Or after this report get out, maybe more people will recognize Governor Chris Christie for the crass political opportunist that he is. Someone that will stoop to any exploitation of his government position, or national tragedies to advance his political career.

Wed Mar 12, 2014 at 10:51 PM PT: Changed the picture to the post explosion salvage metal, rather than the original picture of the explosion which seemed excessively and unnecessarily upsetting. My original reason for wanted to include a picture was to make the point that Governor Christie was crassly exploiting this tragedy. But, we don't need to see the explosions to understand this. Sorry, if this distressed anyone.