Every week Daily Kos diarists write dozens of environmentally related posts. Many don't get the readership they deserve. Helping improve the odds is the motivation behind the Green Diary Rescue. In the past seven years, there have been 266 of these spotlighting more than 16,367 eco-diaries. Below are categorized links and excerpts to 83 more that appeared in the past seven days. That makes for lots of good reading during the spare moments of your weekend. [Disclaimer: Inclusion of a diary in the rescue does not necessarily indicate my agreement with or endorsement of it.]
Climate Change - Now For The Real Challenge
—by
xaxnar
: "The science debate about Global Warming and Climate Change is over. The science is conclusive. The problem now isn't the science; it's the politics and we need to engage on that basis. We have the facts on our side: every day brings more evidence. Every day it gets harder for the deniers to pretend nothing is happening. Their excuses are increasingly threadbare and their desperation is increasingly frantic. If anything they're becoming more blatant about their obstructionism as the stakes increase. What we need to do now is more than just communicate the facts of Climate Change to people. We have to inspire them in ways that engage their emotions as well as their minds, give them true stories they can understand in terms of their own lives and daily routines, find ways for them to engage on the issue to force action while there is still time, and give them hope for a better future. It's not rocket science—it's political science."
Dawn Chorus: Birding the Great Indoors (Part 1)
—by
Eddie C
: "This is a Bronx Tale from an ersatz birder. As most real bird watchers are all excited about the spring arrival of those funny colored sparrows, my birding season is coming to an end. I'm like one of those old winter mall walkers but since I don't care much for shopping, I go all 'Animal House' each winter. You know what they say 'You never know who you'll run into in the Bronx.' Actually this is part one in the story of three exotic bird buildings in the Bronx Zoo. For you wild birders, the 265 acres of the Bronx Zoo is 'an important rest stop along the mid-Atlantic flyway and a green oasis in the midst of the big city.' In the wintertime when the pickings are slim you can always learn a thing or two about and try your hand at capturing some images of birds from very far away neighborhoods."
Inca terns
From peddling cigarettes to youth to peddling fracking to Californians
—by
TXsharon
: "David Quast worked for Philip Morris from 1997 to 1998 as manager of media affairs. He still brags about writing their Youth Smoking Prevention program that was designed to subtly lure youth to smoke. [...] Quast has a new job now. He goes by Dave Quast and is senior director in the Strategic Communications segment at FTI Consulting, the same consulting firm that promoted destabilization and violence in Venezuela. He is Director of Energy In Depth's California division, where he does the same tasks he did at Philip Morris. Quast made his presence known in California at public comments sessions, as he berated environmentalists looking to strengthen the states scientific study on fracking. Calling them extremists, and out of touch, he proceeded to reassure Californians that fracking is a safe practice that has been done in California for decades with full transparency. The fact is that is that California regulators didn't even know fracking was happening in the state, and didn't acknowledge its full existence until 2012."
Why I am not (much) here any more.
—by
RLMiller
: "I set foot in the real world of California Democratic Party politics—'tis a scary and dangerous place. I injected myself into a party resolution, originally calling for a moratorium on fracking, to keep it from being watered down to calling for a wait-and-see-about-regulations. I networked with party activists and trusted smart people to get the strong moratorium passed through the party—it was, last year. At the same time, I ran for chair of the party's environmental caucus, and won, thanks in large part to the netroots. We had a nice meeting last Friday night at my caucus before going on to the general session on Saturday. UnfrackCal at CDP. Fracking has shot up to the top of California Democrats' environmental concerns. Water use worries us—we're in a drought. Earthquakes related to wastewater injection concern us—our state's messy geologic beds don't need to be the site of an uncontrolled scientific experiment. Worst of all for a state priding itself on climate leadership, California is being fracked for dirty oil, not natural gas—the most carbon-intensive oil in the world, dirtier than the Canadian tar sands, are found just off the 101 freeway. If we could stop fracking anywhere, we could stop it in California...or could we?"
What's an Oil Spill Between Friends?
—by
Liberty Equality Fraternity and Trees
: "In response to the Deepwater Horizon disaster in 2010, when BP spilled five million barrels of oil into the Gulf and caused lasting, far-reaching economic damage to region as well as the deaths of 11 people, the EPA suspended and debarred 25 BP entities from obtaining new federal contracts in a November 2012 settlement. Until now, that is. The EPA just announced a new deal that allows the oil-drenched corporate criminal to start bidding for and receiving new federal contracts. Federal contracts have been a major source of revenue for BP. At the time of the ban, BP held at least $1.34 billion in federal contracts. The five-year agreement will require BP to retain an independent auditor approved by the EPA to conduct an annual review and report on the company's compliance. BP will also drop a lawsuit filed against the EPA in federal court in Texas tied to the suspension. The deal conveniently comes just in time for the Interior Department's scheduled lease sale for 40 million acres in the Gulf."
You can find more rescued green diaries below the sustainable squiggle.
Critters
Florida black bear
Daily Bucket: Wild Florida--Florida Black Bear
—by
Lenny Flank
: "The Florida Black Bear (
Ursus americanus floridanus
) is a geographical subspecies of the American Black Bear. The common Black Bear ranges all the way from Alaska to Mexico, with populations in at least 40 states. It is the smallest of the three bear species found in North America, with males weighing around 325 pounds or so. The Florida subspecies, however, is even smaller, averaging about 250 pounds, and unlike the far-ranging common Black Bear, the floridanus subspecies is found only in scattered portions of Florida and the southern parts of Georgia, Mississippi and Alabama, wherever it can find the large undeveloped tracts of forest and swampland that it needs. (The isolated population of bears in Louisiana is considered to be another separate subspecies.) Female Florida Black Bears require at least 10 square miles of territory; males, who range over the territories of several females, need at least 30-50 square miles. Prior to the arrival of Europeans in Florida, the bears ranged all over the peninsula, and may have numbered as many as 11,000. As humans poured into the state and began turning wild areas into sugar plantations and orange groves, however, the bears were driven into ever-smaller pockets of habitat. By the mid-1970's the population had dropped to just 3-400 statewide. Laws were passed in the 1980's and 1990's to protect the bears by setting aside habitat, ending hunting, and outlawing the traffic in bear parts (used in traditional medicines). By 2012, the population had grown to an estimated 3,000 individuals, and the Florida Black Bear was removed from the list of endangered species, though it is still protected from hunting and it remains illegal to possess or trade in bear parts."
A death sentence for Yellowstone's bison—by AshleyAllison: "In harsh winters like this one, Yellowstone's bison—the last genetically pure wild bison in the country—naturally migrate outside the park in a desperate search for food, where the National Park Service rounds them up and ships them off to slaughter. Nearly 600 wild bison, symbols of the American West, were needlessly killed this year. Any day now, Montana's Governor Steve Bullock will decide whether to protect wild bison by granting them year-round access to public lands outside the park. It's critical that we put pressure on the governor now!"

The Daily Bucket: A Blizzard of Buzzards
—by
PHScott
: "
March 2014.
Quite a sight this cool morning when I stepped outside to look around after a near freeze last night. I guess the warm sun brought out these buzzards looking for a tree to roost in. My dead Loblolly pine snag, maybe 80' tall, was a good spot. [...] It appears that most of them were Black Vultures like these 2 out on the end of a limb."
Wolf Myths Nuked in NYT—by ban nock: "I'm just an interested lay person, but I've read the peer reviewed articles, or all I can find for free on the web anyway, and for quite a while many of the early myth making has been obviously contrived at best. Anonymous posters to the internet earn no more than an eye roll out of me, (yes I mean you) but well funded environmental organisations are supposed to be informed. I assume Defenders of Wildlife, the Natural Resources Defence Council, Earthjustice, and the Center for Biologic Diversity read the same articles I do. If they don't have any scientists working for them they certainly should. So if they aren't misinformed, what are they? Bald faced liars."
The Daily Bucket: Winter Butterflies in Arizona—by AZ Sphinx Moth: "2014 Winter Season. Bisbee, Arizona. The winter season in Bisbee was mild this year. I say that because the expected winter temperatures ended in mid January rather than in March. After speaking to those who have lived in the area longer than I, the overwhelming consensus is that it is notably an unusual year. Several butterfly species caught my eye on January 16th. Specifically, the Gulf Fritillary, which really surprised me. Since I was already taking notes about the birds in my yard, I thought it would be a good idea to start recording the butterfly visits as well. My curiosity about the winter butterflies inspired me to learn more about their winter strategy. Some species of butterflies hibernate as adults during the cold months while others survive the winter as eggs, caterpillars or chrysalis. If the temperatures are warm enough, the adult butterfly will continue to be in flight."
Woman who fed bears dead—by ban nock: "The bear mauled her to death and then it ate her. [...] As horrible as this woman's death was there's more to it, she endangered all of her neighbors, expended a heck of a lot of public resources with all the investigations, and she also ended the lives of at least two bears. We have this expression, a fed bear is a dead bear, because usually once a bear has learned that it can acquire high calorie foods from people it will never stop until if it is lucky, it will be relocated to a place with no bears. If the bear is unlucky it will be relocated to a place with a large resident male bear in that territory already who will kill it and eat it, or the bear will be euthanized by fish and game officers. This story usually ends with only the bears dying, it's not an uncommon occurrence where I live in Colorado. Wildlife officers when called out on a problem bear request first look for who is feeding it. Everyone knows you can't have bird feeders but it's a gray area where one can simply plead ignorance. "I was feeding the birds" or "oh but it's too high for the bear to reach" even though they have all those snapshots of the bear eating the seed off the ground that they send to friends out of state and post on Facebook."

Locust borer
Daily Bucket - Small Worlds
—by
Attack Gardener
: "A couple of summers ago, I spent a lot of time wandering around my yard, making notes of things to do, checking up on certain plants and generally wasting time. I usually spent most of this time in the garden beds but, once in a while, I'd wander around the edges of the yard where semi-meadow met forest just to see what was going on. This little patch of wild grass and weeds has quite a variety of plants, including a selection of goldenrod species. These are, no doubt, the source of the goldenrod plants now trying to take over some of my garden beds. Goldenrod has roots that go down to hell, some kinds send runners out in all directions and most seed prolifically. It is insultingly healthy and can be very difficult to eradicate. Needless to say, I have not been happy they invaded. However, since I couldn't get rid of the stuff, I tried to appreciate its rude good health and admittedly beautiful flowers, with limited success. Over time, however, I started to become interested in all the activity I saw around these ogres. Bees, butterflies, even birds, seemed irresistibly drawn to the goldenrod stands. I started noticing individuals, like this bizarre and beautiful beetle scurrying around on the flowers."
2014 Backyard Science Yardbird Race Tally #3—by bwren: "Here's what the race is all about: The Daily Kos Backyard Science Yardbird Race is a birding competition where, over the course of one year, participants strive to identify the most bird species - by sight and/or by sound - from the confines of their yards. There are a number of categories, so people who live in urban centers don't have to compete against others who have a lot of open space or waterfront views. [...] 27 participants have sent in at least one tally since the start of the year, with two more joiningd up for the first time last tally: welcome ninety wt and wood gas, glad to have you aboard! All of the categories except Classroom Project are now represented."
National Parks, Forests & Other Public Lands
Obama to Expand California Coastal National Monument---Great! But What Should Be Next? Vote in Poll—by willyr. "From the Los Angeles Times: President Obama on Tuesday will use his executive powers to expand the California Coastal National Monument by adding the Point Arena-Stornetta Public Lands on the Mendocino County coast. The order will add 1,665 acres of federal land north of the town of Point Arena to the monument, which was established in 2000. Managed by the federal Bureau of Land Management, the new acreage includes the area where the Garcia River enters the Pacific Ocean. This will be the first onshore land to be included in the monument."
Obama to Expand California Coastal National Monument---Great! But What Should Be Next? Vote in Poll—by willyr: "From the Los Angeles Times: President Obama on Tuesday will use his executive powers to expand the California Coastal National Monument by adding the Point Arena-Stornetta Public Lands on the Mendocino County coast. The order will add 1,665 acres of federal land north of the town of Point Arena to the monument, which was established in 2000. Managed by the federal Bureau of Land Management, the new acreage includes the area where the Garcia River enters the Pacific Ocean. This will be the first onshore land to be included in the monument."
Obama Budget to Fully Fund Land and Water Conservation Fund—by ban nock: "This is oil money. $900,000,000 per year. Money from drilling for oil on the continental shelf (Deepwater Horizon) pays for this fund. The purpose is to provide people in both cities and the countryside with land for recreation. The money is already there, it's time to stop diverting it for other things. Budgets don't much get negotiated let alone passed in these times of legislative gridlock and hyper partisanism, what they do is signal intent, and as always President Obama's intent for our public open spaces is to help as many Americans as possible have access to them. The Land and Water Conservation Fund (LWCF) Program provides matching grants to States and local governments for the acquisition and development of public outdoor recreation areas and facilities (as well as funding for shared federal land acquisition and conservation strategies."
Expanding the National Parks System-#12 Idaho—by MorrellWI1983: "This in the twelfth diary in my Expanding the National Parks series. Last time, I was in Hawaii, this time I'm deep in the forests of Idaho. Idaho is a mountainous and rugged state and slightly more than half of it is owned by the feds- at 50.2%, Idaho is fifth in the country in terms of federally owned land. Idaho has one national park, 2 national monuments, 15 national forests, 7 wildlife refuges , 1 national preserve and 6 other NPS Units. But since there is no such thing as too much protected land, I will be proposing adding more monuments to Idaho's tally, and they will be big ones too."
Eco-Philosophy, Eco-Essays & Eco-Poetry
Wolf Richter: "Loophole Makes Hilarious Mockery Of US Crude Oil Export Ban"—by bobswern: "The "Oil Choke Collar," Just More Wall Street Propaganda Belying Greater Truths. Certain armchair economic pundits love referring to the "oil choke collar" as if it was some natural, market-driven force that has a profound effect upon disposable personal income. Like so many other inconvenient truths of late, that's only half the story. These status quo narratives and half-truths (even by people that describe themselves as 'Democrats') from the one percent are delivered up to the 99% as pearls of economic wisdom when, in fact and yet again, all we're witnessing are the one percent's messengers doing little more than propagandizing for Wall Street. Reiterating, the "oil choke collar," in other words, describes how when oil prices are high, consumer spending on other goods and services suffers. (Do we need an economic pundit to explain this to us?) So, once again—as we have recently learned of the many, far greater truths when it comes to just about every single market being rigged on our planet, where the corporatocracy and the pseudo-pundit class that parrots their every word as if there's any degree of truth to these lies from the one percent, while our Masters of the Universe pursue their profits no matter what the social cost—the status quo plays the unwashed masses for the complete suckers that they are. Yes, even here, in the Democratic blogosphere."
By the Way, Your Home Is on Fire, The Climate of Change and the Dangers of Stasis—by Rebecca Solnit via TomDispatch: "Sometimes the right thing to do in ordinary times is exactly the wrong thing to do in extraordinary times. That's easy to understand when something dramatic has happened. It's less easy to grasp when the change is incremental and even understanding it requires paying attention to a great deal of scientific data. Right now, you can think of the way we're living as an office tower and the fossil fuel economy as a plane crashing into it in very, very, very slow motion. Flaming jet fuel is a pretty good analogy, in its own way, for what the burning of fossil fuel is doing, although the death and destruction are mostly happening in slow motion, too -- except when people are drowning in Hurricane Sandy-style superstorms or burning in Australian firestorms or dying in European heat waves. The problem is: How do you convince someone who is stubbornly avoiding looking at the flames that the house is on fire? (Never mind those who deny the very existence of fire.) How do you convince someone that what constitutes prudent behavior in ordinary times is now dangerous and that what might be considered reckless in other circumstances is now prudent?"
Book review: Capitalism and climate change—by Cassiodorus: "The general confusion within the movement about what to do is illustrated well in this Earth First! polemic: An Open Letter to the No KXL Movement. The ways that we've been taught to fight back aren't cutting it. Not even close. Candlelight vigils, petitions, chaining yourself to the White House fence, none of it is going to make the continued extraction of fossil fuels less profitable, and none of it is going to shift our communities away from a way of life centered on profit. In order to achieve some actual, lasting climate change mitigation (and this is the goal of the climate movement, I hope), climate change activists need to do something more than point to Republicans and yell 'DENIERS!' In public rhetoric and action, climate change activists need to make a connection between the abstract goal of "lasting climate change mitigation' and the concrete goals people pursue in living on the Earth of today as embedded in late, neoliberal, capitalism. If the majority of the American public supports Keystone XL, it stands to reason that activists aren't making that connection. Essentially, then, climate change activists will have to bring the ostensibly distant threat of climate change Armageddon into focus by connecting that threat to the public embeddedness within the capitalist system. Observers of 'climate change action' (including protests, marches, etc.) are no doubt asking 'what does climate change have to do with me?' The idea that humanity's participation in capitalism threatens each of us needs to be made real—and so activists should be making more connections between capitalism, in which we are all embedded, and the climate change which is to come."
Fossil Fuel Magic—by richturc125: "It's one thing to hype reserve totals, as fossil fuel industry Happy Talkers uniformly do. But picking an impressive-sounding number indicating underground/under sea reserve totals without also mentioning all of the factors noted above—and other related production issues—turns an impressive-sounding talking point into more fact-free nonsense. Industry cheerleaders wouldn't continue to make those 'abundant reserves' claims if facts were tacked on, so the obvious choice is … not share facts. Quite the tactic! There are 89 billion barrels of oil still trapped inside America's oil wells. That's because the average oil well in America only gives up 30% of its black gold. This is oil that's vital to fueling our economy and it's just sitting down there. To put this into perspective, if the U.S. could recover all its oil, our nation would rival Iraq and Iran as a top five holder of oil reserves in the world. Are morons running oil production companies? Did they just make collective decisions to abandon some two-thirds of readily accessible and inexpensive to extract oil fields because they … didn't feel like it? Were too tired that day? Bored? Or might the truth be that [accepting the 89 billion figure as is, because I'm such a nice guy] the rest of that oil isn't exactly 'just sitting down there?'"
Fracking and the Five-legged Cow—by Nick Vanocur: "Howdy Readers. If anyone has been wondering how bad the fracking in the Eagle Ford region of Texas is, here's a look with a little bit of my personal humor. Actually, a lot of my humor."
Climate Chaos
Stop fighting about global warming—by ericf: "I'm not saying running on global warming is sure winner. I am saying it appears to be more a help than a hindrance for the candidate that runs on it. I'm likewise saying that running on it is a necessity to move public attitudes, win or lose in a specific election. Are there no nuances? Of course. We're not the GOP: we don't turn on candidates and incumbents who cast one vote we don't like. There are districts where the word "environmentalist" is poisonous. But there are places where such isn't the case, yet candidates demur on this urgent issue. Thus why I say focus on replacing deniers with realists, and realists with advocates. That's the only hope for serious action. Perhaps it's heartening to see the climate talkathon by about half the Democrats in the US Senate, provided they didn't just repeat "it's real" over and over (I heard only a few minutes, so can't judge). To the extent that other Democrats feel they take a political risk by not being identified with #Up4Climate, it's a very good thing. Make it clear where you need to be if you're a Democratic politician."
Sen. Ron Johnson Kochsplains Climate change & Keystone—by madtownpopulist: "Johnson: 'How do you explain climate change that occurred 10,000 years ago before man had a carbon print?' Hansen: 'There are variations in the earth's orbital elements. The eccentricity of the earth's orbit, the time in the season in which it's closest to the sun.' Johnson: 'Those variations just end right now, so now it's all man-made?' Hansen: 'No one has said it is all man-made. However, the man-made effect is now dominant, And we can measure that, because we can measure the energy balance of the planet, and we can see that there's more energy coming in than there is going out. So therefore, the planet is going to continue to get warmer. It doesn't mean each year is going to get warmer, because there are natural fluctuations. But this decade is going to be warmer than the last one, and the following one will be still warmer.' Johnson: 'I agree with Ms. Harbert, I think the science is far from settled.'"
Newly discovered Methane-producing microbe blooms in permafrost thaw—by Pakalolo: "A previously unknown methane-producing micro-organism, known as a 'methanogen', is thriving in northern Sweden's thawing permafrost in a thick subsurface layer of soil that has previously remained frozen. The trend of Global Warming and the havoc it is creating in the polar regions will continue to melt the permafrost allowing the microbes to flourish in organic matter and drive methane gas release, which would further fuel global warming."
Bill Gates and Charles Koch discuss Climate Change over dinner—by Lefty Coaster: "So basically Bill Gates and Charles Koch agreed to disagree on Climate Change during their dinner. No doubt Gates touched on the same points he mentions in the interview during their discussion over dinner. Gates doesn't go into Charles Koch's counter argument except the point they agree on that the US can't solve the problem on our own. Gates sees high tech solutions like nuclear and geo-engineering as the best ways to deal with Climate Change. Personally I put less faith in a high tech solutions that lets us go on squandering energy relying on new technologies coming on line to undo the damage we continue to inflict on our natural environment."
Extreme Weather
Climate Change Strikes Again? Vulcan Set to Dump Up to 2 Feet of Snow—by Eternal Hope: "As much as two feet of snow could hit parts of New England as the eastern US is set to take another round of snow, the Weather Channel reports. Weather.com is running a live twitter feed of the storm, which is hitting the northeast, upper midwest, and the Rockies. Here is how it will impact some parts of the country. Information was also gleaned from National Weather Service links."
Why We Did Nothing While The Earth Burned Up—by Dartagnan: "Driving home I have little more to deal with than the myriad potholes that have plagued our local roads and will require hundreds of thousands of local tax dollars to patch. The trees that have crashed into the street (one guy, a local doctor, suffered permanent brain damage when a large branch fell on his head. He was trying to help a neighbor remove another branch that had fallen on the roof of his car). These from staggeringly low temperatures and a constant, highly abnormal barrage of snowfalls that have pillaged the Northeast, including the Philadelphia suburbs, throughout this winter. I'm wholly removed from the farmer outside of Fresno, waiting desperately for the faintest hint of rain. I don't live in a North Jersey beach town or next to a stream in Colorado. My personal loss at this point is limited to a painful but not dire bill for electricity and gas heat, two things that are necessary to keep myself and my family alive. And the time I miss from work when the trains stop functioning. But Wednesday was 60 degrees. Thursday it dropped to 18. Tomorrow it will be in the 50's. Then on Monday, another six inches of snow is forecast. All in all, just weird, abnormal."
Food, Agriculture & Gardening
Methane - It's a Gas—by John Crapper: "People eat about 250,000,000 tons of meat annually worldwide. The amount of meat people are eating is growing by about five million tons per year. Meat production is projected to double by 2020 due to increased incomes, population growth, and rising per capita global consumption of meat. We devote a quarter of the global land surface to livestock production, we feed them 45% of the world's grain, while they provide just 17% of human energy intake. (UNFAO, 2011). Large swaths of the Brazilian Amazon are being bulldozed and burned to accommodate expanding cattle ranches. Deforestation is largely resulting from cattle ranching driven by economic incentives and demand for Brazilian beef, according to the Center for International Forestry Research."
What's For Dinner? v8.32: Almonds, or Water (Pick One)—by RLMiller: "I used to take some pride in knowing that I was supporting local farmers with this recipe—California produces 82% of the world's almonds. A springtime drive along the almond trees in blossom in the Central Valley can be very pretty, except for the parts where almond trees are being killed and uprooted amid 'Pelosi-Boxer Caused Drought' signs. (By an odd coincidence, the signs used to blame 'Congress,' 'til Republicans took over the House.) Almond trees are thirsty—one almond uses a gallon of water. (A walnut uses 5.4 gallons of water, and a pistachio uses 0.75 gallons. An acre of almond trees uses as much water in a year as 16 people.) Unlike notorious water hogs rice and cotton, they're permanent crops. And they're being planted with virtually no regulation or planning or even thought in a California farm county, in sufficient quantities to equal a city of 480,000 people, and they'll need 39 billion gallons a year from aquifers in a county whose residents only drew 26 billion gallons from the same aquifers in 2012. The almond trees are being planted in the middle of two separate droughts - the first caused by a weather condition nicknamed the 'Ridiculously Resilient Ridge' that kept significant rain from California for thirteen months, and the worse a long-term climate-caused mega-drought. But I digress. This is supposed to be a recipe diary, not a rant against the head-banging folly of planting thirsty trees in a thirsty place where everything is going to get worse until it gets much, much worse."
Saturday Morning Garden Blogging Vol. 10.4—by Frankenoid: "Good morning, my fingernails are grimy! Welcome to Saturday Morning Garden Blogging. As has been the pattern this winter, Denver had days of lovely sun and warm temperatures, interrupted by a brief spit of moisture mid-week. But the highs are getting higher, and the lows aren't quite as low—all in all, the set up for a bloomin' good spring here in Denver. The front beds are well-sprinkled now with crocus and rock-garden iris; the earliest of the hyacinth are showing buds; and the self-seeding plants—weed and flowers both—are sprouting up everywhere. We have a cool down forecast for the weekend—but then back to the 70s for St. Paddy's Day. I will not be planting peas, however. It's been too wet to prepare the veggie patch for planting."
Energy
Environmental Necessity for Nuclear Power—by Mike Carey: "James Hansen and Many other Climate Scientists are now supporting Nuclear Power: Four top international climate scientists have published an open letter ahead of the Nov. 11-22 Warsaw confab, strongly encouraging environmentalists to back new forms of nuclear power as a low-carbon energy source that can help stave off the ravages of man-made global warming. Many former anti-nuclear environmentalists have crossed over to the pro-nuclear camp; the letter makes an urgent appeal to those who have not."
Fukushima: What Have We Learned?—by bobburnett: "On March 10th a senior advisor to TEPCO warned, '[the company] may have no choice but to eventually dump hundreds of thousands of [tons] of contaminated water into the Pacific Ocean.' What does this mean to the United States? We shouldn't build any more nuclear plants and we should shut down the 65 currently operating. Lockbaum, Lyman, and Stranahan observed that our nuclear facilities are also vulnerable to natural disasters (and terrorist attacks) and 'U.S emergency plans are not designed to protect the public in the aftermath of Fukushima-scale accidents or fully address the problem of long-term land contamination.'"
Fukushima: Anniversary #3—by Joieau: "Today is the anniversary of the Great Tohoku Earthquake, and the massive tsunami that devastated the northeastern coast of Japan in 2011. 15,884 people died. 2,633 people remain missing. Another 2,973 people died of causes related to the disaster. The quake and tsunami also touched off the worst nuclear disaster the world has ever seen, when over the next days three power reactors melted down and through their containments, and four units blew up, destroying the buildings. The four units all had jam-packed spent fuel pools situated 5 stories in the air, two of which burned off and on for days. More than 270,000 people are still labeled as evacuees from the tsunami and the nuclear disaster, 104,000 of them still in hastily thrown together 'temporary' housing. The childhood thyroid cancer rate in the region and among evacuees is high and growing steadily, children well outside the 'Dead Zone' in Iwate, Tokyo and Miyagi are still passing cesium in their urine, demonstrating a situation of constant recontamination—likely from food and water."
The ugly lessons of Fukushima, three years after
—by HoundDog: "Michael Hiltzik, of the LA Times looks back to the Fukushima nuclear accident three years ago for lessons in, Three years later, the lessons of Fukushima are uglier than ever. On March 11 2011, an earthquake and subsequent tsunami wave initiated what became, perhaps, the worst nuclear power disaster in history at the Fukushima Daiichi power plant in Japan. Hiltzik tells us that surrounding communities have been rendered uninhabitable for decades to come, and the cleanup will take a half a century and cost tens of billions of dollars. Taking his lead from "Fukushima: The Story of a Nuclear Disaster" by David Lochbaum, Edwin Lyman and Susan Q. Stranahan of the Union of Concerned Science, Hiltzik finds the 'careless regulation of nuclear technology in Japan and the lax management of Fukushima's owner, Tokyo Electric Power Co.' should raise similar concerns for us here in the U.S."
Interesting and moving Fukushima video—by Rich Lyles: "By Journey Pictures. Title: "The Thyroid Cancer Hotspot Devastating Fukushima's Child Survivors." I was struck by the eerie images of a Japanese Ghost town near Fukushima, the people who visit this radioactive no-mans-land, and why they go there. It's a touching story. Here's the video."
WIPP Update and Fuku Anniversary: The Technology's Fatal Flaw(s)—by Joieau: "On Thursday the contractor in charge of the Waste Isolation Pilot Project [WIPP] facility outside of Carlsbad, New Mexico demoted its Nuclear Waste Partnership division president Farok Sharif, and named Bob McQuinn to the leadership position. This comes in the wake of not one but two major 'incidents' at the high-level nuclear waste repository during the month of February. The first a salt truck fire that forced evacuation of the underground facility on February 7th, the second a radiation leak on February 14th so far attributed variously to a ceiling collapse in a storage cavern, a forklift-operating ghost, and one or more 'exploding barrels' of transuranic waste. The move comes following the contamination of workers with plutonium, americium and other actinide waste and discovery of transuranic isotopes in air samples nearly 30 miles from the DOE facility. It also was publicly announced just hours before the contractor, San Francisco-based URS Corporation, released a scathing investigatory report detailing the many systemwide failures that led to the first emergency (truck fire) on February 7th. The criticism included deficiencies in emergency training and responses, finding that the incident was in fact 'preventable.'"
Radioactive Ocean Plume from Fukushima hits US West Coast - How Bad Is It?—by J Graham: "The short answer is that no one knows. Much has been written recently about the radioactive ocean-water plume that is due to hit the west coast sometime this year, possibly as soon as next month. The problem is that although we have models that predicts its arrival, we don't know exactly what the amount of radiation will be or where along the coast the radiation will end up. [...] What's lacking is an ocean-water testing program by the federal government. The reason for this is that, unlike airborne radiation testing, testing for radioactivity in ocean water is not covered by any existing government agency! This has essentially fallen through the regulatory cracks. One ocean-radiation scientist, Ken Buessler, has taken it upon himself to do the testing. He is asking people to donate to his efforts. Another scientist is planning to test kelp in the waters off the California coast."
Methane Management: Crowdfunding Natural Gas Leak Monitoring—by gmoke: "HEET [Home Energy Efficiency Team http://www.heetma.com ], a Cambridge, MA nonprofit which organizes public weatherization parties and barnraisings, is crowd funding a natural gas leak monitoring project in Cambridge and Somerville. Boston University Professor Nathan Phillips, who drove the streets of Boston last year with a high-precision methane analyzer to find 3,356 natural gas leaks, will loan HEET his methane analyzer and other equipment to drive the roof Cambridge and Somerville roads mapping every leak. Moving at 15 MPH, covering both sides of every street should take about three weeks. You can learn more about HEET'S Squeaky Leak project and help fund it, if so inclined, at http://www.heetma.com/...
The Oil Supply Challenge Isn't That Complicated—by richturc125: "What has the pursuit of oil cost us? Who pays the highest cost? Who reaps the benefits? How far are we willing to go? And what is the upside of continuing to rely on carbon-based fuels—whether it's methane hydrate, shale gas, or tar sands oil--when we have alternatives? The only question we don't have to ask is whether we should transition to carbon-free energy. The consequences of relying on oil are becoming impossible to ignore. And that makes it more difficult to justify the lengths we'll go to in order to get to it."
Renewables, Efficiency & Conservation

Solar roofs at Fort Dix
1,000 homes at Fort Dix, New Jersey get solar roofs with Mosaic crowdfunding
—by
HoundDog
: "Lyndsey Gilpin, of Techrepublic, lets us know How crowdfunding solar power is democratizing the way we finance clean energy. Gilpin tells us Billy Parish dropped out of his junior year at Yale to found the Energy Action Coalition. When he was 21, Rolling Stone named him a 'Climate Hero.' Most recently Billy Parish teamed up with Dan Rosen to found Mosaic, a web based company enable the 'crowd funding' of solar energy projects. Less than 24 hours after Oakland-based Mosaic allowed crowdfunding campaigns in January 2013 in which investors could pitch as little as $25, they raised enough money to fund four clean energy projects in California for affordable housing projects. More than 400 investors raised $313,000. The investors, on average, paid about $670 each. Last week, Mosaic launched a new platform on their site, allowing people to finance solar arrays on homes, in addition to the commercial projects already being funded. Since its initial launch in 2010, company has raised more than $7 million in investments through crowdfunding with a 100 percent payback rate. In its seed rounds, Mosaic raised $3.4 million from venture capitalists. In 2012, Mosaic received a $2 million grant from the Department of Energy. The biggest project to date is installing solar panels on 1,500 military homes in Fort Dix, New Jersey. Another successful project included installing a solar roof on Pinnacle Charter School in Denver, Colorado, which doubled as clean energy education for the students."
Fracking
California Native Nations Gathering With Environmental Organizations Against Fracking—by Dan Bacher: "Over 3000 people are expected to gather in Sacramento on Saturday March 15th to join California Indian Nations and send a clear message to Governor Brown and his administration that Hydraulic fracturing, or fracking, practices/efforts need to end in California. 'We are the ancestors of the future and it is our responsibility to be the care takers of the earth, as was given to us in our original teachings by our ancestors. We must not allow the continuous devastation and degradation of our Mother, Earth. We must be the voices for our children and our grandchildren. Fracking must stop by any means necessary,' states Corrina Gould, Elder, Chochenyo/Karkin Ohlone."
Report: Fracking Boom Would Increase California's Earthquake Danger—by TXsharon: "In California, oil companies are increasing earthquake risk by injecting billions of gallons of oil and gas wastewater a year into hundreds of disposal wells near active faults around Los Angeles, Bakersfield and other major cities, according to a new report released from Earthworks, the Center for Biological Diversity and Clean Water Action. A boom on hydraulic fracturing in California would worsen the danger of earthquakes, the report finds, by greatly increasing oil wastewater production and underground injection. Extracting the Monterey Shale's oil could produce almost 9 trillion gallons of contaminated wastewater, the report estimates. That could expose California to a surge in damaging earthquakes like those seen in Oklahoma, Texas, and other states experiencing rapidly increased fracking and wastewater production. In addition to exposing the fact that millions of Californians live in areas threatened by oil industry-induced earthquakes, the report found that a majority of California's active oil industry wastewater injection wells are near recently active faults."
Fracking Opponents Should Oppose Peripheral Tunnels—by Dan Bacher: "Over 3000 people are expected to gather in Sacramento on Saturday March 15th to join California Indian Nations and send a clear message to Governor Brown and his administration that Hydraulic fracturing, or fracking, practices/efforts need to end in California. 'We are the ancestors of the future and it is our responsibility to be the care takers of the earth, as was given to us in our original teachings by our ancestors. We must not allow the continuous devastation and degradation of our Mother, Earth. We must be the voices for our children and our grandchildren. Fracking must stop by any means necessary,' states Corrina Gould, Elder, Chochenyo/Karkin Ohlone."
Two Earthquakes Hit Ohio; Fracking Suspected—by Eternal Hope: "At least two Ohio earthquakes hit Monday morning, causing authorities to shut down a fracking operation in the area until it could be investigated. The magnitude 3.0 quake at about 2:26 a.m. was strong enough to wake up some residents in Poland Township, according to local NBC affiliate WFMJ. Reports said the smaller quake followed at 11:44 a.m. The deeper these operations drill into the ground to get oil, the more that this becomes a public safety issue, not just an environmental issue. These operations pay good money while they last—but then they close down at some point, creating a cycle of boom and bust. While we don't know at this point whether fracking caused these earthquakes, the suspicion was strong enough that authorities called a halt until they could find out."
Testimony: Record 36% of North Dakota Fracked Gas Was Flared in December—by Steve Horn: "The recent March 6 House Energy & Commerce Subcommittee on Energy and Power hearing titled 'Benefits of and Challenges to Energy Access in the 21st Century: Fuel Supply and Infrastructure' never had over 100 online viewers watching the livestream at any point in time. And it unfolded in an essentially empty room. But the poor attendance record had no relation to the gravity of the facts presented by testifiers. Among other things, one presenter revealed 36 percent of the gas by-product from oil obtained via hydraulic fracturing ('fracking') in North Dakota's Bakken Shale basin was flared off as waste during a brutally cold midwest winter with no end in sight. These damning facts were brought forward by Coalition for Environmentally Responsible Economies (Ceres) Oil & Gas and Insurance Programs Director Andrew Logan, one of eight people called to testify around topics ranging from domestic propane markets to fossil fuels-by-rail markets, to pipeline markets and flaring."
Rabbit Hole, Deep And Dusty!—by Rich Lyles: "Self conscious about the fact that I am starting to sound like Chicken Little, I submit that the impact on global climate is probably the one that will hit the hardest and sooner(I believe) than anyone is predicting. There are fracking sites all over the world working at top speed every day. It's called a "tipping point" because the consequences come suddenly like a drunk tipping over backwards in his chair. The consequences of an unregulated drilling industry running wild around the world will be wide spread, devastating, and may include calamities yet un-dreamt of."
Keystone and Other Fossil Fuel Transportation
Gen. James Jones Didn't Disclose Industry Ties Before Testimony at KXL Hearing—by Steve Horn: "A DeSmogBlog investigation has revealed Jones has several oil and gas industry ties that weren't disclosed to the Senate Foreign Relations Committee before the hearing. Among other ties, BuzzFeed recently revealed Jones currently serves as a consultant for the American Petroleum Institute (API), which has spent over $22 million lobbying on behalf of Keystone XL since 2008. Environmental Resources Management, Inc. (ERM Group)—the contractor chosen by the State Department to conduct the environmental review for the pipeline—is an API member.Friends of the Earth made a public call to Jones to reveal his client list ahead of his Senate testimony. 'Our representatives in Congress have a right to learn all of the pertinent facts about the Keystone XL pipeline unfiltered by corporate special interests,' reads the letter. 'Disclosing all relevant payments from interests advocating for or against the pipeline will help our representatives decide how to balance the competing information they are sure to receive.'"
It's Not About the Pipe—by Michael Brune: "Just why is this pipeline such a big deal? That question has several answers, but they start with this: It's not about the pipe. It's about what the pipe would carry. The Keystone XL's purpose would be to move Canadian tar sands oil through more than a thousand miles of American farms and ranches all the way to the Gulf, where much of it would be shipped to China and other countries. Tar sands oil is not normal crude oil. It's heavier and more toxic, with on average 11 times more sulfur, 11 times more nickel, and 5 times more lead, as well as plenty of other carcinogens. When it spills in a waterway, it sinks. Just one tar sands oil spill in Michigan fouled more than 35 miles of river. After three and a half years and more than a billion dollars, that spill still has not been cleaned up. Because tar sands oil is thicker and, indeed, more tar-like, it can't be transported like conventional oil. Pipelines pumping tar sands crude can run at over 1,000 pounds per square inch (compared with about 30 psi for your average car tire) and reach temperatures of over 100 degrees. This high pressure and the corrosive nature of tar sands oil combine to increase the likelihood of spills. Keystone XL would also produce a significant increase in the production of petcoke, a filthy byproduct of tar sands production that is hazardous to communities and has its own major climate implications. It's true that all fossil fuels come with risks, of course. But extreme fossil fuel sources, such as oil from the Arctic Sea or tar sands from Canada, come with extreme risks. Risks that are too often brushed aside—right up until the inevitable."
45 year old gas pipeline not checked in 24 years. Guess what happens next?—by FisherOfRolando: "A corroded gas pipeline that had not been inspected in more than two decades contributed to an explosion in 2012 that destroyed homes and melted a section of Interstate 77 in Sissonville, W.Va., the National Transportation Safety Board said on Monday. [...] It was a near miracle that no one was killed when this gas line ruptured. Luckily this happened in a rural area but it still managed to close an interstate highway. Columbia Pipeline Group subsidiaries have about 15,000 miles of pipeline. The group reports it replaced more than 50 miles of pipeline last year. I know I feel safer."
No KXL: FEIR Comments from a Climate Activist—by RandW: "[NOTE: These comments were submitted on time to the State Department, and come late to DK. They are, hopefully, worth a read.] For myself, rejection of KXL, as a key part of the dirtiest and largest extreme oil project in history, come down to the damage to the climate for 100's of generations. Now, in history, we need to immediately launch the cleanest and largest energy and economic transformation. These are my 10 reasons why the Final EIR (Environmental Impact Report) is wrong and bad, and that the Keystone XL pipeline is not in the national best interest: #1: KXL will increase tars sands use. The idea that the Keystone pipeline will not increase consumption of tar sands is prima facie absurd. Why would TransCanada and the oil industry want it unless it was going to facilitate them getting their product to market? The fact that they urgently want the pipeline is all the evidence anyone needs to know whether it will increase tar sands access to markets. They want to lower the cost of transport, so they can sell it a lower price, to increase its sales. Period. [...] "
Nurses Demand Secretary Kerry Prove No Health Harm from KXL, 'Don't Pipeline My Patients'—by National Nurses Movement: "Registered nurses from coast to coast are stepping up the challenge to the controversial Keystone XL pipeline with a demand that Secretary of State John Kerry provide proof that Keystone will not harm the health and safety of Americans prior to any final decision on the project. In addition, National Nurses United, the nation's largest organization of RNs, is circulating an online petition to Kerry that will be presented to the State Department demanding the guarantee, and has released a new short video from nurses titled, 'Don't Pipeline My Patients.'"
Keystone Talking Points—by mahytabel: "In all the hype we've heard about the KXL Pipeline over the last couple of weeks, I've noticed there's a few things missing from the Left/Progressive talking points that I think need to be stressed. We hear a lot about the climate change, the nastiness and dirtiness of this form of oil harvesting, and the cost of cleaning and refining the oil produced. What we don't hear about is how few full time, long term jobs this will create, the possibility that a leak could contaminate the largest aquifer in the world (and in the process make the Bread Basket of American nothing but a poisoned wasteland), and the physical toll a leak would create on the local citizens of a spill zone."
Eco-Related DC & State Politics
Senate Democrats plan all-nighter climate talk. Perhaps, someday, they can do this in prime time—by Meteor Blades: "In October 2011, Sen. Sheldon Whitehouse, the Rhode Island Democrat, delivered the first of what has now become his more than 60 weekly speeches about climate change on the Senate floor. It was a low-decibel speech, but nevertheless the kind that peels wallpaper. Tonight, he will be speaking about climate change again. But he won't be alone. Twenty-five other Democratic senators and the two independents in that body will join him, starting sometime after 4 PM ET and going on until around 9 AM Tuesday. A hashtag has been established for the all-nighter: #Up4Climate. Some senior White House officials will be supporting them on social media throughout the night. Brian Schatz, the Democratic senator from Hawaii, said in a statement: 'Congress must act. On Monday night we are going to show the growing number of senators who are committed to working together to confront climate change. On Monday night we are going to show the growing number of senators who are committed to working together to confront climate change.'"
Open thread for night owls: 28 senators become night owls for climate change—by Meteor Blades.
No one who is serious about reversing global warming could support the #KeystoneXL pipeline. #Up4Climate
http://t.co/...
— @SenSanders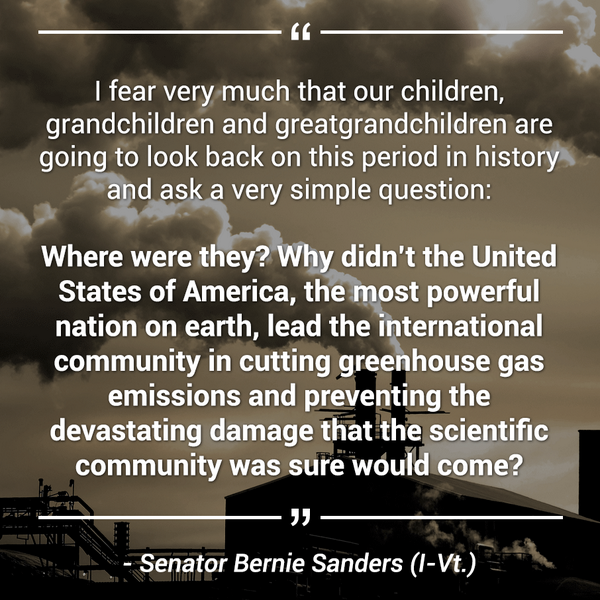 ACT: Is Your Senator #Up4Climate?—by ClimateBrad: "This is pretty simple. 28 31 U.S. Senators (D+I) have announced they're joining the #Up4Climate talkathon tonight. There are 27 24 Democrats and 45 Republicans who have not. I've made a Twitter list of the Democrats and Independents signed on to the #Up4Climate effort: @climatebrad/up4climate. Below the fold is the full listing of the Senators on the list and off. If your Senators are participating, thank them. If not, give them a call or tweet."
HI-Sen: Brian Schatz (D) Calls On Congress To Take Urgent Action On Climate Change—by poopdogcomedy: "Received this e-mail today from Senator Brian Schatz (D. HI): Climate change is the challenge of our generation, but lately Congress has been silent. We're about to change that. I've asked my fellow Senators to join me on the floor tonight to show that we're ready to act on climate change. We'll be staying up on the Senate floor all night to urge action to fight climate change and build a clean energy economy. Will you join us? Stand #Up4Climate and clean energy solutions. Click here to sign the petition urging Congress to take action against climate change. http://www.wakeuptoclimatechange.com/.... Even while our military, climate scientists, and President Obama are united in acknowledging the urgency of addressing climate change, Congress is almost uniquely stuck in a mire of denial and delay. Powerful special interests are heavily funding efforts to confuse the public and delay action against climate change, but we can't let big money win the day."
MA-Sen: Ed Markey (D) Calls On Congress To Combat Climate Change—by poopdogcomedy: "Received this e-mail today from Senator Ed Markey (D. MA) regarding climate change: Anyone who says that "the jury is still out on climate change" hasn't been paying attention. The jury has deliberated, it has come back into the courtroom, and it has delivered its verdict: climate change is real, and it is happening now. The world is getting warmer. Polar glaciers are shrinking. Sea-levels are rising, making the damage from extreme storms like Hurricane Sandy worse. But big oil companies refuse to face reality Generations from now, when our children and grandchildren look back on this defining moment—what will they say about us?"
Democratic Senators to pull #Up4Climate all-nighter—by A Siegel: "Monday night, the Democratic Party Senate leadership will take to the floor with speeches on climate change. Majority Leader Harry M. Reid (D-Nev.) has pledged in recent weeks to continue allowing time for anyone who wants to discuss the issue during the weekly Democratic caucus lunch or on the Senate floor. The format planned for Monday is an extension of floor speeches given regularly by Whitehouse that usually begin with him saying that "it's time to wake up" to climate change. The majority of the majority will follow, through the night, with speech after speech focusing on climate change issues."
My Submission to Elizabeth Warren for the Monday Night Climate All-Nighter—by New Minas: "By 2039 the collapse of the summer Arctic polar ice caps will have proven beyond any genuine doubt that catastrophic human caused global warming is our new reality. The prior debates that lasted through the middle of our current decade will be seen as a proxy fight that was funded entirely by the economically entrenched and politically powerful fossil fuel industrialists who had placed their own corporate profits beyond the welfare of their country's citizenry and even the lives of their own children. This reality was proven, without doubt, after the extreme climate shifts of the mid 2020's when the west and southwest 'mega-drought' collapsed the Colorado River watershed and led to the first complete loss of power production from the Hoover Dam in 2028. The resulting shocks in domestic food prices due to the 40% reduction in California's agricultural output, combined with systemic energy shortages caused by southeast energy demands push the United States toward a permanent state of economic deflation and a massive reduction in public social welfare."
Climate wake up call from our own senators—by GoldenDragon: "Tonight, California's U.S. senator Barbara Boxer will join 27 other senators, including Coons, Franken, Heinrich, Markey, Murray, Schatz, Udall, Whitehouse, and Wyden to talk all night, for at least 14 hours, about the urgency of taking meaningful action to fight climate change. Thinkprogress gives a great overview of 28 reasons why these 28 senators have finally sounded the wake up call. From one of the worst droughts in California's recorded history to $621 million in taxpayer dollars spent cleaning up record flooding in Colorado, you and I are literally paying to clean up the damage being done by an oil industry that continues to make record profits. And where do those profits go while we pay for cleanup? To buy elections and create vast disinformation campaigns to convince people the science isn't settled. Campaigns run by the exact same people that tried to convince us that smoking wasn't dangerous and tobacco wasn't addictive."
If the Senate Talks All Night On Climate Change, Will It Produce Anything Except Hot Air?—by xaxnar: "Climate Change finally shows signs of gaining political traction. At this point Democrats are beginning to establish some forward momentum. The President is speaking out. The Secretary of State is making no bones about its importance as an international issue. (Of course, there's still that KXL thing…) Still, we could be doing better. [...] The Senate effort to build Climate Change concerns into action is essential. The big problem now isn't the science; we've passed the point at which there's any doubt left about Climate Change reality. The only questions left are how fast it will happen, how bad it will get, what we are going to do about it, and when. The main problem now is political—how to get the world to act, and to recognize that our opponents don't really give a damn about it in any case."
Safe Climate Caucus Pumps Up Advocacy and Action—by Marcia G Yerman: "Last year, the agenda of the Safe Climate Caucus was to have a member of the House of Representatives speak daily on the impact of climate change. Now, with new members on board, they are taking the social media track with weekly videos on YouTube and blogs on Huffington Post Green. Rep. Henry Waxman (D-CA) has spearheaded the caucus, with 35 members committed to working on the issue. He has been a driving force in calling out the House Republicans on their recalcitrance, both verbally and by documenting it in papers about anti-environmental legislation. He has also been clear about the logistics and moral choice of moving forward with the XL Pipeline, underscoring his hope that the contentious debate with be finalized with a 'No' from President Obama. His bottom line is, 'Our group is about speaking truth to power.' Waxman, who will be retiring after this congressional session, has been a leader in the fight for environmental legislation, since the days of President Ford."
Do You Really WANT James Inhofe Chairing Environment?—by The Baculum King: "I understand that periodic pie fights are a staple here, and I suppose that's fine if it turns your crank, but a lot of thought and energy is being pissed away while some truly bad shit looms as distinct possibilities on the horizon. How about James Inhofe as Chairman of the Senate Environment & Public Works Committee, through which anything to address climate change must go? Orrin Hatch as Chair of the Finance Committee? John McCain at Armed Services?"
Climate Change Talkathon downplayed and ridiculed by Fossil Fools—by jamess: "I just watched Joe Scarborough make a 'tearful' mockery of the event. He was pathetic. Mika appealed to him about his children, about the science—to no avail—finally simply saying 'I'll let the evidence speak for itself.' Joe was not alone in his disdain for the Senate all-niter. Where was all this derision when Cruz was reading Seuss in the House?"
Water & Drought
#CAWater #CADrought - Damming the #CADelta—by mrsgoo: "Got a phone call today from a gal who has a cattle ranch on Bradford Island. Rumour has it that they want to dam False River and at the next Reclamation District meeting, USBR will be asking for an encroachment permit. This crap was pretty well discussed a few years back and got canned as you can see here Anticipated Project Schedule: The Franks Tract Project has been delayed. Ha! It's back! On Steroids. Just found this on the Sacramento Bee—California to dam Delta sloughs if drought persists. Here is what pisses me off about all of this. Drought is not a new condition in California. It's damn near normal. Instead of pushing for new storage and conservation and reclamation of water—we get a sustained push for a boondoggle of a tunnel plan to shunt the Sacramento River into tunnels to send water to the southern San Joaquin Valley growers. It's not LA pools folks—it never was. It's Stewart Resnick and his damn POM Pomagranates and Pistachios that want the water."
Interior Secretary Jewell refuses to meet with Delta protesters—by Dan Bacher: "During a visit to the federal water export pumping facilities in the South Delta on March 11, Secretary of the Interior Sally Jewell affirmed the Obama administration's support for the Bay Delta Conservation Plan to build the peripheral tunnels—and failed to meet with Delta advocates protesting the tunnel plan. 'The Administration is committed to long-term water supply improvements and environmental restoration in California,' claimed Jewell. 'We are working closely with the state to complete the Bay Delta Conservation Plan and take other important actions that will achieve the dual goals of a reliable water supply for California and a healthy Bay Delta ecosystem that supports the state's economy.' Governor Jerry Brown also used the photo opportunity to promote his Bay Delta Conservation Plan, even though it wouldn't create one drop of new water."
Environmental Water Caucus Unveils Real-Time Drought Response—by Dan Bacher: "On the other hand, the Environmental Water Caucus, a broad coalition of fishing groups, Indian Tribes, conservation groups and environmental justice organizations, has released a response to the drought pointing to ways that permanently use less water and better manage the hundreds of existing dams and reservoirs that already exist. 'With a history of recurring drought in California—40% of recent years have been drought level years -California ought to be well prepared for these conditions. Instead we have another of the usual 'emergency drought proclamations' from the Governor,' said Nick Di Croce, Co-Facilitator of the Environmental Water Caucus. Di Croce cited the kinds of actions that are 'really needed to get us out of this recurring cycle,' as recommended by the member organizations of the Environmental Water Caucus."
Delta protesters call on Secretary Jewell to not back twin tunnels—by Dan Bacher: "Secretary of the Interior Sally Jewell today will tour the federal C.W. "Bill" Jones Pumping Plant in Byron that exports Delta water to corporate agribusiness interests and oil companies—and Restore the Delta representatives will be on hand to protest Governor Jerry Brown's Bay Delta Conservation Plan to build the peripheral tunnels. Jewell is going to the pumping plant to "examine firsthand firsthand critical water storage and conveyance facilities," according to a media advisory from the Department of Interior. The advisory is headlined, 'Secretary Jewell to Tour California Water Facilities for On-the-Ground Examination of Historic Drought Issues.' The federal and state pumping facilities in the South Delta are "ground zero" for the Delta ecosystem collapse. Millions of fish including Sacramento splittail, Central Valley Chinook salmon, steelhead, longfin smelt, Delta smelt, striped bass, threadfin shad, largemouth bass and other species are slaughtered in the pumps every year."
State claims court ruling shouldn't impact tunnel plan schedule—by Dan Bacher: "In a big victory for Delta landowners, the Court of Appeals ruled the state may not access private property in the Sacramento-San Joaquin Delta to conduct studies used to plan the construction of the twin tunnels. The court said these studies would first have to be authorized in formal eminent domain proceedings. The ruling prohibits DWR from conducting the ground surveys and site assessments needed for BDCP's engineering, biological, geotechnical, archaeological, floral and faunal studies. Resistance to the peripheral tunnels is building throughout the state. A broad coalition of Delta farmers, fishermen, Indian Tribes, grassroots environmentalists, elected officials and Delta residents oppose the tunnels because their construction would hasten the extinction of Central Valley salmon and Delta fish populations, as well as imperil the salmon and steelhead populations on the Trinity and Klamath rivers."
The Great Outdoors

The Daily Bucket - Satinflower at Iceberg (and other pink delights)
—by
OceanDiver
: "This is Satinflower, the earliest wildflower to bloom out at Iceberg Point, a rugged rocky promontory in the San Juan Islands. I got word of its blooming and we hiked out to see. Later in spring and early summer the meadow is a colorful panorama of perennial native wildflowers, but right now only this one brightens the monochromatic expanse, and just on a few steep rocky knolls. After a walk through the forest we emerged into an open meadow, edged by a steep bluff dropping to the rough waters of the Strait of Juan de Fuca. It was a lovely mild early spring day, calm and sunny. Hiking up onto a rocky hill, this is a view of the shoreline: Iceberg Point is an 80-acre tract, part of San Juan National Monument,
and so now protected from any future development. The legislation was signed into law just one year ago by President Obama. I wrote a bit about it at the time. The grassy area of Iceberg is a unique habitat, created by local Coast Salish Ndns, who regularly burned the site to maintain meadow plants for food and for game forage, until a century ago. The camas, chocolate lily and other perennial herbs they cultivated will bloom in a few months."
Eco-Activism & Eco-Justice
Protecting the planet is now criminal—by AshleyAllison: "I have some news—as of this week, I'm a criminal. And so are the people of Ecuador who stood against Chevron for poisoning the Amazon with 18 billion gallons of toxic oil waste in its ruthless quest for more profit. In a blatant attempt to avoid a massive judgment against it in Ecuador's courts, Chevron has twisted the RICO Act—legislation designed to target mobsters—to silence their critics and have them labeled as criminals. Shockingly, a U.S. judge actually sided with Chevron last Tuesday, ruling against the people who fought so hard to bring the oil giant to justice. It's now possible for other wealthy corporations to attack activists like you and me just for speaking out and exposing their actions—but we're not going to stand for this."
New York City Can Lead on Fossil Fuel Divestment—by millerz: "Divestment does not mean sacrificing the economic concerns of those who rely on these pensions. It is actually the fossil fuel investments that are a financial risk. According to 350.org, burning the fossil fuel that corporations now have in their reserves would result in emitting 2,795 gigatons of carbon dioxide—five times the amount to stay below 2°C of warming needed to avoid catastrophe. Major players such as these 17 Foundations describe the decision to divest as aligning with not only moral but economic interests. If you want to contribute to this effort please take the step of starting to change the conversation by bringing up the idea of fossil fuel divestment to someone you know and tell them why it matters to you."
Pollution, Hazardous Wastes & Trash
Agencies Dodge Responsibility for Human Cost of Mountaintop-Removal Coal Mining—by Mary Anne Hitt: "This week, we got some disappointing news—a judge ruled that the Army Corps of Engineers isn't responsible for considering the health effects of coal pollution when it issues permits to fill valleys with rubble from mountaintop-removal coal mines. As Appalachian residents continue to suffer every year from well-documented health problems linked to mountaintop removal, this decision highlights a deadly loophole that requires long-overdue action from the White House and Congress.
Responsibility is a tricky thing. In our daily lives we work to be conscientious of our bills, our taxes, our family lives and a myriad of other duties that come up every day. But what happens when say, no one in the house takes responsibility for the dirty dishes? They keep piling up and things get pretty nasty."
NM-Sen: Tom Udall (D) Calls On Congress To Protect Access To Clean Water—by poopdogcomedy: "Received this e-mail today from Senator Tom Udall (D. NM): "When you turn on your tap, the last thing you expect to come rushing out are toxic chemicals. But that's exactly what happened earlier this year in Charleston, West Virginia. Around 10,000 gallons of chemicals from a nearby plant contaminated the city's water supply, leaving about 300,000 residents without access to drinkable water. What's more frustrating is that, with proper oversight, this disaster could have been averted. The plant that spilled those chemicals and polluted Charleston's water supply had not been inspected by state or federal regulators in two years. We cannot afford that kind of risk anywhere. Not in West Virginia, and not in the Southwest, where water is scarce during this historic drought."
Massive Environmental Lawsuit Filed in Louisiana Targets 100 Oil & Gas Companies—by Eternal Hope: "A massive environmental lawsuit has been filed against 100 oil and gas companies in Louisiana alleging massive destruction of Louisiana's coast. An angry Louisiana Governor Bobby Jindal is not happy with the lawsuit. His allies in the legislature are rushing bills through in an attempt to kill the lawsuit and he is attempting to stack the flood protection authorities with allies in an attempt to ensure that this does not happen again. At least one of the legislators involved, Senator Robert Adley, owns an oil and gas consulting firm. Louisiana Attorney General James 'Buddy' Caldwell (R) has the authority to sign off on such suits instigated by political subdivisions. The Louisiana Oil & Gas Association attempted to file a lawsuit blocking Caldwell's authority to sign off on such suits; it was dismissed yesterday."
Transportation & Infrastructure
Want To Know How Blue An Area Is? Look At Public Transit—by jncca: "The title of this diary may seem intuitive. Liberal areas elect liberals. Liberals like public transit, both for economic and environmental reasons. Conservative areas don't elect liberals. Conservatives like public transit less, both for economic and environmental reasons. However, I decided to actually see how strong the correlation is, and the results are so incredibly strong I wanted to share them anyway."
The Veterans Green Bus needs your vote now!—by llbear: "This is for a free booth at Net Roots Nation where LARGE MARG* will be available for free rides: Please vote for United Peace Relief and the Veterans Green Bus Sustainable Disaster Relief Booth and Share this link: and scroll down to United Peace Relief. The voting has been very active the last couple of hours. We were in first place yesterday. With just a few hours left, I'm posting this in an attempt to keep from losing our chance to a booth in Detroit."

1917 Anderson Electric
The First Electric Cars
—by
Lenny Flank
: "Think electric cars began with the Volt and the Prius? Think again---electric cars have been with us from the very beginning ... Subsequently, in 1884, the first really workable electric automobile was built by English industrialist Thomas Parker, who used high-capacity lead-acid batteries that he designed and produced himself. Parker had previously been in charge of introducing electric-driven trains to the London subway system. In the United States, the first practical electric car was introduced in 1891, by Scottish immigrant William Morrison, of Des Moines, Iowa. Morrison's vehicle used a bank of 24 rechargeable lead-acid batteries, could carry six people, and could move at 15 mph. It needed to be recharged every 50 miles. By 1897, automobiles were appearing in every American city, and many of these were electric-powered--electric cars were outselling both steam and gasoline cars. The Baker Motor Vehicle Company introduced an electric car that could go over 100 miles on a charge. New York City introduced a fleet of electric taxis built by the Electric Carriage and Wagon Company of Philadelphia; London's electric taxis, introduced the same year, were made by Walter C Bersey—they were nicknamed 'Hummingbirds.' By 1900, almost 40% of all the automobiles in the US were electric-powered. Although the motor technology limited electric cars to about 20 mph, they were quiet (gasoline engines had no mufflers yet), produced no vibration, and were virtually maintenance-free. And they could be started up with the push of a button, unlike gasoline engines, which at that time had hand-cranked mechanical starters."
Sunday Train: Cap&Trade Funds should help finance the California HSR
—by BruceMcF: "Now, in a carbon neutral transport system, just as in our current, obsolete, transport system, most trips are local. And there are a wide variety of more sustainable local transport options, particularly when we set aside the fantasy of an efficient, effective, one-size-fits-all-trips solution. There is walking on well designed sidewalks, cycling, both on shared right of way and on cycleways, there are neighborhood electric vehicles, there are shared electric cars, there are city buses, there are buses on dedicated corridors, there are various types of modern trams and trolleys, there are electric trolley buses, there is electric local and regional heavy rail. But when considering 200 mile trips, the choices narrow down. And when considering 300 mile to 500 mile trips, there are very strong advantages to electric Express HSR. The challenge of electric Express HSR is that it is capital intensive, just as is new airport construction, and as is new express highway construction."
Christie Unilaterally Shuts Down All Tesla Car Stores in NJ—by ericlewis0: "These knobs are more afraid of the electric car than they are of government meddling in the free market. Talk about hypocrisy! Gawd—it makes my blood boil. There is a chance that the NJ Legislature can craft a bill to reverse this fascist atrocity, but it hasn't happened yet. I hope Elon Musk and Tesla fight back with some high-powered legal muscle. Maybe Christie figured he's on his way down the drain, so he might as well do one last solid for his puppet masters. Blech."
Miscellany
The First Solar Heated Shower of the Year and New Wildflowers in the Fields—by InAntalya: "Today I had my first solar-heated-hot-water shower of the year. The solar heated water has been warm enough for washing dishes and doing the laundry for some time but today I wanted to see if it was hot enough for a shower, and it was. I know there is no difference between hot water from an electric water heater and hot water from a solar water heater but I enjoy taking a shower with solar heated hot water much more, and I've missed them for the past three months."
SolarCoin: Do you generate solar?—by jbalazs: "SolarCoin is a new and interesting venture into the cryptocurrency space. The aim is to grant the majority of coins (99%) to people around the world who generate solar power. 1 SolarCoin = 1 MWh of solar energy production. The first official grant was given a few days ago to a woman in Phoenix, AZ. She provided her proof of generation back to 2010 of 23.559 MWh, verified with her provider SolarGuard, and 23.559 SolarCoins were sent to her wallet. You can see the transaction on the blockchain here. While many of you seem to have an aversion to cryptocurrencies, I am of the same opinion as this guy: Google Director of Ideas and former technology advisor to former Secretary of State Hillary Clinton, Jared Cohen, says that digital 'crypto-currencies' like Bitcoin are here to stay. 'I think it's very obvious to all of us that crypto-currencies are inevitable,' he told the audience at SXSW, in conversation with Chairman Eric Schmidt, to promote their co-authored book, The New Digital Age. So let's not turn this into an argument about Bitcoin, ok? :)"