This is an Open Thread / Coffee Hour and all topics of conversation are welcome. Today's suggested topic is the Vallejo General Plan Update or your city general Plan.
In the last weeks I attended two public meetings to develop the guiding principles for the City of Vallejo General plan. These meetings are the first of a three year process. My goal is to infuse some progressive values into the plan. A little more on the meetings and process beyond the fold.

The first of four Guiding Principles Meetings
What is for dinner? How are you doing? What is on your mind. If you are new to Street Prophets please introduce yourself in a comment. This is an Open Thread / Coffee Hour and all topics of conversation are welcome. (See:
Street Prophets Coffee Hour - Vallejo General Plan Update - Part 2
)
The meeting was opened by Rozzana Verder-Aliga, Vallejo Councilmember. Then staff proceededed to out the steps involved in the three year process. An overview of the process can be seen at the project website, Propel Vallejo, under Schedule.
Rozzana Verder-Aliga, Vallejo Councilmember
After the introductions we broke into seven groups and and we worked together to create values statements about a number of topics, including: Jobs and Economy, Public Health, Transportation, and Zoning. These value statements can be seen at the Propel Vallejo Open City Hall Online Forum.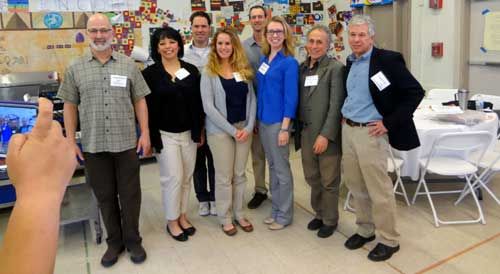 The Propel Vallejo Team
One of the progressive values I'm trying to add the the guiding principle is that of the right of a city own enterprises that benefit the citizens of Vallejo. Example would be Municipal Broadband, Public Food Gardens, and Public Bike Paths just to name a few.
Below is an excerpt from the invitation that Mayor Osby Davis sent out to the public.

Invitation to the Community

We need your help in our new Vallejo Planning Initiatives Project to:

1) Create Guiding Principles that express our community's shared vision and values and will serve as a compass for the project over the next three years.

2) Update our General Plan to guide land use decisions throughout the city, tie together existing specific plans, and promote economic vitality and public health and safety.

3) Create a Specific Plan for Sonoma Boulevard to support economic development together with recently completed design concepts and guidelines for the area.

4) Update our Zoning Code to make it more user-friendly and consistent with the General Plan, and to incorporate innovative ways to ensure that physical changes fit and enhance our city's character.

In addition, Environmental Review will be conducted for of all of these components to ensure that land use activities do not negatively affect our community.

Starting with the Guiding Principles that will shape the rest of the effort, we are reaching out to the community at large to invite everyone to have a voice in the process. We invite you to attend one of the following workshops to tell us your priorities, concerns and hopes for Vallejo's future.

(for dates visit the Propel Vallejo website)

Please invite your friends, family, neighbors and colleagues to participate in this very important process. You will also be able to participate online, so visit the Vallejo Planning Initiatives web site at http://www.propelvallejo.com to learn more and offer ideas. There will be many other upcoming opportunities to share your thoughts, but you can make a positive impact by participating right now.

Signed by Mayor Osby Davis

From the Propel Vallejo Website

I have not yet found the correct wording to move my ideas onto the lists of value statements. But, by I'm hopeful that I'm influencing the process through sharing my ideas at the meetings. There is one more meeting to go, this Wednesday, and I'm planning to attend. I will give an update next week on how things turn out.
Best,
JON