The cave passages called Oz are an otherworld to an otherworld. On Wednesday, it was time to climb the hundreds of feet of rope to get there.
Lechuguilla Cave, New Mexico, qualifies as one of the great wonders anywhere. Even in the main passages that have been known for two decades or more, there are surprises for the finding, if you slow down and take a look at what is around you. A routine hike out the Western Borehole passage, from camp to the remote destination of the day, is what you make of it.
And then there's exploration. Complexes that are considered to be thoroughly explored often have something new to find.
So it was with the discoveries of Emerald City and then Oz.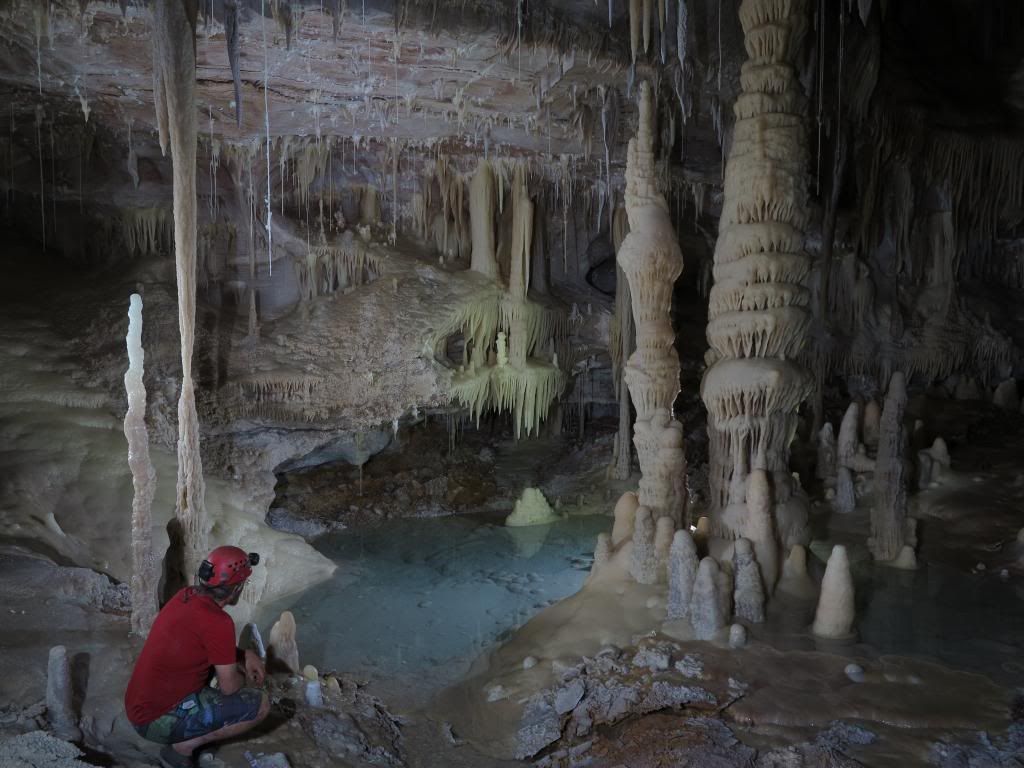 Oz
In 2007, explorers conducted a very detailed recheck of a series of passages that had been mapped years before. This time, not hurried by the frenzied pace of earlier discovery, they checked every nook and cranny. And that led to paydirt. A climb up a narrow crevice led, as it had so many times before in the cave, to large rooms and passages. Bright green mineral formations suggested the name of the Emerald City.
An astonishing feature of the Emerald City area was a dome room that was so tall that the height of its ceiling could not be determined, even with a laser range finder. An early measurement came up with a height of 280 feet, and the dome continued up and out of sight around a curving wall. Two rock bridges could be seen spanning the void, the first about a hundred feet up.
With an innovative method using a slingshot designed to sling power lines, the first bridge was reached, then the second. Still the dome went up. It was time for all-out climbing.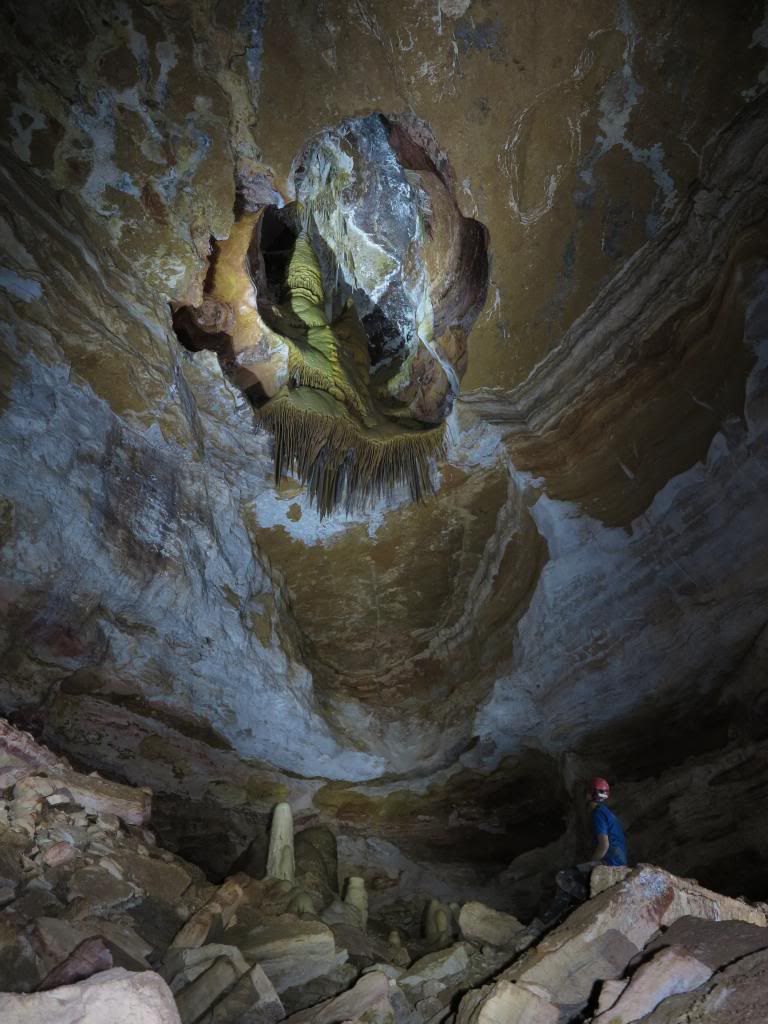 In 2012, climbers Derek Bristol and James Hunter took it on, climbing for five full tough days, topping out more than 400 feet above the floor of the dome. The passages at the top were small, but one of them led through a small hole in tumbled rocks to a vast room, with excellent further leads to explore. It was the kind of moment that cavers live for.
The new series, known generally as Oz, continued upward, reaching as high as the entrance to the cave, a full thousand feet above the Deep Seas camp.
In December of 2013, one of the purposes of our expedition was to obtain high quality photographs of the new area. So on the fourth day of our trip, we found ourselves climbing the ropes.
The climb was long and strenuous. Between huffs and puffs, I found myself considering the fact that others had climbed the cave walls, including areas of crumbling rock, in order to set these ropes. Compared to what had been here before, this was a stroll. The climbing effort had been heroic.
To climb a rope in the cave, you attach yourself to the rope with ascenders, mechanical clamps that can go up the rope but don't go down. The ascenders are attached in turn to your harness, or to a foot loop that you can stand up in. You move each ascender up in turn while you weight hangs on the other, and so you make your way higher and higher.
For many of the roped climbs in the cave, you have to change from one rope to another, sometimes while hanging far above the ground. This move, called crossing a rebelay, requires extra gear that allows you to remain attached to at least one rope at all times. The route had several rebelays, including a dramatic one at the edge of the first rock arch a hundred feet up. We'll just call the experience thrilling.
Five of us climbed in turn, each waiting until the cavers before us had climbed the entirety of one or more rope and was waiting in a safe spot. "Off Rope!" was the shout that told you it was your turn.
Our trip leader Derek, who had conducted much of the original climb, told of the tale of the original discovery. Where the worst climbing rock had been. Where they had saved thirty feet of climbing by wriggling up a parallel passage to re-emerge in the large vertical passage. Side passages they had explored. And so we made it to the reward at the top.
First, we took pictures of the large passages near the top of the Kansas Twister climb. With four assistants setting up flashes under the direction of our photographer Peter, we did our best to capture the unclimbed Wizard's Staff, from a spot way below. Then we moved on to the Cowardly Lion Traverse (now roped and not as scary as it must have been initially – that's me on rope on the traverse).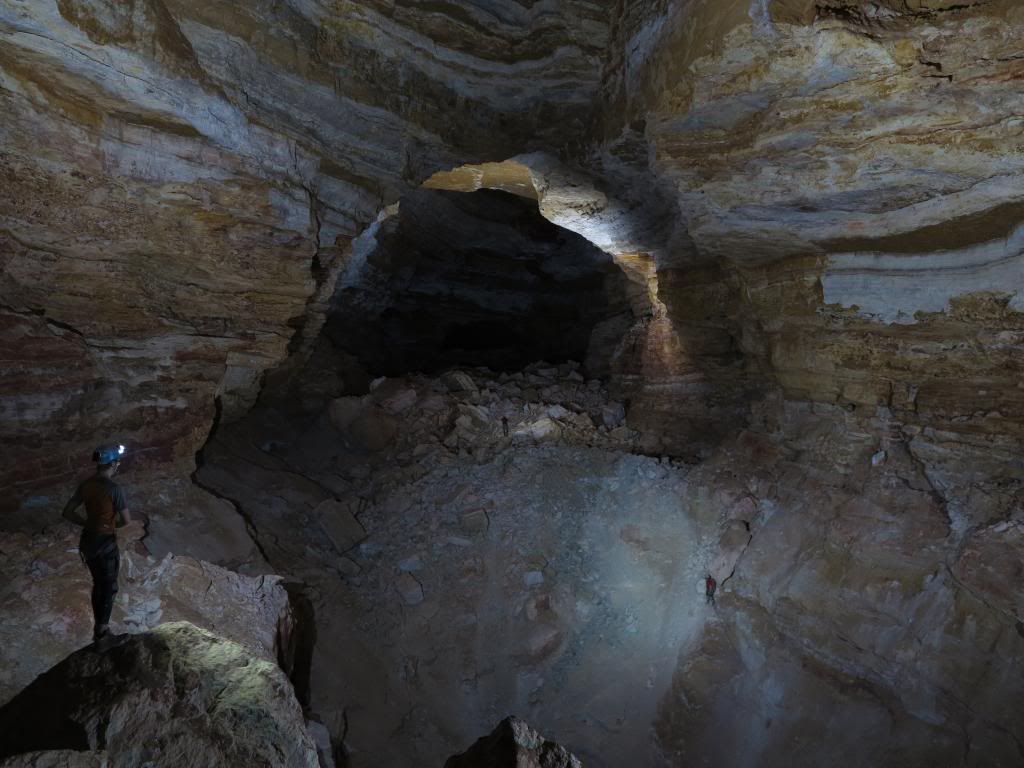 The greatest treat was the formation area. No words could add to the images.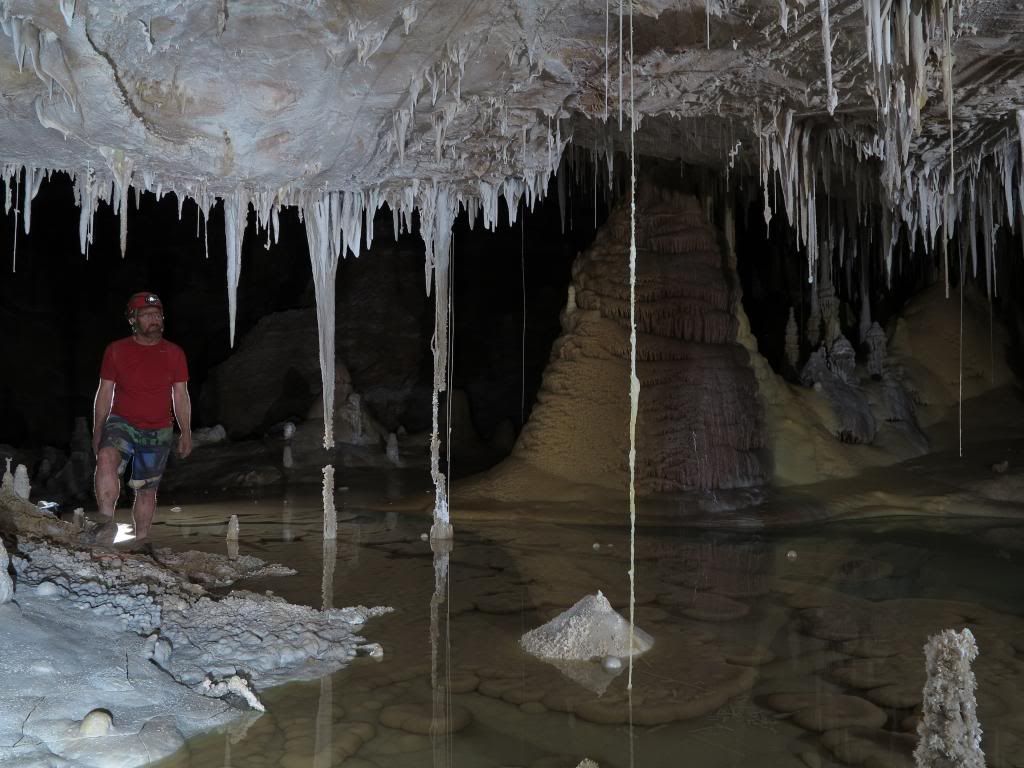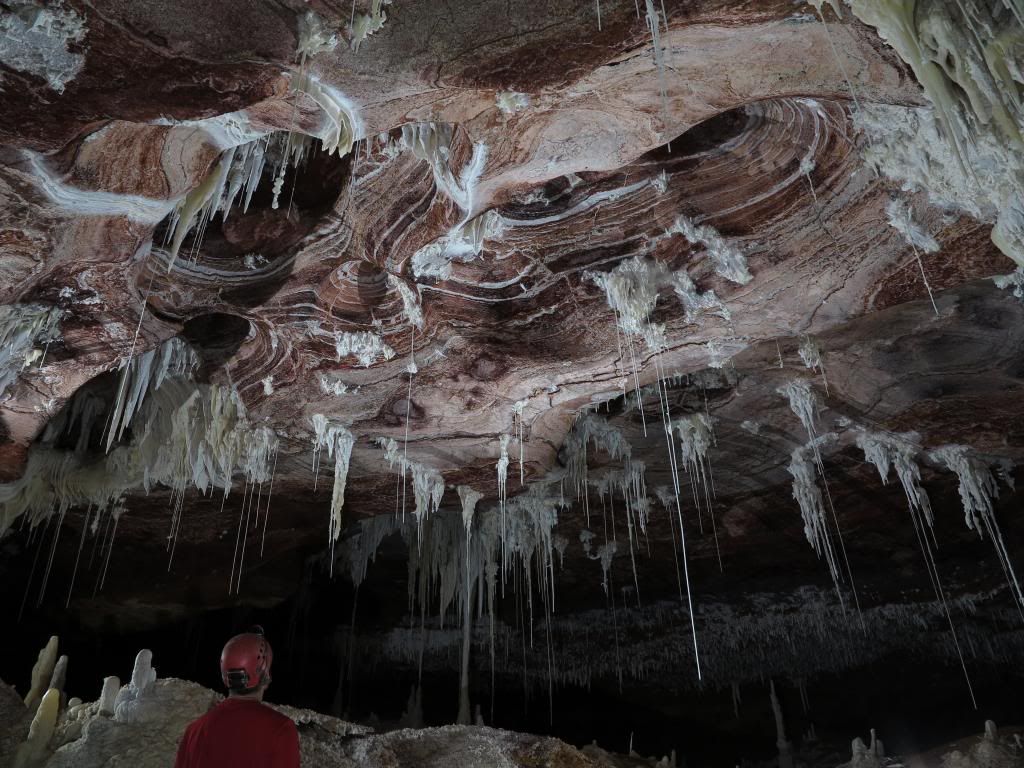 With some places, there is no mistaking that they are unique and special. It can awaken a sense of reverence, the need to tread carefully or even stop and leave it exactly as it is. For other places, more awareness is needed. But such sacred places are all around us – we just need to see them.
References

Thanks to expedition leader Peter Bosted for the invitation to return to the most beautiful cave in the world, to nine great teammates, and to the National Park Service as always for protecting this great wonder.
My account of a 2012 expedition to Lechuguilla Cave is: Time, in a Timeless Place.
I really enjoyed this article by Michael Ray Taylor of an early exploration trip across a lake in Lechuguilla Cave, and you will too. Also check out Michael's books Cave Passages and Dark Life which both have chapters on Lechuguilla Cave.
To see some of the greatest cave pictures anywhere, check out cavepics.com, photography by Peter and Ann Bosted.
By complete coincidence, my friend Philip Damon recently published an article in our local paper Whatcom Watch titled "Not in Kansas Any More", on a completely different topic.
For a very detailed description of how people get ready for a week in Lechuguilla Cave, see the Lechuguilla Cave Preparation Guide.