Every now an then a book comes along that not just changes your thinking about politics, but also the way you think about politics. Crashing The Estates: The Rise of Corporate Powered Politics and The Founding of The Daily Kochs," by David H. Koch and Charles G. Koch is such a book.
Crashing the Estate is a shot across the bow of the political establishment in Washington, DC and a call to oligarchy in politics in America.
This book lays bare, with passion and precision, how ineffective, incompetent, and antiquated democracy in America has become, and how it has failed to adapt and respond to new realities and challenges and how it needs to be replaced with a corporate based oligarchy. The authors save their sharpest knives to go for the jugular in their critique of liberals, Democrats, progressives, leftists, woman, homosexuals, people of color, Hispanics, other minorities, and the transsexual menace who they say are now running--and ruining--our country.
Written by two of the most popular and inspiring corporate heroes in America, the book hails the new movement--of the grassroots, the unorthodox entrepreneurs , the maverick big donors--that is the antidote to old-school politics as usual. Fueled by advances in technology and a hunger for a more authentic and populist oligarchy, this broad-based movement is changing the way political campaigns are waged and managed.
The authors have founded an innovative website called The Daily Kochs to inspire grass root participation by other billionaires who feel isolated by liberal America to band together and make their voices heard. For example Donald Trump says. "I'm tired of being a lurker in American politics. Daily Kochs has finally given me a chance to find my voice and be heard. I've finally found a place where I can be taken with the degree of seriousness I deserve. I don't know what I would do without it. "
A few quotes from their first chapter might give readers here a sense of the electric excitement this sensational book creates:

We have a Republican Party that can't govern, a Democratic Party that can't get elected, and little doubt that a great nation is suffering as a result.

We cannot wait any longer for the traditional Parties to reform themselves and lead us into a new era of electoral success. Those of us who have proven our capabilities and worthiness by merit of our wealth must act now to take back our party and our country. They may view us in D.C. as barbarians at the gate, but we are not armed with pitchforks and torches. Technology has opened up the previously closed realm of activist politics to the likes us. Whether the stagnant liberal establishment wants it or not, the new movement of oligarchy will reclaim the Republican Party as the party of the corporations. Our message is simple: You can get out of the way or work with us. Trying to stop us is a losing proposition.

If only we could say, "To hell with the Democratic Party!" But part of the present American reality is that we live in a two-party system, and the Democratic Party is our only enemy. It's efficient-and expedient-to reform the existing Republican, much as the liberals, homosexuals, minorities and women's movement took over the Democratic Party in the 1970s and converted it into the electoral powerhouse it is today."

Time is of the essence. America is going to hell in a hand-basket under a morally and economically bankrupt democratic constitutional government and Democratic leadership. We need an authentic, corporate, oligarchy movement run by billionaires to crash the gate and save our nation.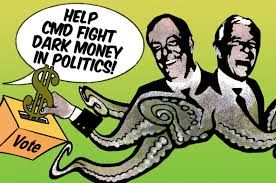 For those of you not familiar with the Koch brother Wikipedia tells us these two philanthropists are famous for their charitable works helping the poor, donating to educational projects, and encouraging participation of Americans in our political systems.


David H. Koch and Charles G. Koch — the two brothers still with Koch Industries — are affiliated with the Koch family foundations. Annual revenues for Koch Industries have been "estimated to be one hundred billion dollars".[5]

The Koch family foundations are a related group of non-profit organizations that began with the establishment of the Fred and Mary Koch Foundation in 1953, and now includes the Charles Koch Foundation, the David H. Koch Charitable Foundation and the Koch Cultural Trust. The organizations collectively have a stated goal of "advancing liberty and freedom" through the support of various causes which "further social progress and sustainable prosperity."[11]
This is must-read book for anyone with an interest in the future of American oligarchy.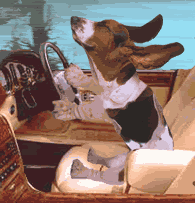 With April Fools apologies, credits, and appreciation to 'Crashing the Gate' by Jerome Armstrong and Markos Moulitsas Zuniga,and book review of Amazon books http://www.amazon.com/...
If you'd like to read more snarky humor and late night comedy gold make sure to follow and join Hydrant, DailyKos' premier comedy group, and HoundDog, one of our top snarksters other than Bob Johnson and Meteor Blades, and well, only about 200 others. Woof, Woof. Happy April Fools Day.
PS For those of you looking for the Snark Tag, when you see the Hydrant icon of the dog peeing on the hydrant that is the top deluxe highest automatic snark tag you can get here! Everything in Hydrant in snark. So don't even bother to write in about it! Sheesh, do we have to spell every thing out?