The Center on Budget and Policy Priorities recently released the report Lessons for Other States from Kansas' Massive Tax Cuts.
These folks do some great work and I'd encourage the full read if you live in any of the states implementing or considering ALEC-sponsored tax changes: Alaska, Florida, Idaho, Indiana, Iowa, New Mexico, North Carolina, Ohio, Nebraska, Oklahoma, Texas and Wisconsin to name a few.
This year tax changes have cost the state 8 percent of the revenue it uses to fund schools and communities. This is comparable to a mid-size recession.
The revenue loss will sink to 16% in 5 years.
Briefly, some of the impacts.
Kansas students headed to school wearing goggles during the dustbowl
Cuts to schools
At a time when most states are restoring funding for schools after years of cuts, funding for Kansas' schools is down 14 percent from pre-recession levels. Governor Brownback recently proposed another round of cuts to take funding down another 3 percent to 17 percent below recession levels in 2015.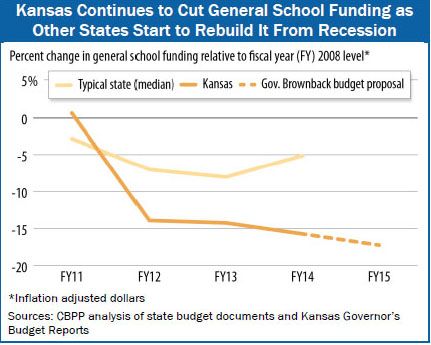 Decreased revenue
Some tax-cut lobbyists (most famously Arther Laffer) claim that revenue will actually increase when taxes are cut. This is the infamous Laffer curve argument.
Unfortunately, for Mr. Laffer, it looks like Kansas is already on the wrong side of the curve. Perhaps this is why even Mr. Laffer isn't talking about his Laffer curve anymore.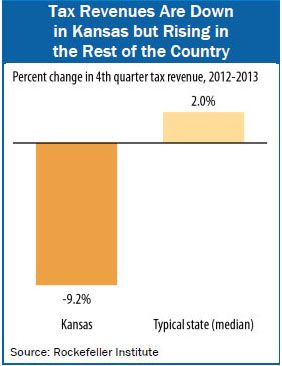 Most state revenues are picking up slightly as the economy recovers. Kansas, however, is noticeably different.
The non-partisan Legislative Research Department estimates that Kansas will lose $803 million this year because of the 2012 changes and the cumulative revenue lose will exceed $5 billion by 2019.

"Subsequent history failed to confirm Laffer's conjecture that lower tax rates would raise tax revenue. When Reagan cut taxes after he was elected, the result was less revenue, not more." Gregory Mankiw, Advisor to George W. Bush and Mitt Romney, Principles of Economics
Lower job growth
Since abandoning his Laffer curve argument, Laffer's chief argument is that tax changes lead to job growth.
If this were true, with such large tax cuts, shouldn't Kansas be drowning in jobs?
Growth has been anemic since 2012 and Kansas' job growth has lagged the national average.
When it comes to earnings, according to the CBPP report:

Kansans were earning about 10 percent less than their counterparts nationally before the tax cuts, and they didn't make up any ground over the last year. In contrast, earnings grew somewhat more quickly in Kansas than the U.S. in 2012, the year before the tax cuts took effect.
Widening the gap between rich and poor
The wealthier you are the more money you will see back from the tax changes. If you are in the lowest 20% bracket, your taxes will actually increase.
The changes meant the top 1% would see a tax cut of $21,000 while the the middle fifth bracket earners would see $212.
Changes like these have lead to a regressive system where the lowest fifth of families pay 10.3 percent of their income in state and local taxes, while the highest 1% pay just 3.9 percent.

At a time of historically high income inequality, Kansas' income tax changes have further widened the gap between the wealthy and other residents.
Impacts to services for the people of Kansas
Higher Education. Schools funding per student for higher education will be 23 percent below pre-recession levels. Tuition at Kansas colleges and universities has increased by 8 percent in 2012 and is 20 percent higher than 2008.
Libraries. Funding is 65 percent below 2008 levels.
Health departments. Funding is 14 percent below 2008 levels.
Support for needy families. The number of poor children and parents receiving income support from the Temporary Assistance for Needy Families (TANF) program has declined by 41 percent since 2012 because Kansas has enacted a series of policy changes that make it harder for families to receive support.
Courts. Funding is 16 percent lower than pre-recession levels. Lawton Nuss, Chief Justice of the Kansas Supreme Court said that the judicial system is at risk of statewide shutdowns after July 1 of this year.

"None of us can make good on our solemn oath of office or guarantee these rights if Kansas courts close." Lawton Nuss, Chief Justice, Kansas Supreme Court.
Privatize the profits, socialize the risk
It's become clear that corporations and many of the wealthiest individuals in our country have put together a strategy to avoid paying.
They are refusing to pay their dues to our country and shifting the burden onto the people with a promise of jobs (that never materialize).
I sent the CBPP report to one of our local councilmen who has picked up the fight against the changes in Ohio. I also forwarded it to all of my state legislators and anyone else who I thought could help.
The more politicians hear about it, the more they know people know, the riskier upward redistribution of wealth becomes.
Please share and spread the word. The opposition's strategy is to provide massive handouts to the wealthy, claim we face tough decisions over funding, and let the people fight over the crumbs.
It doesn't have to be that way. But until we realize how our schools and communities are being killed by a thousand cuts or boring budget becomes a visceral issue (like Fred Phelps), I'm afraid this will continue.
Death by a Thousand Cuts, Unknown, 1904