We talk so much about Fox News being a propaganda network that I don't think the word carries as much heft as it ought to. By
propaganda
, we mean not that Fox News merely advocates one point of view over another. The network
actively censors factual information
that they deem in conflict with network (that is, conservative movement) ideology. If irrefutable facts conflict with required beliefs,
those facts are edited into a more pleasing shape.
And like the old Soviet press that was mocked by the world a generation ago, opponents of movement views are simply
airbrushed out of the picture
.
For nearly an hour, Fox stayed live on the [Benghazi] hearings without interruption, airing over 20 minutes of questioning from the Republican chairman. But when Rogers yielded the floor to Democrat Rep. Adam Schiff (CA) to question Morell, Fox cut away to hear "analysis" from a network contributor, breaking live footage for the first time.

As the hearing went on, a pattern emerged -- out of the five Democrats who asked questions at the hearing, four saw Fox break live coverage less than a minute into their time, with the network choosing instead to air commentary or go to commercial break. Fox allowed the questioning of only one Democrat, Ruppersberger, to air for over 60 seconds.
These would be the House hearings predicated on finding The Truth About Benghazi, the Republican obsession of the moment that supposedly hinges not at all on the coincidence that then-Secretary of State Hillary Clinton is the dominant Democratic contender for the next presidency, but which Republicans nonetheless assert will only finally arrive at "the truth" once it has tarred Clinton with full responsibility for an underhanded government conspiracy to deny that there
was
a government conspiracy to insulate Clinton from Republican outrage. Or something; it is still not quite clear what the investigation is supposed to be producing, other than screen time for the investigators.
All of this was deemed important enough for Fox News to cover, live, in order for viewers to witness the spectacle. But only one side of the spectacle. The other was, in realtime, edited out.
---
Blast from the Past. At Daily Kos on this date in 2012—Republicans: Repeal health care law, forget about replacing it:
Remember the Republican campaign promise of 2010 about repealing and replacing the Affordable Care Act? As plenty of observers have noted, Greg Sargent the most persistent among them, we've gotten plenty of repeal, but no replace. They'll point at a bill they called the "Help Efficient, Accessible, Low-cost, Timely Healthcare (HEALTH) Act," but it's not a health care reform bill, it's tort reform.

But Jonathon Bernstein is absolutely right here when he says that the replace part of their formula has been a "fraud" from the beginning, "cooked up presumably because a flat-out repeal of health care reform polls much worse than replacing it with some unspecified legislation."

You needn't look any further than what they were saying on Jan. 17, 2011, to see that they never intended to replace the law.[…]
---

Brilliant everyday irony:
http://t.co/...
This is not a #Bansky masterpiece or a picture from @TheOnion #cctv #orwell #1984
— @DrDannyPenman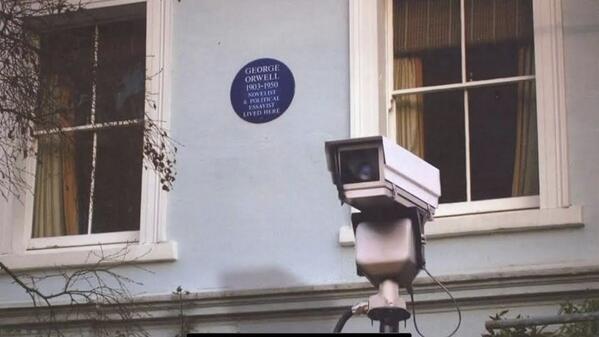 ---
On
today's Kagro in the Morning show
,
Greg Dworkin
is hot on the trail of this new health care law you might have heard about. A growing number of conservatives urge moving on to the acceptance stage. "Poll Shows Republicans Really Have No Idea What They Want Obama To Do With Russia." Is Obama finally "leading?" What happened in the DC elections?
MoJo
lists the 71 other companies filing Hobby Lobby suits. A bipartisan Senate group works to rein in executive branch war powers. David Dayen's "How Chase Bank Denying Services to a Condom Shop Is Really About Deregulating Payday Lending." Push-back on
Flash Boys
from Felix Salmon.
---