GUS (Gave Up Smoking) is a community support diary for Kossacks in the midst of quitting smoking. Any supportive comments, suggestions or positive distractions are appreciated. If you are quitting or even just thinking of quitting, please join us! We kindly ask that politics be left outside.

You can also click the GUS tag to view all diary posts, or access the GUS Library here. Want to make sure you never miss us? Follow (♥) the GUS tag to keep GUS in your Stream and easily find the link to the latest one. It's just that easy!

A message to ALL quitters (and would-be quitters): You don't have to avoid GUS if you have a failed quit. We won't give you a bad time or nag you. We consider the failed quits as "practice" for the real quit.
Many of us approach behavioral change as something to be planned and carried out under some kind of strict time-frame, with a concrete beginning ("The quit begins NOW!"), middle ("Oh my God how long does this go on??"), and ending ("BOOM. Done. All quit."), but the reality is a lot less structured and a whole lot more ambiguous for most folks.
Beginnings can be the easiest part to nail down, and they can also be the most challenging. When we plan our strategies and figure out our approach, the anticipated (dreaded?) start date is as easy as picking a date on a calendar---or as hard as selecting and discarding dozens of them, based on all sorts of factors (excuses?) we are considering.
We worry about external stressors that may make it unusually difficult. We fret about our quit dates coinciding with anniversaries or events that we can't envision getting through without our usual coping mechanism. We anticipate encounters with difficult people in our lives (at home or at work), and cannot imagine making it through without a smoke to take the edge off. We remember that we'll be socializing or interacting with people who may not support our efforts, or that we'll be enduring a particularly tough spell that will (we think) require the presence of nicotine to endure. Work weeks are bad: so much going on! Weekends are bad: all that unstructured time and what happens if I don't have anything to distract me? Holidays? IMPOSSIBLE, right?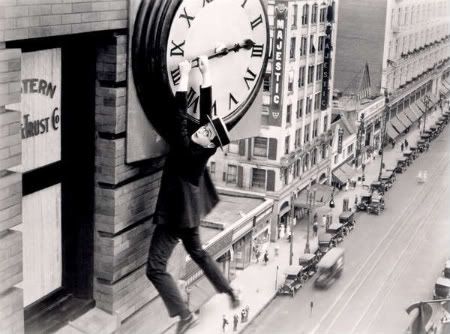 And once you DO hit on that "perfect" date and time, the clock starts ticking down. We start to second-guess ourselves. The quit date looms, seemingly creeping up on us faster and faster. We start feeling pressure, even from this [usually] self-imposed deadline.
before we know it, it's RIGHT THERE OMG IT'S RIGHT THERE!!! RIGHT NOW!!!!!!
AAIIIIIIIIIIEEEEEEEEE!!!!!
And of course we panic.
We scramble for ways to rationalize putting it off. We dig up excuses, we hope nobody notices, and we formulate a newer, better, and---most critically---a Not Right Now plan to replace the obviously faulty Right Now one we originally came up with. What were we thinking?
Actually, that's the trouble with approaching behavioral change as an isolated, finite process with a neat beginning, middle, and ending. That sort of mindset doesn't allow for the messiness of real life: the false starts, the dipping of toes into untested waters, or the very human hesitation in the face of the unknown.
Change is often pretty scary, and the process itself can be messy and difficult in all kinds of unexpected ways. And that's the problem. We like thinking about shiny new quit dates and neat little time-frames and "the perfect time" because that helps us put some kind of structure around a process that's fairly ambiguous and very intimidating. We enjoy the planning part, focusing on being prepared with the right stuff (support network, NRTs, coping strategies, therapy, medication, whatever), because it's abstract at that point, and makes us feel like we're in control. If everything is planned just so, and executed just so, it will somehow be easier to get through, and failure won't be an option.
One thing we often forget to do is to change the way we think about the behavior we're trying to alter. See, one reason those deadlines loom so big, and feel so overwhelming when we actually get there is that we hang onto our old attitudes about the thing we're trying to let go of until way too late in the process.
We're still thinking of the impending change as a punishment instead of a choice.
We're still thinking of it as deprivation instead of reward, a negative rather than a positive.
We still believe that the only reasonable---only possible---reaction to stress is to rely on our substance of choice.
We still feel like we're having something forced on us or done to us, instead of recognizing it as being something we consciously decide to embrace.
We forget that the unknown can be a positive thing too.
And if we get to that "perfect" quit time and aren't in the right frame of mind, all the planning and determination and willpower in the world won't help us feel ready, and the quit is more likely than not to go down in flames. Because we need to feel ready, on some level.
And part of being ready is being willing to go back to the drawing board and start over, if need be. It helps to accept that there is no "perfect" time to go through something like this, and that no amount of planning will help until we're ready to change the way we think about why we do what we do, and then do something about it.
We have to be ready, mentally, to let it go.
And when you get there...well, you'll know it. Because something inside of you says "...it's time."
Who's Your Little Buddy?
1BQ, 2thanks, 3rdGenFeminist, 417els, A Man Called Gloom, Abra Crabcakeya, Actbriniel, addisnana, AfroPonix, aishmael, Alise, Alpha99, also mom of 5, ambeeeant, American in Kathmandu, amk for obama, andsarahtoo, angry marmot, Anne933, anodnhajo, aoeu, AoT, aquarius2001, arcadesproject, Archie2227, arodb, Arthur Wolf (in memoriam), assyrian64, Aunt Acid, awkawk, b4uknowit, BadKitties, bamablue, BARAKABETH, barnowl, b barrie, bdizz, beatpanda, beefydaddy18, betterdemsonly, BFSkinner, bgblcklab1, BigAlinWashSt, Bike Crash, BirderWitch, BJKay, bleeding heart, blingbling65, blue husky, Blue Intrigue, bluedust, BluejayRN, BlueJessamine, BlueMississippi, Bluerall, bluestatedem84, BoiseBlue, boudi08, Brahman Colorado, breedlovinit, BrenP, BrianParker14, Bronxist, broths, BrowniesAreGood, bsmechanic, Buckeye Nut Schell, buddabelly, Bugsydarlin, bumbi, BusyinCA, cactusgal, cagernant, Carol in San Antonio, CathiefromCanada, CathodeRay, CDH in Brooklyn, Cedwyn, cee4, Cen Den, ChocolateChris, Christy1947, ChurchofBruce, ciganka, cinnamondog, citizenx, ClapClapSnap, claude, Cleante, Code Monkey, codobus, Coldblue Steele, Colorado is the Shiznit, coloradomomma, common green, commonmass, Common Sense Mainer, congenitalefty, coppercelt, CwV, dadanation, Damnit Janet, dangoch, DarienComp, dauber, Dauphin, Dave in AZ, Dave in Northridge, David54, deedogg, demkat620, Dexter, Diana in NoVa, Dickie, DiegoUK, Dingodude, dirtdude, distraught, djMikulec, docreed2003, dolfin66, donnamarie, Donna O, dotsright, Dr Teeth, Dreggas, DRo, droogie6655321, Dube, duckhunter, Eclectablog, Eddie C, EdgedInBlue, edr, effervescent, elbamash, El barragas, el vasco, electricgrendel, entrelac, ericlewis0, Everest42, Ex Con, exlrrp, ExpatGirl, ezdidit, fat old man, fauve, fhamme, Fineena, fiona2, fishhawk, Flea, flumptytail, Friend of the court, fritzi56, FrugalGranny, Garrett, Gator, gchaucer2, GDbot, Geiiga, GenXangster, glpaul, gooderservice, gooners, Gordon20024, gravlax, GreenMountainBoy02 (in memoriam), greylox, grndrush (in memoriam), GrumpyWarriorPoet, GuerillaLiberal, GulfExpat, gzodik, Haole in Hawaii, HappyinNM, henlesloop, here4tehbeer, HeyMikey, hideinplainsight, High Tide, hiliner68, history first, hold tight, Homers24, Hugh Jim Bissell, hulibow, I love OCD, I said GOOD DAY sir, Im a frayed knot, imisa, Indexer, indubitably, indyada, Interceptor7, Inventor, Isaacsdad, ItsaMathJoke, itsbenj, Jahiz, James Earl, JamesEB, janl1776, Janeo, jarbyus, JayinPortland, jayjaybear, jbalazs, JBL55, jbou, Jeffersonian Democrat, jillwklausen, jmadlc55, jmonch, Joes Steven (aka Steven), john keats, john07801, johngoes, johnny wurster, jsfox, just another vet, JVolvo's Mom (in memoriam), jwinIL14, Kai99, kailuacaton, Kamakhya, kat herder, katchen, Kelly of PA, khloemi, Khun David, Kitsap River, kittania, kos, KrazyKitten, Kristina40, Ksholl, labwitchy, ladypockt, Lahdee, LamontCranston, langerdang, LarsThorwald, LA rupert, last starfighter, LaughingPlanet, Laurie Gator, Lava20, Leo in NJ, LiberalVol, lightarty, Lipstick Liberal, litoralis, lmdonovan, lockewasright, Lonely Liberal in PA, Lonely Texan, longislandny, Lorinda Pike, LtdEdishn, lunacat, lunachickie, luvsathoroughbred, lying eyes, maggiemay, magicsister, mango, Marc in KS, MargaretPOA, Marjmar, Mark E Andersen (Kodiak54), marknspokane, marsanges, maryabein, Matf, Matt Esler, Maxiemax, maybeeso in michigan, MBNYC, mdemploi, Meteor Blades, Micburke, michael1104, MillieNeon, minerva1157, MinervainNH, Missys Brother, Miz Trom, mjbleo, MnRaindog (in memoriam), mntleo2, mollyd, Morague, MotoGP, Mr Bojangles, mrsgoo, mskitty, msmacgyver, MsWings, Murphoney, nannyboyz, Naturalized Texan, ncsuLAN, NearlyNormal, Nedsdag, Nespolo, Nick Zouroudis, NinetyWt, nokkonwud, NotGeorgeWill, notgivingup, NY brit expat, occupystephanie, oceanview, Ole Texan, OleHippieChick, Olkate, one pissed off democrat, One Pissed Off Liberal, Onomastic, operculum, OrangeMike, Ordvefa, Overseas, Over the Edge, Pager, paige, PaintyKat, palmer18, paradox, parryander, paulitics, peglyn, Pennsylvanian, Penny GC, peterfallow, phrogge prince, plok, Portia Elm, Positronicus, post rational, PowWowPollock, Proud Mom and Grandma, psycho liberal, ptolemynm, Purple Priestess, PvtJarHead, racheltracks, randallt, ray bob, real world chick, red mittens, Reepicheep, regis, relentless, revelwoodie, revsue, Rex Manning, rexymeteorite, RiaD (in memoriam), rickeagle, ridemybike, rightiswrong, Rileycat, rincewind, rkex, roadlion, RoCali, Roger Fox, Rosebuddear, roses, rscopes, Rudini, RumsfeldResign, Safina, SallyCat, Sanuk, Sark Svemes, sboucher, scooter in brooklyn, Scrapyard Ape, seenaymah, Senor Unoball, sewaneepat, sfbob, sgary, Shahryar, sheddhead, shesaid, Shifty18, shmuelman, shopkeeper, sidious666, sidnora, slksfca, slowbutsure, smartcookienyc, smeesq, Smoh, snoopydawg, snorwich, SnyperKitty, SoCalHobbit, SoCalSal, sofia, soonergrunt, sostos, sowsearsoup, SpecialKinFlag, spmozart, spotDawa, SpotTheCat, StateOfGrace, Statusquomustgo, stiffneck, stonekeeper, suesue, sunbro, Super Grover, susans, Syoho, tallmom, tarkangi, Tay, tdslf1, teknospaz, The Eyewitness Muse, The Technomancer, The Termite, theatre goon, TheGeneral, TheStoopingRabbit, TigerMom, Tim DeLaney, tiredofcrap, TomP, tonyahky, Toyotabob7, TracieLynn, TreeFrog, triciawyse, tripodisblack, trs, trueblueliberal, TrueBlueMajority, ttanner, Tulsonian, Turn VABlue, Turtle Bay, Tyto Alba, uc booker, UncleCharlie, Unduna, Unforgiven, ursoklevar, USArmyParatrooper, VA02 femocrat, Vacationland, valadon, Vayle, vc2, Vetwife, vgranucci, Via Chicago, Village expects idiot home soon, viral, vulcangrrl, waytac, webranding, Wee Mama, weelzup, Wes Opinion, Whimsical Rapscallion, willy be frantic, willy mugobeer, Wood Dragon, wolfie1818, Wordsinthewind, Wreck Smurfy, x, xopher, yet another liberal, Zotz
Have you had some experience with the effects of smoking, and want to write a GUS diary or host an open thread? Please sign up in the Butt Can (Tip Jar), and name the day and time that works for you (AM, PM, late-night, early-bird). The weekly GUS Diary Schedule (regular diarists featured in bold) is below. There's an open slot just calling your name!


Thu PM: Vacationland
Fri AM: flumptytail
Fri PM: Open
Sat AM: paulitics
Sat PM: Open
Sun AM: gchaucer2
Sun PM: Open
Mon AM: anodnhajo
Mon PM: Open
Tue AM: gchaucer2
Tue PM: Open
Wed AM: Open
Wed PM: Vacationland
Thu AM: Open (nokkonwud on hiatus?)

If you can spare a few hours, please consider hosting GUS. It doesn't have to be a permanent slot; it can be a one-time deal or just an open thread! Not sure where to start? Just ask for help in the Butt Can (Tip Jar). Seriously, it doesn't have to include specific elements or require all sorts of fabulous diary formatting skills. The regulars will make sure stuff gets carried over from diary to diary, so if you want to just tell your story or provide an open thread and host for a few hours, that's cool too. You do not need to be perfect, you do not need to become a regular, and you would make some quitters very happy.