I lay awake in that "too cold to fall asleep" stage, listening. The wind and the constant beating of the tent weren't what held my interest, it was the droning high hum of some very large engine. The sound had been in the background ever since we'd gotten there but it took a cold back and sleepless night to finally put my finger on it. Gas turbine.
I worked an offshore production platform once powered by a similar gizmo. Resembling a huge jet engine it can power some pretty big things, also makes a heck of a racket. They'd installed some sort of oil field facility in the area since I'd last been to this spot. At least if we got stuck out here there would be people within walking distance. Kinda noisy though. Not loud from where we were, kids couldn't hear it, but I could. Not something you want to hear so many miles from a hard surface road.
The Pawnee Grasslands is managed by the Forest Service not the BLM, for what reason I've no idea. A patchwork of public and private land, it's not that great for growing anything. There are still a couple of hold outs, ranches that cling to the old homestead, but I doubt anyone makes much of a living off beef. The land is a little higher than the surrounding prairie, a little drier, a little sandier. Grass grows sparsely.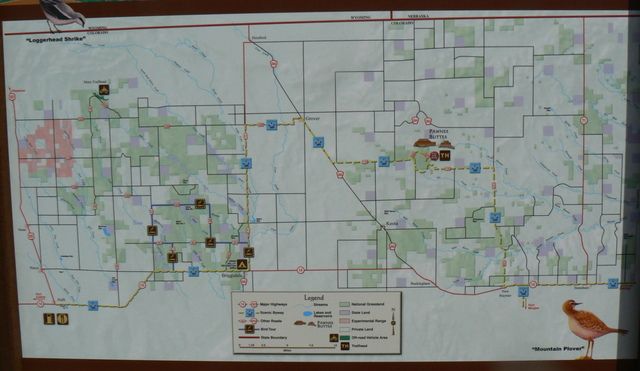 Click for larger image, Wyo, Nebraska, Colorado border along very upper edge of photo. Pawnee Buttes just R of center.
The place we were at hadn't had cows in a few years and even then probably not grazed much, what grass there was hadn't been eaten at all by anyone. Even pronghorn know better.
After a while my little girl said conversationally like she'd been awake forever, "daddy I'm cold". Didn't know what to make of that one. Not a whine, just a statement of fact. Middle of the night. I had one bag, supposedly good to zero and I was cold. I doubt the temps were lower than freezing. My son had the good down bag and was sleeping soundly, my little girl had two pretty good synthetic bags inside each other, enough I'd thought to keep her toasty. All 50 lbs of her.
I couldn't think of what to do, no extra blankets or clothes. I got up and tossed some wood in the stove and some kindling and waited for the thing to start heating, it's not an instant process. If the kindling catches, it must then start the wood which must begin to burn in a big enough flame to heat the thick sheet steel which then heats enough of the air in the tent to eventually reach down to cot height. All the while the tent is flapping and huffing and puffing in the wind that just won't quit.
About the time I started moving around away from the heat of the stove I remembered the space blanket. Down the bottom of my pack it's for getting caught out at night. I draped the whole thing over her cot. Three minutes after "I feel warm now" she wouldn't respond to a question. Asleep.
It's been a damp year or so, digging into the top layer of soil the dirt was moist four inches down. In the dry wash just below our camp there were places of wet soil on the surface in the part protected by a north slope.
The day came slowly, dark low unbroken cloud cover moving out of the north east. That's the direction true cold comes from, the air flows down straight out of Canada across neverending prairie unhindered by the Rocky Mountains. By midmorning the wind shifted to the north west the cloud cover broke and I began to have hopes the weather report was wrong. I have a cheap AM/FM from Radio Shack that I listened to while waiting for shower water to heat. Depending on where the station was we were either going to get a blast of winter that was going to be cold or very cold. The station up in northeast Wyoming said temps in the twenties.
The kids played rolling down sand hills, climbing around on the ledges of the outcrops on the stream bank, plinking, and doing whatever it is kids like to do when unsupervised. From the top of a nearby hill you could see the oil field facility. We got in the truck and drove over the hill for a full view of the Buttes.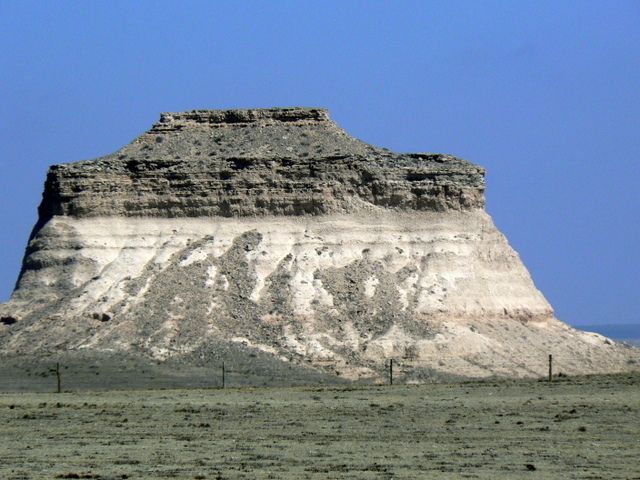 Right Butte of two.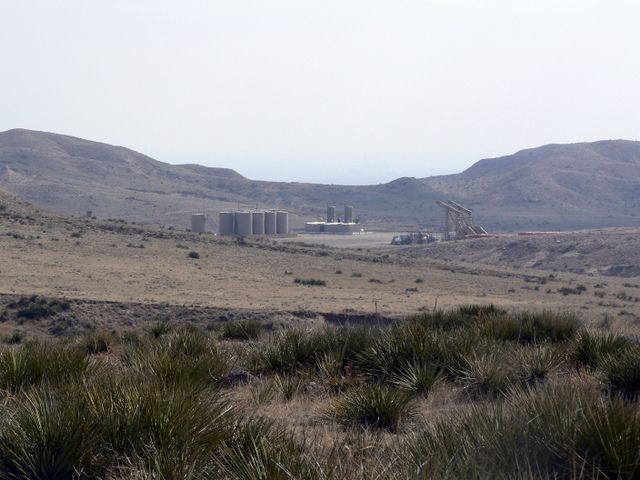 Oil Facility
I didn't get close enough to see what they are doing with the turbine. Powering a pump for a pipeline was all I could think of. It ran 24/7. There was lots of new infrastructure for oil throughout the grasslands. Some flaring of natural gas but not much. I didn't see semis carting oil away so I guess they are all connected by pipeline. I really don't know. All I do know is that there was a lot of new freshly painted well maintained infrastructure, and in some places large excavations with lots of tanks and what not.
No one cares about the grasslands. No cross country skiing or dog walking close to a large metro area. Down in the south west corner, the area closest to Denver, people like to go shooting. On the side road we were camped close to, on the way to the main feature of the Pawnee Buttes,,,, one car passed all day.
Down on the south side of the grasslands on the highway is the one official camping area. Electricity for RVs, people packed into numbered camping spaces. I guess people feel more at ease amongst a whole bunch of others. They say we are an urban people, I guess we are even when we are out in the undeveloped short grass prairie.
All day the wind blew. Ten or fifteen miles an hour. It blew and temps were cold enough that even in the sun one needed a jacket. In late afternoon the cloud cover returned and the wind picked up. We plugged the little openings in the tent and cooked an early dinner.
Hanging around my little girl mentioned the sound of a bird we'd never heard before. A beautiful trilling song. She wanted to know where the birds went to get out of the wind. (Nowhere really, behind a piece of sage). We'd seen few birds, heard no coyotes. I won the pronghorn spotting contest, the kids needed binoculars to see them. My boy who is beginning to think of things in distances of yards asked if they were a quarter mile away. They were a mile at least. If they make it without any more major snow storms that will be it for the winter.
Dark crept up unnoticed, it had been kind of dark for a while, then it really was dark. The wind shifted too, straight out of the north and a good twenty miles an hour or more. The kids stepping out to take a leak before bed were surprised to be stepping into wind driven freezing sleet and snow.
The snow came in bits all night, sometimes mixed with rain, freezing onto whatever it hit, coating the tent. The wind never let up even after we left the next day.

The tent and stove are both from Pakistan I noticed. Both well made if low tech. Extra reinforcement at many stress points on the tent and the stove all packs into itself. I'm more used to a stove with a fast draft but this one works ok in that most of the heat is given up into the tent not out into the smoke. I even used a load of cow chips for authenticity, but mostly the very dry and split elm I brought with me. Boils water easily.