Different images of the Ebola epidemic in Western Africa emerge depending on which reports you read. The death toll has risen to 90. The World Health Organization is downplaying concerns suggesting this "outbreak" is not really that different from previous larger outbreaks and is well contained.
One government official from Guinea even said 'you probably couldn't get Ebola in Conakry even if you tried to, (see below.)' On the other hand, our first two reports here report panic breaking out and health officials fleeing a medical compound in Guinea as local villagers complain their loved ones are being taken away from them and "infected" by health workers as they are stored in "warehouses" to see if any flu-like symptoms develop into Ebola.
Joe Krishnan, of the Independent, describes Panic as deadly Ebola virus spreads across West Africa.
Since the outbreak of the deadly strain of Zaire Ebola in Guinea in February, around 90 people have died as the disease has travelled to neighbouring Sierra Leone, Liberia and Mali. The outbreak has sent shock waves through communities who know little of the disease or how it is transmitted. The cases in Mali have added to fears that it is spreading through West Africa.

A spokesman for the medical charity Médecins Sans Frontières (MSF) said yesterday that a treatment centre where patients were isolated in Macenta, 265 miles south-east of Guinea's capital, Conakry, had come under attack from an "angry crowd" who accused health workers of bringing the disease to the town, where at least 14 people have died from Ebola.

"We have evacuated all our staff and closed the treatment centre," the MSF spokesman Sam Taylor said. "We're working with the authorities to try and resolve this problem as quickly as possible so we can start treating people again." He later told Bloomberg: "We fully understand that the outbreak of Ebola is alarming for the local population, but it is essential in the fight against the disease that patients remain in the treatment centre."

It is not known how many have been injured.
Ebola has no cure, and this Zaire strain is the most deadly with a 90% mortality rate. Some have claimed that due to very poor health facilities in this region, the death rate is much higher. Once symptoms appear in Guinea, the afflicted are transferred to second warehouse like rooms to wait for death.
Using contact tracing, people suspected of being exposed, and those showing any symptoms are being separated from families and taken to the first warehouse to wait to see if confirmed symptom of Ebola emerge. Families believe many patients who may only have the flu may become infected from health workers who are treating the aggregate crowds of patients in their special bio-protection suits.
Almost all of the best images from most of these articles of these suits are from AFP/Ghetty images which all of you should know aggressively protects its copyrights, so you will have to go to the originals, or put "Ebola" into www.google.com "Images" if you would like to see them.

Trust in the authorities in Conakry reached a low ebb on Friday, with many residents blaming the government for not immediately quarantining an individual who was said to have carried the virus to the capital from the remote and heavily-forested south, where the bulk of the cases are concentrated. Sixteen cases have been reported in Conakry, of which five people have died, a World Health Organisation spokesman said.

"How can we trust them now? We have to look after ourselves," Dede Diallo, a Conakry resident who stopped working and has kept her children at home since the outbreak, told the Associated Press.

All health authorities are warning travelers and residents to avoid eating bushmeat, which includes primates, such as chimps, monkeys, gorillas, gazelles, antelope, bats. Bushmeat represents a substantial fraction of the food supply in some of these areas. We are going to need to organize greater international food aid in addition to just medical supplies and personal.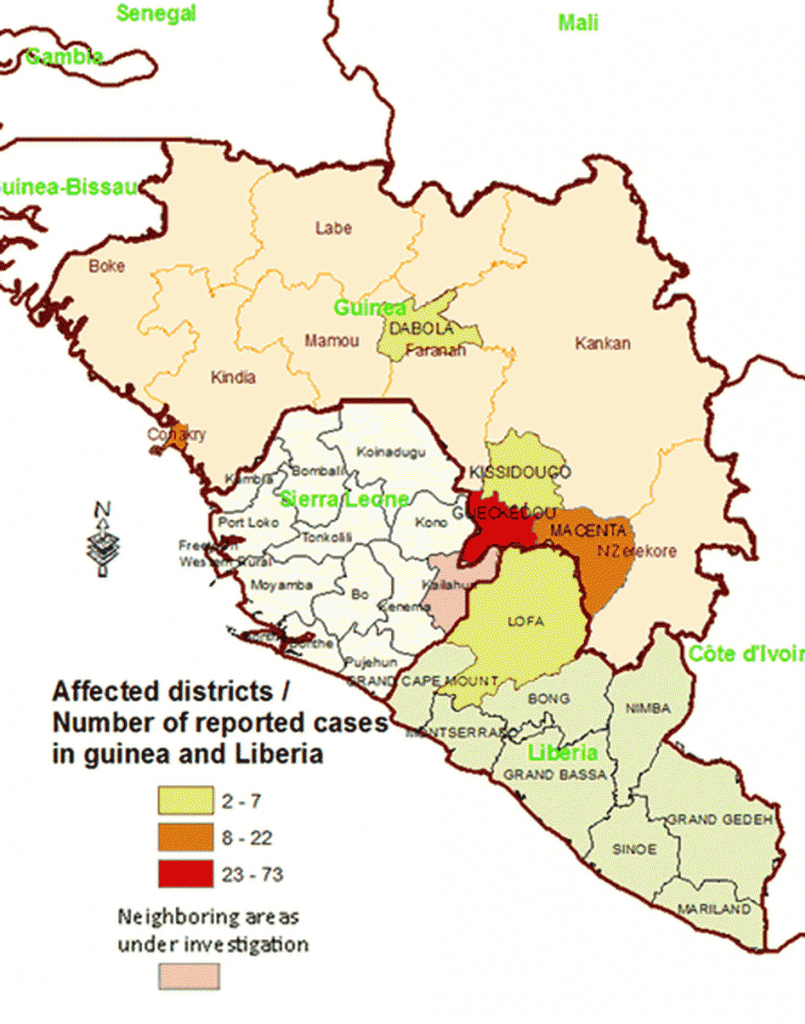 The Associated Press describes a Crowd Attacks Ebola Treatment Center In Guinea
An angry crowd in Guidea attacked an isolation center where patients with any flu like symptoms are separated from their families and held for observation. I am not clear if the people identified with contact tracing are held here as well. On Friday, I predicted people would cease to cooperate with health authorities as soon as they learned what the isolation protocol were, even confessing that if I had a loved one who developed flu-like symptom and knowing what I knew on Friday, if I had access to Chlorine, and the right supplies I would not turn my children over to these warehouses where they would likely be infected next to people with the infection but hide them in my back room, caring for them myself until determining if they only had the flu. Health officials seem to be verging on the "Fixes that Backfire" Systems Archetype here, aka "Fixes that Fail."
The violence took place in the southern town of Macenta, where at least 14 people have died since the outbreak emerged last month. The mob who descended upon the clinic accused Doctors Without Borders health workers of bringing Ebola to Guinea, where there had never previously been any cases.

Some young people threw rocks at the aid workers, though no one was seriously hurt, said Sam Taylor, a spokesman for Doctors Without Borders. ... "We understand very well that people are afraid because it is a new disease here," Taylor said. "But these are not favorable working conditions so we are suspending our activities."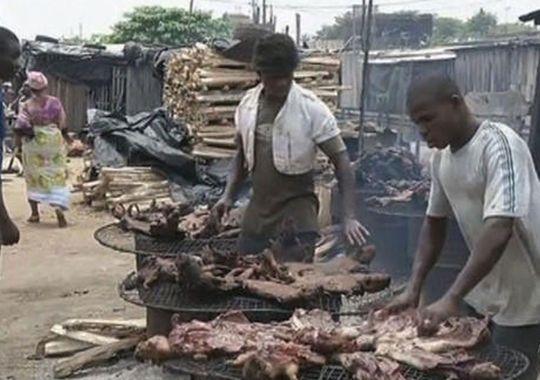 Government officials quickly denounced mob attacks.

"The international community has rapidly mobilized to help us in these difficult moments with considerable medical support and specialists on the ground at the disease's epicenter," the statement said. "That's why the government is calling on people to stay calm and allow our partners to help us eradicate this epidemic."

Confusion about the process has prompted misinformation in this remote corner of Guinea. Resident Kolie Martin accused doctors of transferring patients to the isolation ward who had not tested positive for Ebola.

"As soon as someone is brought here, they don't try to figure out whether he is sick or not, they just transfer him directly to the sick ward. So it's them who are killing the people who are in good health," Martin said.
Passengers about a crowded bus fled the site of an elderly man vomiting in Guinea, and in Mali, residents in a neighborhood where suspected Ebolo patients are being isolated protested. NIMBY seems to occur in AFRICA as well as here.
In Paris, an Air France flight from Conakry, Guinea was briefly quarantined after crew discovered evidence that a passenger had been sick in the toilets.
Many readers have written in to recommend the book, "The Hot Zone," which I have not read yet. I did see The Andromeda Strain, which was scary. Ebola is apparently on the bio-terrorism watch list.
A complete opposite feeling is conveyed by this USA today article which lets us know that everything is under control and there is really no that much to be concerned about.
As Ebola spreads in Africa, how worried should West be?"
"You probably couldn't get Ebola if you went to Conakry now if you tried," said Daniel Bausch, director of virology at the U.S. Naval Medical Research Unit in Lima, Peru, referring to the capital of Guinea.

Medical experts point out that because the symptoms are so severe (internal and external bleeding, high fever, muscle pain, vomiting) very few people are likely to keep in contact with someone who exhibits them.

Elvis N'Daw, a law student in Conakry, said that while people were taking precautions, there was little panic in the city.

N'Daw says he is washing his hands more frequently; others are rinsing their children off with a bleach solution before and after school. But people are still out and about, he said.
Just to be safe, Senegal has closed its border with Guidea, and last week Saudi Arabia canceled visa from many West African countries. Morocco has tightened border controls, and France has alerted doctors and hospitals to be on watch for people with any symptoms of the disease.
On Friday morning, emergency medical personnel met an Air France plane arriving in Paris from Conakry after flight attendants found vomit in one of the plane's bathrooms. Airline spokesman Cedric Landais said passengers and crew were released after none showed signs of fever.
While some of this panicked reaction may be unavoidable, health officials say much of it is unnecessary. The World Health Organization, for instance, is not recommending any travel restrictions because they tend to be ineffective.
Gregory Hartl, a spokesman with the U.N. organization in Geneva, insisted the outbreak was not particularly unusual when compared to others. Doctors Without Borders maintains that the disease is rarely found in a wide area.
The international community has gotten fairly good at containing such outbreaks, bringing in protective gear for health workers, isolating the sick and tracking down every person those infected have come into contact with, says John O'Connor of the U.S. Centers for Disease Control, which has a team in Guinea.
"This outbreak isn't different from previous outbreaks," Hartl said.Sarah DiLorenzo, of USA, asks, As Ebola spreads in Africa, how worried should West be?"

It has hopped the border to Liberia and is suspected in more than 90 deaths in an outbreak Doctors Without Borders has called "unprecedented." It is almost always deadly, and there is no vaccine or treatment.

"You probably couldn't get Ebola if you went to Conakry now if you tried," said Daniel Bausch, director of virology at the U.S. Naval Medical Research Unit in Lima, Peru, referring to the capital of Guinea.

Medical experts point out that because the symptoms are so severe (internal and external bleeding, high fever, muscle pain, vomiting) very few people are likely to keep in contact with someone who exhibits them.

Senegal has closed its border with Guinea. Morocco has stepped up border controls, and France is asking doctors and hospitals to be on alert for signs of the disease.

Our hearts go our to these poor victims of Ebola, their families, and all the people of West Africa affected by this terrible epidemic. Let's hope they find a way to contain it, and it recedes soon.
8:33 PM PT: Here's evidence of escalating international concern.
Guinea: Airport passengers screened for EbolaGuinea has banned the sale and consumption of bushmeat from primates and bats
CONAKRY, Guinea (AP) — Health officials in Guinea say all passengers departing from the capital city's airport must fill out a health form and have their temperature taken as part of an effort to combat the spread of the deadly Ebola hemorrhagic fever.

Dr. Sakoba Keita, director of prevention at the health ministry, said anyone with a temperature higher than 38 degrees Celsius (100.4 degrees Fahrenheit) would be tested for the disease, which has killed 86 people in the West African nation since an outbreak began in February.

French Health Minister Marisol Touraine said Saturday that French doctors from the Pasteur Institute would be on hand to watch boarding procedures at the airport in Conakry.
8:45 PM PT: Ebola breaks out on a scale never seen before: To stop Ebola everyone who has come into contact with the virus must be isolated

Ebola


.The only way to stop Ebola is to find and isolate everyone who has come into contact with it. ... People are so afraid, one man said, they've stopped shaking hands. An Air France flight from Guinea to Paris was quarantined on Friday after a passenger was sick in the bathroom. No one was infected with Ebola.


The 1995 movie Outbreak showed an Ebola-like virus spreading through a fictional California town, while the real virus killed off nearly an entire village in the Democratic Republic of Congo.

"You have a lot of people who have recovered from civil war and are living in war-ravaged areas with very poor infrastructures," said Laurie Garrett, a senior fellow for global health with the Council on Foreign Relations. "Well as soon as word goes out of quarantine, you have people start trying to escape and get away from the clutches of authorities."

Guinea is trying to cope with the threat by banning bushmeat from bats, monkeys and apes, a possible source of Ebola, and educating the public on how to stay alive.
9:31 PM PT: Lebanon Implements Mechanism to Prevent Ebola Fever from Spreading
Imagen activa Beirut, Apr 6 (Prensa Latina) Authorities at the Rafik Hariri international airport in the Lebanese capital maintain a coordination mechanism with all airlines, which have to report the passengers coming from African countries that have been affected by the Ebola fever epidemic
.
An instruction by Airport Director Daniel Al-Haybi underlines all airlines and airport services have been requested to provide a list containing the names of passengers coming from Guinea, Liberia and Sierra Leona to a quarantine center.

The information will be used to conduct checkups and learn about the health conditions of those passengers in order to take the necessary steps to prevent the spread of Ebola fever, which has killed more than 80 people in those countries, Al-Haybi told NNA news agency.

<//blockquote>