I've done them all: Vampire: The Masquerade, Dungeons and Dragons, GURPS, Call of Cthulhu Deadlands, Savage Worlds, the occasional LARP. I've been a gamer for a quarter century. So sue me, I'm an incurable geek.
And amazingly enough, I haven't sacrificed any cats to Satan, or drank anyone's blood, or raped anyone, and nobody's taught me how to cast Mind Bondage (boy, that spell would be handy!)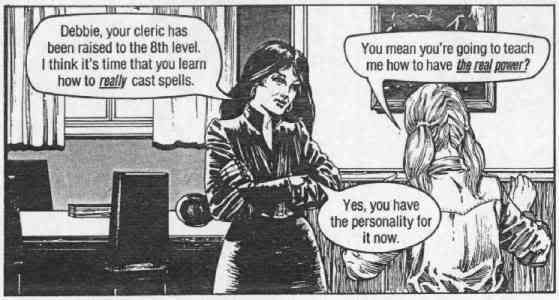 Many thanks to the unintentional humor of Jack Chick.
So, can I ask a favor of you? Yes, I get it. We've got a douchebag teabagger out there who's as hypocritical as hypocrisy gets. He's an anti-gay, misogynistic, fundie gun-bunny who likes to get his freak on. And he's a gamer.
But try to avoid the collateral damage. The vast majority of gamers are not like Jacob Rush. All the role-playing games, LARPs and related games I've played were, and are, good, clean fun. Yes, some of the games I played, and GM'd, come out like Stephen King novels. But understand that when someone's behaving like a freak, like Jacob Rush, the problem isn't with a game, it is with the person.
Jacob Rush is a freaky asshole. But don't take it out on us gamers.
Since I've been gaming for a long time, this isn't my first moral panic. Other industries were also victims of idiotic moral panics, including comic books, rock music, romance novels, and video games. This insanity seems to crop up once every generation.
Back in the 80's, people playing Dungeons and Dragons were accused of worshiping Satan, and encouraging rape and suicide. One of the purveyors of irrationality was Jack Chick, who published the tract Dark Dungeons, pictured and linked above.
Patricia Pulling was probably the biggest anti-RPG activist, who founded the organization Bothered About Dungeons and Dragons (BADD). She came onto the scene after her son committed suicide due to mental illness. Of course, she blamed the game, not the illness, and accused gamers of offenses running the gamut from Satanism to cannibalism to (gasp) homosexuality. She filed several frivolous lawsuits, against her son's school, and against TSR (the publisher of Dungeons and Dragons) at the time, and became a media sensation.
The moral panic was also fueled by movies such as Mazes and Monsters. Eventually, even Democratic idiots, like Tipper Gore, joined the Republicans and fundamentalists in demanding censorship of role-playing games.
Needless to say, her lawsuits all failed, and when the scientific studies came out from groups including the American Association of Suicidology and the Centers for Disease Control, they found absolutely no causal linkage between gaming and suicide.
It took activist gamers like Michael Stackpole to organize pushback against the moral panic, bring some desperately needed sanity to the discussion, and end the demonization of kids and adults playing a game.
The fact is it's just a game.
Oh, people dress up in costume? They do that for movies, anime and manga, Halloween, zombie crawls, twenty million other occasions. People like to play in costume. Get used to it.
The imagery and stories are disturbing? What, you've never watched a horror movie or read a Stephen King novel? If being disturbing in our tastes in fiction was a crime, we'd all be in prison.
If Jacob Rush wasn't behaving like a psycho while playing his vampire LARP, he'd be behaving like a psycho doing something else. The problem isn't with LARPs or role-playing games, or video games, or works of fiction, the problem is with Jacob Rush.
So let's end this Daily Kos moral panic here. It's just a game, folks.