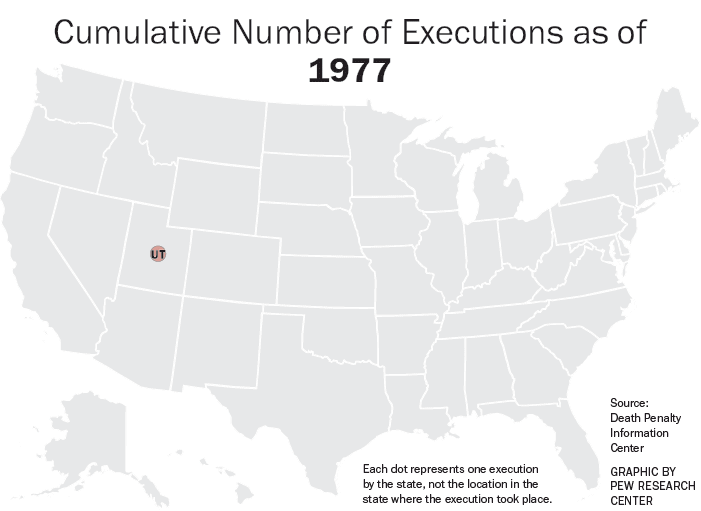 A couple of weeks ago, Pew's Religion and Public Life Project created the animated gif above that compiles every execution in the nation since 1977.
Read below the fold for more on America's love/hate relationship with the death penalty.
That was a year after the U.S. Supreme Court reaffirmed the death penalty in
Gregg v. Georgia
, four years after it had suspended executions in another Georgia case,
Furman v. Georgia
.
In January 1977, killed by firing squad in Utah, Gary Gilmore became the first person executed in the United States in 10 years.
Since then, 1,373 others have been executed, with 15 so far in 2014. Just three states—Texas, Virginia and Oklahoma—executed more than half the total, 732.
Since 1989, 106 people sentenced to death in the United States have been exonerated. Some of them had come within days of being executed.
Pew's latest survey found that a majority of Americans still support capital punishment, just as they have done in polls in all but one of the past 80 years. But, in a hopeful sign, the gap between those who favor executions and those who do not has shrunk markedly since 1996 when 78 percent were in favor and only 18 percent opposed. The latest Pew survey cut that margin from 60 points to 18 points, 55 percent favoring and 37 percent opposed. Only in 1966 did capital punishment's foes have the edge, by six points.
As the charts below show, there's a marked difference of opinion depending on race, partisan alignment, age and, to a lesser extent, gender.
Only 11 percent of the world's nations—22 of them—executed anyone in 2013. Ninety-eight nations have officially ended capital punishment for all crimes, and, according to Amnesty International, another 42 have ended it in practice.
Amnesty's report for 2013 states:

Executions were recorded in 22 countries during 2013, one more than in the previous year. As in 2012, it could not be confirmed if judicial executions took place in Egypt or Syria. The overall number of reported executions worldwide was 778, an increase of almost 15% compared with 2012. As in previous years, this figure does not include the thousands of people executed in China; with the death penalty treated as a state secret the lack of reliable data does not allow Amnesty International to publish credible minimum figures for China. [...]

Despite these worrying developments, the overall data demonstrate that the trend is still firmly towards abolition. Excluding China, almost 80% of all known executions worldwide were recorded in only three countries: Iran, Iraq and Saudi Arabia.

Progress towards abolition was recorded in all regions of the world. Although the USA remained the only country in the Americas to carry out executions in 2013, the number of executions in the country continued to decrease. Maryland became the 18th abolitionist US state in May. No executions were reported in Europe and Central Asia last year. Constitutional and legal review processes in several West African countries created real opportunities for the abolition of capital punishment. For the first time since Amnesty International began keeping records there were no prisoners on death row in Grenada, Guatemala and Saint Lucia.
Slowly edging ever closer to the day when this barbaric practice will be ended everywhere.