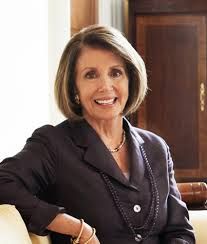 Nancy Pelosi once again breaks through the BS and gets to the core of the issue. Pelosi suggests Republicans not acting on immigration because of race

"I think race has something to do with the fact that they're not bringing up an immigration bill," Pelosi told reporters at her weekly press conference Thursday.

Referring to GOP members, Pelosi added, "I've heard them say to the Irish, 'If it was just you, this would be easy.'"

Pelosi was responding to a question about Attorney General Eric Holder's remarks at a civil rights event suggesting congressional Republicans treated him and President Obama differently than others who have held their positions. The Democratic Leader sidestepped whether she believed race was a factor in the GOP's posture, but said of congressional Republicans, "generally speaking they are disrespectful to the representatives of the President's administration, very disrespectful."

Perhaps, if we take the GOP on directly in their stalling we can fire up our base for he 2014 elections and give them a run for their money. The strategy of playing nice provide too much cover for them.
Update: Wesley Lowery has an even better article in the Washington Post Blog Pelosi: House GOP holding up immigration bill because of race

House Minority Leader Nancy Pelosi (D-Cali) told reporters:
"I think race has something to do with the fact that (the GOP House leadership) are not bringing up an immigration bill," Pelosi said Thursday morning, later adding: "I've heard them say to the Irish, 'if it were just you this would be easy.'"

Pelosi's comments came after she was asked by reporters at her weekly media briefing whether or not tense exchanges between President Obama, some of his top officials and Cabinet members, and House Republicans -- most recently between Attorney General Eric Holder and Rep. Louie Gohmert (R-Tex.) -- are in-part motivated by race.

​"I think, generally speaking, they are disrespectful of members of the president's administration," she said. "I think their disdain for anyone who disagrees with them is across the board. I don't want to go to the race piece, but I think it certainly applies to women. It's so self-evident that it applies to women."
Later asked the same question John Boehner got angry:

"There is no issue of race here," Boehner said, as his demeanor grew visibly bothered, and his tone turned angry.

"The frustration is that the American people have not been told the truth about what happened at the IRS, the American people have not been told the truth about what happened at Fast and Furious, the administration has not told the American people the truth about what happened at Benghazi." Bohner said.

"The administration refuses to tell us the truth!" an angry Boehner said before walking briskly off the podium.

11:33 AM PT: To expand on the key idea Nancy Pelosi has me thinking her let me replicate a post I did yesterday on the House blocking bills that should anger almost every major segment of our base except Hispanics. I ask how we can translate these House slaps in the faces to our base into mobs of voters in November. Pelosi may be thinking the same thing because she just completed the list.
House block bills on minimum wage, equal pay, LGBT rights, minimim wage increase, and ENDA
Any doubt about the importance of getting out our Democratic vote to try to take back the House, no matter what the probabilities may seem, was resolved today as House leaders shot down a slew of progressive bills described in Busy Day For House GOP: Blocks Bills On Minimum Wage, Equal Pay, LGBT Rights.

WASHINGTON -- In a single committee meeting Wednesday, House Republicans voted against considering bills to raise the minimum wage, reform mine safety law and expand equal pay and discrimination protections. They opted instead to move legislation generally seen as unfriendly to labor unions.

A procedural maneuver by Democrats put their legislation on the minimum wage and workplace safety and discrimination before Republicans on the House Committee on Education and the Workforce, who essentially voted against voting on the measures. The move was part of an effort by Democrats to get Republicans on the record opposing raising the wage floor or bolstering workplace discrimination laws.

Democrats had proposed amendments to the GOP's legislation on unions that, if approved, would have given the minimum wage, mine safety and discrimination measures a committee vote. Republicans blocked the proposals on the grounds that the amendments weren't germane to the committee vote on the union legislation, which is expected to head to the House floor.

How depressing it is to see our government stalled out, as Republicans are happy to do nothing to run out the clock on President Obama's administration. Election experts tell us we have little chance of regaining the house. In fact, although I have not read his study, my understanding is that Nate Silver's last analysis indicates that based on current numbers we have a chance of losing the Senate.
The key words are "based on current numbers" which are subject to change. We have seen much improved reporting on the ACA. If we Democrats pull all the stopped and President Obama gets fired up, shouldn't we at least try to take back the House? My impression is that "approximately" if we could poll over a 5% advantage over Republicans at a national average we could break even in the House.
Perhaps, our election experts here could tell us more. What is our alternative. We are going to have to fight these elections anyway. I've never been one for the "Rah, Ray, sis, boom, bah, happy talk coaching pep talks were everyone the coach demands we give "110%."
When this used to happen, I was the kind of player running out onto the field swearing under my breath about "these idiot coaches not respecting mathematics or the players."
With no self deception involved, can't we come up with a 2014 election motto a little motto a little more inspiring than "let's go out there an minimize our maximum loss in the Senate folks!"
In 2010, we had hardly heard of the Tea Party until they came roaring out of the summer breaks where they had been conspiring and firing themselves up. Why can't' we get all the groups this House is insulting on almost a daily basis and come roaring into these 2014 elections taking back the House and surprising the stew out of these ... annoying Republicans.
Can any one else imagine how much more fun 2015 and 2016 will be if we could control all three branches of government and show the American people what a functional government can look like in the hands of Democrats who believe government can serve the common good of the people?