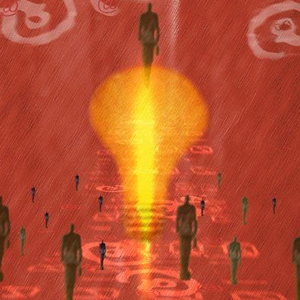 Commentary: African American Scientists and Inventors
by Black Kos Editor, Sephius1


Sylvester James Gates, Jr. (born December 15, 1950) known as S. James Gates, Jr, or Jim Gates, is an American theoretical physicist, known for work on supersymmetry, supergravity, and superstring theory. He is currently the John S. Toll Professor of Physics at the University of Maryland, College Park, a University of Maryland Regents Professor and serves on President Barack Obama's Council of Advisors on Science and Technology.
Gates received SB (1973) and PhD (1977) degrees from the Massachusetts Institute of Technology. His doctoral thesis was the first at MIT on supersymmetry. With M.T. Grisaru, M. Rocek, and W. Siegel, Gates co-authored Superspace (1984), the first comprehensive book on supersymmetry.
Gates was nominated by the Department of Energy as one of the USA Science and Engineering Festival's "Nifty Fifty" Speakers to present his work and career to middle and high school students in October 2010. He is on the board of trustees of Society for Science & the Public.
[...]
Gates has been featured extensively on NOVA PBS programs on physics, notably "The Elegant Universe" (2003). He completed a DVD series titled Superstring Theory: The DNA of Reality (2006) for The Teaching Company consisting of 24 half-hour lectures to make the complexities of unification theory comprehensible to laypeople.[4] During the 2008 World Science Festival, Gates narrated [5] a ballet "The Elegant Universe", where he gave a public presentation of the artistic forms[6] connected to his scientific research. Gates also appeared in the BBC Horizon documentary The Hunt for Higgs in 2012......Read More
~~~~~~~~~~~~~~~~~~~~~~~~~~~~~~~~~~~~~~~~~~~~~~~~~~~~~
News by dopper0189, Black Kos Managing Editor
~~~~~~~~~~~~~~~~~~~~~~~~~~~~~~~~~~~~~~~~~~~~~~~~~~~~~

~~~~~~~~~~~~~~~~~~~~~~~~~~~~~~~~~~~~~~~~~~~~~~~~~~~~~
It's the true story of a biracial woman who may have helped bring about the end of slavery in Britain. The Root: Belle: A Lesson About British Slavery Buried in a Love Story.
~~~~~~~~~~~~~~~~~~~~~~~~~~~~~~~~~~~~~~~~~~~~~~~~~~~~~
Her name was Dido Elizabeth Belle. Her mother was an enslaved African, and her father was an officer in the British Royal Navy. (The true nature of and the circumstances surrounding their relationship are unclear.) Belle was spared a life in slavery. She was taken from her mother to live in the home of her aristocratic great-uncle, where, even as an illegitimate child, she was afforded the privileged life that came with her father's bloodline. But because she was also biracial/black, she was denied full societal and familial acceptance. As the character sums it up in the movie, "How may I be too high in rank to dine with the servants but too low to dine with my family?"
The filmmakers take some liberties with parts of her story. Belle's love affair with a white man, John Davinier, is given the dramatic Hollywood treatment and plays prominently in the movie, but the real-life Belle did marry Davinier. Her family circumstances are also historically accurate, including that her great-uncle, the man who raised her, was the first earl of Mansfield. He served as lord chief justice of England in the late 18th century and presided over two of the most significant legal cases during the transatlantic slave trade that eventually led to the abolition of slavery in Britain. And one of the cases, Gregson v. Gilbert, serves as the backdrop for the movie.
The Zong Massacre was at the heart of Gregson vs. Gilbert. The Zong slave ship was headed from West Africa to Jamaica in 1781 when the captain and crew threw 133 slaves overboard to their deaths, a practice not uncommon during the slave trade. The owners of the Zong later said that because of illness and a shortage of fresh water, it was necessary to dump "cargo" to save those remaining on the ship. English law at the time allowed the ship's owners to file an insurance claim if they threw slaves overboard to save the ship, but not if the slaves died of natural causes.
The Zong's owners filed a claim, but the insurers refused to pay after it came to light that the ship probably wasn't short on water. In court, Lord Mansfield ruled in favor of the insurers, but he stopped short of saying murder had been committed. Still, the Zong case brought to light the horrors of the slave trade for the British public and spurred the movement to end it.


If you watch the trailer you wouldn't know that the movie is actually about a woman many believe had a role in the ending of slavery in Britain.


~~~~~~~~~~~~~~~~~~~~~~~~~~~~~~~~~~~~~~~~~~~~~~~~~~~~~
Max Brooks on his graphic novel about the Harlem Hellfighters—one of the most successful and least celebrated regiments to ever fight for America. Slate: The Unknown Soldiers.
~~~~~~~~~~~~~~~~~~~~~~~~~~~~~~~~~~~~~~~~~~~~~~~~~~~~
n the just-released The Harlem Hellfighters, Max Brooks—who made his name with the The Zombie Survival Guide and World War Z—dives into the story and heroics of the 369th U.S. Army Infantry Regiment, the all-black unit assembled to fight in World War I.
After facing intense discrimination and racist treatment at the hands of their superiors, the soldiers were sent to join the French Army on the Western Front, where they became one of the most decorated units of the war effort. It was their willingness to take dangerous assignments—and their refusal to concede an inch of ground—that earned them the "Hellfighters" moniker from German soldiers.
Illustrated by Caanan White (who also draws Uber, a World War II comic), the book represents several decades of historical interest from the 41-year-old Brooks, who is the son of Mel Brooks and the late Anne Bancroft. I spoke with him earlier this week about the book, its origins, and the history behind it. This is the full interview, edited for clarity.


~~~~~~~~~~~~~~~~~~~~~~~~~~~~~~~~~~~~~~~~~~~~~~~~~~~~~
The same press that complains about the "don't snitch culture" turn around and use it to attack Mr. Sharpton. The Grio: Press promotes 'no snitching' to slam Sharpton.
~~~~~~~~~~~~~~~~~~~~~~~~~~~~~~~~~~~~~~~~~~~~~~~~~~~~~
Headlines from the New York Post and the New York Daily News that could very well have been written by Tony Soprano himself.
The local NYC tabloids derided Rev. Al Sharpton as both a "rat" and a "snitch" for his alleged cooperation with the FBI-NYPD in the 1980s.
According to a report from TheSmokingGun.com, the civil rights leader and MSNBC host was informant "CI-7" who wore a wire during his interactions with leaders of the infamous Genovese crime family.
The report claims the FBI gathered information through Sharpton which ultimately led to law enforcement bringing down America's largest and most feared mob organization.
In a press conference at his National Action Network office in Harlem Tuesday afternoon, an indignant Sharpton confronted what he called "old news" and a misrepresentation of something that he wrote about in his 1996 book, Go and Tell Pharaoh.
According to Sharpton, he went to the FBI after his life was threatened by the mobsters working in the music industry following his attempt to get more jobs for African-Americans in the business. Sharpton says that he was never considered an informant but a civilian who worked with the FBI in going after the individuals who threatened him.


New York Post Headline -> SHARPTON'S SHADY SNITCH STORY
~~~~~~~~~~~~~~~~~~~~~~~~~~~~~~~~~~~~~~~~~~~~~~~~~~~~~

~~~~~~~~~~~~~~~~~~~~~~~~~~~~~~~~~~~~~~~~~~~~~~~~~~~~~
Cookbook author and food activist Bryant Terry is back with a new book, and this time he's leaning heavily on flavors from the African diaspora. Color Lines:
Six Books That Shaped 'Afro-Vegan' Author Bryant Terry.
~~~~~~~~~~~~~~~~~~~~~~~~~~~~~~~~~~~~~~~~~~~~~~~~~~~~~
"Afro-Vegan: Farm-Fresh African, Caribbean, and Southern Flavors Remixed," out today from Ten Speed Press, is Terry's third solo cookbook and a step away from the primarily Southern-focused vegan menus of his earlier offerings. But, says Terry, "It's all soul food to me."
"Celebrating food of the African diaspora is one of the most meaningful ways for me to improve the physical and spiritual health of people of African descent," Terry says. This time around Terry was inspired by African-American artist Romare Bearden, whose collage work incorporates print, magazine clippings, old paper and fabric to reflect the black American experience. What Bearden did with visual art, Terry aims to do with fresh ingredients and comforting African, Caribbean and Southern flavors. And like with all of Terry's books, his menus come with suggested soundtracks and autobiographical and political notes. It's hard to read a Bryant Terry cookbook and not want to get immediately eating, cooking, reading and partying—all at once.


At left, Bryant Terry's "Afro-Vegan: Farm-Fresh African, Caribbean, and Southern Flavors Remixed" published by Ten Speed Press. At right, his Sweet Potato and Lima Bean Tagine. Photo: Main photos by Paige Green, printed with permission from Ten Speed Press
~~~~~~~~~~~~~~~~~~~~~~~~~~~~~~~~~~~~~~~~~~~~~~~~~~~~~


~~~~~~~~~~~~~~~~~~~~~~~~~~~~~~~~~~~~~~~~~~~~~~~~~~~~~
The title to this article raises a very important point. Talking Point Memo: You Don't Have To Be A Racist To Practice Racism.
~~~~~~~~~~~~~~~~~~~~~~~~~~~~~~~~~~~~~~~~~~~~~~~~~~~~~
Nothing, but nothing, enrages conservatives more than being accused of racism.
Yes, a whole wing of modern conservatism is rooted in the southern white struggle against civil rights. Yes, Republican politicians perpetually appeal to resentment of the beneficiaries of the "welfare state," commonly (if mistakenly) understood as people of color. Yes, nearly all conservative political actors and writers treat minority grievances as an illegitimate projection of past injustices far past their point of relevance. Yes, in nearly every state where the GOP has the power and incentive to do so, their legislators are systematically seeking to make it harder for minorities to vote. Yes, the tea party movement has a foundational myth that the housing and financial crises which touched off the Great Recession were the product of loans made to uncreditworthy minority folk via the Community Reinvestment Act at the behest of the "black radical" group ACORN. And yes, the centrist technocrat Barack Obama has often been subjected to classic racist stereotypes in day-to-day conservative agitprop, as an alleged beneficiary of affirmative action, as a shiftless vacation-taker, as a boon companion to (and even a husband of) black radicals, and yes, as a Kenyan with a "neocolonial" outlook.
Since we cannot peer into souls and because it is entirely possible to favor conservative policy positions with no racial animus whatsoever, none of this evidence, of course, means that it is accurate to describe any particular individual conservative as a racist. Some Republicans frankly argue that the heavy Democratic voting proclivities of African-Americans, Asian-Americans and (to a somewhat lesser extent) Hispanic-Americans all but force GOPers to promote policies everyone knows have a disproportionate impact on minorities; why shouldn't Republicans tend to their own bleached constituencies insofar as people of color won't give their views a fair shake? More popular still is the theory (particularly beloved by the small tribe of African-American conservatives, but also alluded to by big-time figures like Paul Ryan and Rand Paul) that the Right's deep sympathy for minority Americans requires a fight to "liberate" them from the Democratic Party "plantation," where they are confined via dependence on government largesse (Conservatives like Star Parker, Ann Coulter and Rush Limbaugh have even argued that the welfare state was a conscious successor to Jim Crow).
And so, protestations of pure motives accompany even the most suspect of policies and messages — and intensify the conservative cries of "unfair!" and "race card!" when the r-word is attributed to their words and deeds if not their thoughts. It has reached the point where the very idea of racism — other than the "racism" of liberals playing the "race card" — has been delegitimized on the right.


~~~~~~~~~~~~~~~~~~~~~~~~~~~~~~~~~~~~~~~~~~~~~~~~~~~~~
Study showed that those white Americans who can be made more fearful of becoming a minority will start to lean toward conservative policies.
Association for Psychological Science.
Thinking About a Majority-Minority Shift Leads to More Conservative Views
.
~~~~~~~~~~~~~~~~~~~~~~~~~~~~~~~~~~~~~~~~~~~~~~~~~~~~~
The findings suggest that increased diversity in the United States could actually lead to a wider partisan divide, with more White Americans expressing support for conservative policies.
Psychological scientists Maureen Craig and Jennifer Richeson of Northwestern University noticed a substantial amount of media attention when predictions were made that the "majority-minority" population shift would happen in 2050 or sooner.
"We wondered how this kind of 'us-vs-them' framing would be perceived by members of the current majority," says Craig.
Craig and Richeson first examined data from 369 White participants who had described themselves as politically unaffiliated in a national Pew Research survey.
They found that participants who had read that California is a majority-minority state tended to lean more towards the Republican Party and rate their ideological attitudes as more conservative than participants who simply read that the Hispanic population had become equal in size to the Black population in the United States.
Importantly, participants' political attitudes shifted to the right despite the fact that all of the participants had labeled themselves as politically independent.
Another experiment conducted with a nationally-representative sample yielded similar results, showing that White participants who read a press release about the impending majority-minority shift were more likely to endorse conservative policies — even policies that were race-neutral, such as health care reform and increased military spending — than those who simply read about greater geographic mobility.
According to Craig and Richeson, the possibility of a majority-minority shift may threaten White American's perceived status in the long term, thereby making them more likely to endorse conservative policies in the short term.


~~~~~~~~~~~~~~~~~~~~~~~~~~~~~~~~~~~~~~~~~~~~~~~~~~~~~
Welcome to the Black Kos Community Front Porch!
Pull up a chair and sit down a while and enjoy the company.