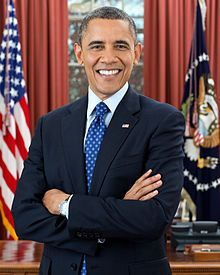 In a wonderful speech at the Al Sharpton dinner, Chris Matthews has played segments of from on Hardball, President Obama struck back at Republican efforts to suppress voting. Obama: GOP wants to stop Democrats from voting: 'The real voter fraud is people who try to deny our rights by making bogus arguments,'

"The real voter fraud is people who try to deny our rights by making bogus arguments about voter fraud," Obama said, in a speech to Rev. Al Sharpton's National Action Network in New York — an organization that he said should serve as a national model for organizing people around voting, led by a man who deserved "a big round of applause."

"There are well-organized and well-funded efforts to undo [the] gains" of the civil rights movement, Obama told the largely African-American crowd. "Just as inequality feeds on justice, opportunity requires justice, and justice requires the right to vote."

We Democrats face an uphill battle in the 2014 election with new voting laws and requirements on the books, and President Obama will not be on the ballot to fire up his supporters.

"The right to vote — what kind of political platform is that? Why would you make that a part of your agenda, preventing people from voting? How can you defend that?" Obama said. "This recent effort to restrict the vote has not been led by both parties. It's being led by the Republican Party."

"We've got to be vigilant to secure the gains we made, but also to secure more gains in the future," Obama said, calling the right to vote "under particular assault right now."

President Obama is leading us in the right direction. We Democrats are going to have to work harder just to stay in place because of he many new voting requirement laws the GOP has put into place. Now is the time to be firing up our base.