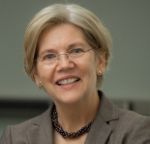 Who would have thought that the confluence of Wall Street, Occupy and a Harvard Law School professor would give rise to a new wing of the Democratic Party?
Starting as a populist long-shot espousing economic fairness in the face of an economy devastated by Wall Street loan securitization and derivatives, Elizabeth Warren's name has become the watchword of a new crop of political candidates pushing back against corporate control of our government.
Economic justice is back in vogue.
The Teaparty days of tearing down the government and starving domestic programs of tax revenues are being drowned out with renewed calls for reinstating previously higher taxes on corporations and millionaires.
Tax fairness was the subject of a widely publicized Progressive Change Campaign media phone call yesterday. Participating were Progressive Caucus leader, Rep. Raul Grijalva and aspiring "Elizabeth Warren Wing" newcomers running for Congress including:

Shenna Bellows (ME-Sen)

"Here in Maine, it's pothole season. The roads are in terrible shape because of lack of investment in our infrastructure. The public university system is facing devastating cuts. Maine small businesses and families are paying what they owe so our economy can grow and our citizens can have the services they need. It's time for the country's largest corporations and wealthiest individuals to pay their fair share of taxes. It's time for a tax policy that places principle over politics and treats everyone fairly."

"We can only build a strong America if everyone has a fair chance to succeed. And if everyone is going to have a fair chance, then the largest corporations and wealthiest individuals in this country must pay their fair share."
Bonnie Watson Coleman (NJ-12)

"In New Jersey, we did indeed pass a millionaire's tax even though the current governor did not reinstate it after it sunset. But that tax was designed to address some priorities: to relieve taxpayers and to create opportunities to support things like good public education, globally competitive public education. Those are issues that are definitely on the table right now -- those issues and fairness to middle class taxpayers, and absolutely access to affordable health care. This Ryan Budget basically drains every opportunity for both women and the poor to have access to health care. I very much want to be a part of the voice that goes down to Congress and supports our efforts to make sure that millionaires and giant corporations are called upon, and indeed required, to pay their fair share."
Kelly Westlund (WI-7)

"Budgets should reflect our values and our priorities. And our highest priority right now in this country ought to be creating jobs.

And a great way to do that is to invest in education and in our crumbling infrastructure. This critical infrastructure that really needs a lot of work. We can't do that unless everyone in this country pays their fair share."


Rob Zerban WI-1

"I'm glad to stand with bold progressives across the country. Yesterday, we had an event outside of Paul Ryan's office. This was a natural fit for us since he's the author of the Ryan Budget… It was great, it was well attended and I'm proud to stand with bold progressives and Elizabeth Warren wing of the Democratic Party and showing that we have new principles and priorities that need to take hold."





Rob Zerban is challenging Paul Ryan. Talk about complete opposites!
Stanley Chang (HI-1)

"We recently introduced our platform: the Agenda for Change, which calls for bold progressive policy solutions such as job creation through government investments in infrastructure, free college education in exchange for service, and universal public pre-kindergarten. None of these programs would be possible without an equitable tax system in which everybody contributes his or her fair share."





Eloise Reyes (CA-31)

"When I am elected to congress, I will support progressive budgets that ask the wealthy and big corporations to pay their fair share, so we can put people to work building and repairing schools, roads and bridges. I'll support budgets that invest in education, that keep our promises and commitments to veterans and budgets that strengthen social security and medicare."




Adam Green, PCCC founder described the event:
"The right constantly tries to dominate the news around April 15, Tax Day, with an anti-government message. Not this time. Today, the Elizabeth Warren wing of the Democratic Party is going on offense. "
Audio of the media call can be heard
here
.