Welcome to the April 18, 2014 Post Game Show for Mojo Friday!
In our poll this week, tell us what your favorite Easter candy is!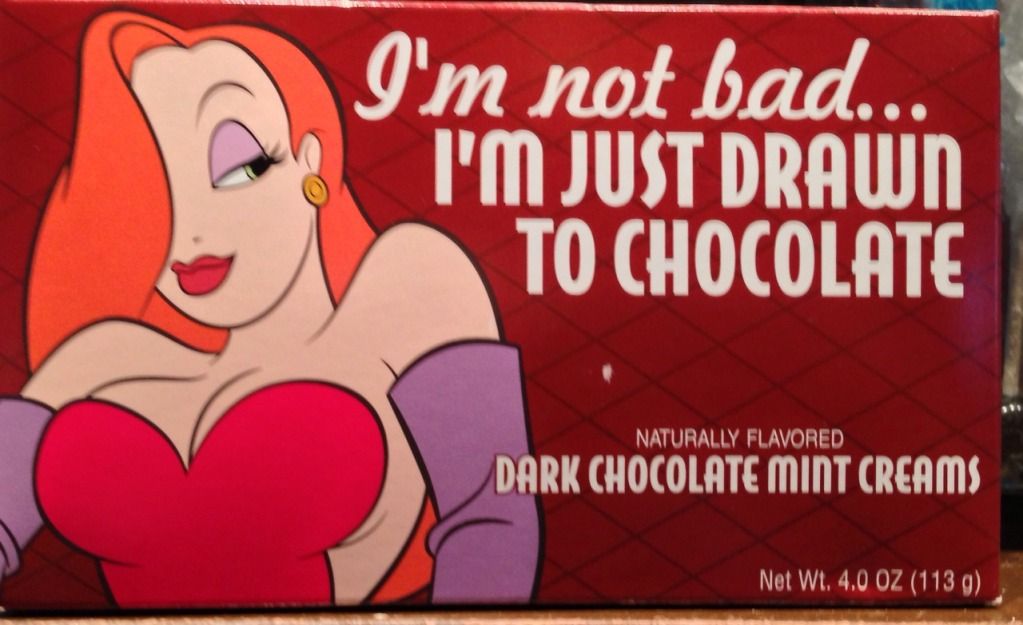 Chocolate. Yummy! And good for you (I love modern science, don't you!). Reminds me of Woody Allen coming awake in Sleeper and being told what other food myths we had in the 20th century! That chocolate bar to the right was one I saw when in Disney World a few years ago ("Who Killed Roger Rabbit" being one of my favorite movies) ... and my favorite chocolate in the world is either Salazon (dark chocolate with sea salt or Valrhona 70% dark chocolate bars).
The world would be better if we all just sat down and ate chocolate together.
Well, and maybe had a nice pint to accompany it. [I remember driving my teen-age daughter bonkers when I sat down once with a great dark ale and some dark chocolate at the same time. Don't know why.]
And, as TexDem highlighted, commercialism has overrun Easter as it has Halloween and Christmas. Although, ahem, as a child I always enjoyed the hunts for the easter baskets when we came from home church.
So, in celebration, our poll asks you what your favorite Easter candy is. If you're not Christian, then tell us what your favorite candy for this time of year is ... it's clearly not tied to any faith tradition! Or even the need to have one!
Today's Mojo Friday diary is Mojo Friday - Cottontail - Edition
The Mojo Friday Postgame is a statistical analysis of the Mojo Friday diary that is posted every Friday morning at 10:30 a.m. ET. For further info please check out Jez's 'Official' "Mojo Friday Snecktionary" MKinTN posted a diary to help everyone achieve greater success called How to Succeed at Mojo Friday Without Really Trying.
Congratulations to:
Participation-est:
bjedward, bsegel, chimene
Chattiest:
chimene
Generous-est:
barefoot coyote
Snecksiest (1):
chimene, Captain C
Thanks to our most excellent host, TexDem!
Stats will be updated Sunday afternoon. Final stats will be published a week later.

First round stats, as of 4:07PM Eastern, are:
40 participants
276 comments
6.9 average comments per participant
4860 total mojo exchanged
46.5% average participation rate
Snecker-tracker:
100 : Captain C
200 : chimene

| | | | | | | |
| --- | --- | --- | --- | --- | --- | --- |
| username | comments | mojogiven | comments + mojogiven | partic% | mojorecd | recd diary? |
| bjedward | 4 | 272 | 276 | 100.00% | 78 | Yes |
| bsegel | 6 | 270 | 276 | 100.00% | 94 | Yes |
| chimene | 60 | 216 | 276 | 100.00% | 719 | Yes |
| mjbleo | 18 | 257 | 275 | 99.64% | 219 | Yes |
| anotherdemocrat | 4 | 271 | 275 | 99.64% | 36 | Yes |
| barefoot coyote | 0 | 275 | 275 | 99.64% | 0 | No |
| Senor Unoball | 22 | 252 | 274 | 99.28% | 440 | Yes |
| 4Freedom | 27 | 245 | 272 | 98.55% | 488 | Yes |
| mungley | 12 | 260 | 272 | 98.55% | 192 | Yes |
| alypse1 | 12 | 259 | 271 | 98.19% | 140 | Yes |
| TexDem | 34 | 208 | 242 | 87.68% | 814 | Author |
| ER Doc | 1 | 229 | 230 | 83.33% | 24 | Yes |
| jwinIL14 | 1 | 222 | 223 | 80.80% | 25 | Yes |
| Ex Con | 1 | 218 | 219 | 79.35% | 26 | Yes |
| Captain C | 26 | 153 | 179 | 64.86% | 506 | Yes |
| woodtick | 0 | 168 | 168 | 60.87% | 0 | Yes |
| VClib | 7 | 148 | 155 | 56.16% | 166 | Yes |
| ArthurPoet | 1 | 147 | 148 | 53.62% | 18 | Yes |
| Debbie in ME | 4 | 143 | 147 | 53.26% | 89 | Yes |
| Eddie L | 1 | 126 | 127 | 46.01% | 24 | Yes |
| mhanch | 4 | 117 | 121 | 43.84% | 81 | Yes |
| Texnance | 13 | 97 | 110 | 39.86% | 288 | Yes |
| NoMoJoe | 2 | 97 | 99 | 35.87% | 44 | Yes |
| polecat | 5 | 65 | 70 | 25.36% | 121 | Yes |
| kenwards | 6 | 63 | 69 | 25.00% | 128 | Yes |
| Billlll | 1 | 26 | 27 | 9.78% | 17 | No |
| global citizen | 2 | 13 | 15 | 5.43% | 50 | Yes |
| Common Sense Mainer | 0 | 10 | 10 | 3.62% | 0 | Yes |
| Laughing Vergil | 0 | 7 | 7 | 2.54% | 0 | No |
| VeloVixen | 0 | 7 | 7 | 2.54% | 0 | Yes |
| Eric Nelson | 0 | 5 | 5 | 1.81% | 0 | Yes |
| rogereaton | 0 | 5 | 5 | 1.81% | 0 | Yes |
| MT Spaces | 1 | 2 | 3 | 1.09% | 16 | Yes |
| Alice Olson | 0 | 2 | 2 | 0.72% | 0 | Yes |
| skepticalcitizen | 0 | 1 | 1 | 0.36% | 0 | Yes |
| smileycreek | 0 | 1 | 1 | 0.36% | 0 | Yes |
| politik | 0 | 1 | 1 | 0.36% | 0 | Yes |
| Trix | 0 | 1 | 1 | 0.36% | 0 | Yes |
| doroma | 0 | 1 | 1 | 0.36% | 0 | Yes |
| vgranucci | 1 | 0 | 1 | 0.36% | 17 | Yes |