Jonathan Chait
:
The health-care system still has lots of problems, beginning with the 5 million poor Americans cruelly denied health care by red state Republicans. Compared to an ideal blue-sky health-care system, we still fall short. What's beyond question is that Obamacare has effected a revolutionary improvement by its own standards.
If it's so easy to massively improve health care, why didn't it happen before? Because passing a health-care reform through Congress is incredibly hard. The system's waste created an enormous class of beneficiaries with a vested interest in the status quo. And the insecurity of private insurance made Americans terrified of change (which was necessarily complex).

And this is what conservatives have never understood. They act as if reforming health care is a mere matter of drawing up a health-care plan on paper and rounding up the votes, something they could do anytime they really feel like getting around to it, rather than a Herculean political task. They further convinced themselves that administering the new law would prove devilish if not impossible. They had it backwards.

The triumphs of Obamacare were designing a plan that could acceptably compensate the losers and generating the resources to cover the uninsured without alienating those with insurance. Designing and passing Obamacare was a project requiring real policy and political genius. Implementing it was easy.
In case anyone needs a Fox News-style interpretation of today's ACA enrollment statistics
http://t.co/...
— @D_Liebman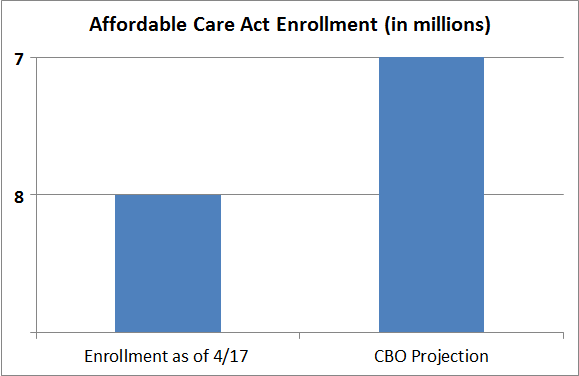 More politics and policy below the fold.
ICYMI, here's the WH fact sheet:
HEALTH CARE BY THE NUMBERS

8 million people signed up for private insurance in the Health Insurance Marketplace. For states that have Federally-Facilitated Marketplaces, 35 percent of those who signed up are under 35 years old and 28 percent are between 18 and 34 years old, virtually the same youth percentage that signed up in Massachusetts in their first year of health reform.

3 million young adults gained coverage thanks to the Affordable Care Act by being able to stay on their parents plan.

3 million more people were enrolled in Medicaid and CHIP as of February, compared to before the Marketplaces opened. Medicaid and CHIP enrollment continues year-round.

5 million people are enrolled in plans that meet ACA standards outside the Marketplace, according to a CBO estimate. When insurers set premiums for next year, they are required to look at everyone who enrolled in plans that meet ACA standards, both on and off the Marketplace.

5.7 million people will be uninsured in 2016 because 24 States have not expanded Medicaid.
Jason Millman
:
You can see that signups surged in March as expected, and the two bonus weeks of enrollment in April essentially matched signups for the entire month of February. CMS never made a projection for April enrollment because it was not supposed to happen.

If we learned one thing from this enrollment period, it's this: Never underestimate the power of procrastination. California's exchange on Thursday reported that April 15, its last day of enrollment, saw 50,000 people sign up — its best day ever.
Sarah Kliff
:
There's a very simple reason that Obamacare hit 8 million sign-ups: Being uninsured is horrible.

But the political conversation over Obamacare was driven almost entirely by people who had, and knew they would be able to keep, their health insurance. It was filled with a lot of assumptions, theories, and speculations about what people who didn't have good insurance, or any insurance, would do. And after Obamacare's disastrous launch, the theory took hold that these people wouldn't find this untested program worth the trouble. It was the permanently insured speculating about the uninsured and the barely insured – and, unsurprisingly, they got it wrong.
Josh Marshall
:
On Obamacare, the Republican party has bet big on failure for four years. Now the results are in. And they lost. Big time.

Of course, substance policy success and political outcomes aren't the same thing. And just as importantly they do not always run on the same time scale. So it is entirely possible. I would say it is likely that the GOP will still derive benefits this November from the core of voters who are extremely upset about Obamacare, extremely motivated to vote and also happen to be the same people who routinely turn out in disproportionate numbers in mid-term elections. But on the core of the policy, which I think there is good reason to believe will align with political outcomes in the future, the results are in. And they lost.
Lucia Graves
:
Good News for Obamacare Is Bad News for Conservative Pundits

The warnings that insurance premiums will skyrocket next year look increasingly hyperbolic.
Sam Baker
:
Obamacare Is On a Winning Streak

Strong enrollment and falling costs are giving the White House a lot of positive headlines.
Greg Sargent
:
The announcement of eight million Obamacare sign-ups may finally be enough to jolt commentators into realizing that maybe, just maybe, the Republican plan to build an entire campaign against the law for the next six months might suffer from a few imperfections. The President, for his part, seized on the moment to urge Democratic candidates to stand proudly by the law's achievements — and to attack Republicans for wanting to strip them away.