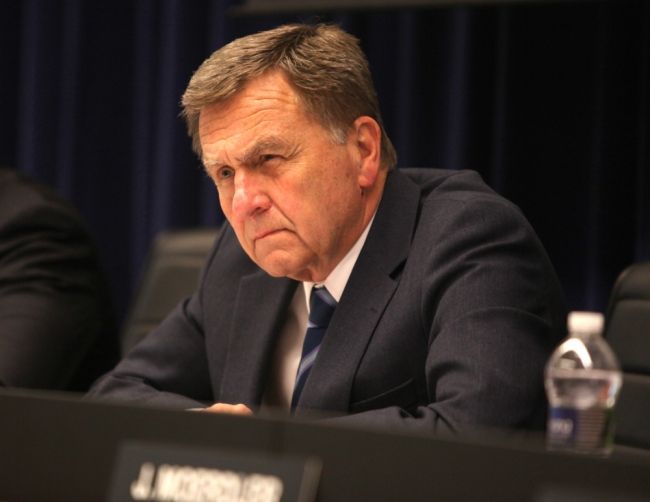 A2nite sends us two new articles from her cell phone, the first revealing that Analysis: David Samson's role went beyond Port Authority. John Reitmeyer, from the State House Bureau of North Jersey.com's investigation reveals:

Interview memos released this week by the lawyers Christie hired to probe the George Washington Bridge lane closures reveal how David Samson, center — who faced a series of conflict-of-interest questions before resigning from the Port Authority late last month — apparently interacted with Christie administration officials in a number of overlapping roles: Christie adviser, Port Authority chairman and leader of a top New Jersey law firm with clients seeking favorable outcomes from Christie Cabinet agencies.

Yes, you guessed it, non other than David Samson, Christie's close friend and personal adviser, who was serving at the time as chairmen of the Port Authority, while also raking in the big bucks as owner and senior partner of the law Wolff & Samson, which specialized in "helping special clients" find their way through New State government regulations. Samson seemed to have some kind of "magic touch," where obstacles to development , or access to desirable state contracts could quickly appears nor disappear as the case may be.
Interview notes released last week by Gibson, Dunn, and Crutcher, that formed the "purported basis for Randy Matro's exoneration of Christie reveal details of Samson involvement with New Jersey state official on Christie's behalf, that are likely to raise eyebrows, and additional charges of conflict of interest.
The memos show that David Samson


apparently interacted with Christie administration officials in a number of overlapping roles: Christie adviser, Port Authority chairman and leader of a top New Jersey law firm with clients seeking favorable outcomes from Christie Cabinet agencies. The law firm has also hired a number of former Christie administration officials. ... Those entries raise the question of whether the colliding roles Samson has been accused of playing in Port Authority matters extended into his dealings with state officials.
Let's spell this out so we all know we are on the same page. Notice in the following example, that David Samson calls Richard Constable, the commissioner of the New Jersey's Department of Community Affairs, representing that he is calling on behalf of Governor Christie to find out if Constable will be staying on for Christie's second term.
Should we, perhaps, insert the word, "finding out if he would like to stay on? " to better understand the psycho-dynamics of this encounter?
How does Richard Constable know exactly how much, and in what parts of this conversation David Samson is speaking for Governor Christie, himself as Port Authority Chairmen, or Chief counsel and owner of lobbying firm Wolff & Samson, whose clients may have interests before various state regulators and commissions, when he receives a phone call in August 2013 from Samson asking if he will be staying on Christie's team for the second term?

When Samson called Richard Constable, the commissioner of the state Department of Community Affairs, in August 2013, it was to find out if Constable was staying on for Christie's second term.

"Constable knows who David Samson is but only recalled having one conversation with Samson in August 2013 about his future if the Governor were to be reelected," the lawyers' memo from Constable's interview said.

But at the same time, lobbyists working for Samson's law firm, Wolff & Samson, had been pressing staff from Constable's department on behalf of the firm's clients, according to disclosures filed with the state Election Law Enforcement Commission.

Bingo! Hello! Folks this is like a textbook case of not just appearance of conflict-of-interest, but really honest to God, no doubt about it conflict-of-interest, because how is Constable going to know how much of his ability to stay on as Commissioner might be contingent on how pleased Samson and Christie are with him as they discuss his response.
And, the conflict of interest does not end with this one call, because when Constable tell his staff, friends, and others in New Jersey government about this call, how many of them will infer that cooperation with David Samson's wishes with regard to lobbying are a "quid pro quo" for retaining New Jersey state employment, or promotion?
How many other developers, or people facing challenging state regulatory obstacles, who here about these phone calls, and/or Samson's unusual relationship with Christie, may decide they better sign up as clients with Samson and Wollfe if they wish to get any where in New Jersey real estate development?
John Reitmeyer documents another case of extensive discussion between Samson, Christie, communications director Maria Comella, with regard to the $256 million reconstruction of thtet PATH station in Harrison My concern is if I even continue summarizing this excellent piece of investigative journalism I may diminish its value, or exceed fair use. Reitmeyer is a better writer than I am so please just go read it on his site and come back for discussion. It is well worth your time even if you are not a hard core Bridgegate "addict."
But, try to suppress that "Is it wrong that I am smiling" smirk or you may reveal your secret passion and have to admit your are becoming "one of us."
Resistance is futile! You will be assimilated!
This is Saturday so I make no apologizes for having Christie Watch fun while we do this serious analysis of injustice. I'll behave during the work day times but like the Army says "We own the night!" and the weekends too. So this is a special "anything goes - open thread" of our Chistie Watch series today folks. Have as much fun as you like and post as many pix as you feel inclined to do.
Oh, dang, after such a great "kicker closer' I forgot there is so much more, which I"m going to have to just cut off here. I've listened to the advice of my many good friends who suggest I pay more attention this weekend to my wonderful girlfriend and significant other. So I've devoted the day to her and working on our packing to Florida. She's just taking a break as some friends of hers dropped over, but I have to run in a few minutes so please forgive me if this post is "briefer and more succinct." (humor alert!)
Another interview memo showed Samson and Christie communications director Maria Comella regularly discussed scheduling matters, including last summer in the run-up to an Aug. 16 groundbreaking ceremony for the $256 million reconstruction of the PATH station in Harrison.
John Reitmeyer's diligent research also turns up the gem that David Samson voted for the Harrison PATH projects while at the Port Authority and three months after one of his clients proposed "converting a nearby warehouse into hundreds of luxury apartments.
Bingo! Another conflict of interest.
Rietmeyer continues to score three pointers describing incidents with Marc Ferzan, and the Hoboken projects. "Each one even more scandalous than the others." (humor alert. - Folks just because I put humor alert on these doesn't mean they are not true. I'm just noting intentional attempts at witticisms, for new readers not familiar with my quirky, fun, and sparky style.) (double self-deprecating meta-humor alert)
We should also remember that Randy Matro did not interview David Samson before deciding all this evidence was irrelevant and that Christie Christie should be nominated for a special award for a special life-time acheivement award for "Pushing the Boundaries of Ethics in Government to Previously Unforeseen Levels." (Saturday satire alert!)
My problem at this point is in my notes I have nearly every paragraph of this excellent expose highlighted for block quotes.
Why don't you just go read it all and come back here for discussion?
Here is a2nites, second link to Politiker's Loser of the Week list," topped by Christie

LOSERS

Chris Christie

Gibson, Dunn and Crutcher, the law firm that exonerated the governor of wrongdoing in the Bridgegate case, gave $10,000 to the Christie-led Republican Governors' Association nine days before it released the report, according to a report in the Bergen Record. And there was more bad news for the governor this week. Public satisfaction with New Jersey's Superstorm Sandy recovery effort dropped below 50% for the first time since the storm hit nearly 18 months ago, according to the latest Monmouth University/Asbury Park Press Poll. Nearly 3-in-4 Garden State residents say that the aid process has been too slow and place the blame more on state management of the process than on federal regulatory requirements. POLITICO also reported that state Senate Minority Leader Tom Kean (R-21) is fundraising for the son of a possible 2016 Christie rival, former Florida Governor Jeb Bush.

Oh, and yesterday, I was teasing a2nite yesterday, probably inappropriately - If so, I'm sorry, asking her why she sends me such wonderful story, some times even with suggestions about what to say about them, and then in quite brief corrections in the comments steering us to the right interpretations in succinct one sentence notes.
But, in a moment of investigative impulse of my own, I wondered why she didn't just publish this on her own? She knows this material better than I do? So I was teasing her about maybe being a Watergate like "deep-throat" informant, or maybe one of Samson's ex-friends on a vendetta? She/he reassures me that,
no, this is not true," she/he is just an ordinary concerned citizen interested in justice, and having only an I-phone which makes research easy, but publication difficult.
Thanks again a2nite and all the rest of you who make my work so much easier.
3:24 PM PT: Please check out Behhseda's great post on a new angle of the Christie scandals at New Christie Cast Member Michael DuHaime: What Happened at Rockin' Joes?