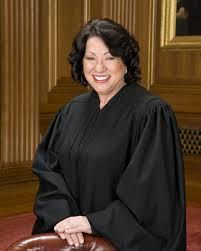 Justice Sonia Sotomayor: Affirmative Action 'Opened Doors in My Life,' reports Ariane de Voque. Justice Sonia Sotomayer read her scathing dissent from the bench taking an unusual stab at Chief Justice Roberts saying "(t)he way to stop discrimination on the basis of race is to stop discrimination on the basis of race. ... It is a sentiment out of touch with reality. The majority upheld Michigan's voter-approved ban on raced-based affirmative action admissions policies.

Sotomayor, who is joined by Justice Ruth Bader Ginsburg, dedicates 58 pages to the dissent and highlights one central theme: Race matters. It's the first time she has ever read a dissent from the bench, though she just recently told the Yale Law Journal that such readings are "like entertainment for the press" and "I really wish it didn't happen at all." But, she added, "it's become a signal of how fiercely someone believes that the Court is wrong, and I understand some of that value."

In her dissent, she notes that voters in Michigan could have used other means to eliminate the use of race-sensitive admissions policies. "They could have persuaded existing board members to change their minds through individual or grassroots lobbying efforts, or through general public awareness campaigns," she says. "Or they could have mobilized efforts to vote uncooperative board members out of office, replacing them with members who would share their desire to abolish race-sensitive admissions policies."

But instead she invokes the "political process doctrine" and says: "A majority of the Michigan electorate changed the basic rules of the political process" and "uniquely disadvantaged racial minorities."

"A citizen who is a University of Michigan alumnus, for instance, can advocate for an admissions policy that considers an applicant's legacy status by meeting individually with members of the Board of Regents to convince them of her views, by joining with other legacy parents to lobby the board, or by voting for and supporting Board candidates who share her position."

This long article continues to quote long passage of her dissent and her reasoning where she asserts that the Michigan voter initiative "restructures the political process" placing "unique burdens on racial minorities."
She continues:


"While our Constitution does not guarantee minority groups victory in the political process, it does guarantee them meaningful and equal access to that process."

"It guarantees that the majority may not win by stacking the political process against minority groups permanently, forcing the minority alone to surmount unique obstacles in pursuit of its goals–here, educational diversity.
This article will provide those interested in the details of the dissenting opinion an excellent short overview of her 58 page dissent.
4:46 PM PT: Thanks to annieli who brings us this link