See Harold Pollack link below
Aaron Blake
:
Black voters played a huge role in delivering Barack Obama to the White House in 2008 and 2012. And in 2014, they will play a huge role in determining whether the president's party can stop Republicans from taking the Senate.
Jonathan Capehart
:
The Post's Aaron Blake has a terrific piece listing the four ways "black voters could decide who controls the Senate in 2015." He writes that "[s]ix of the 16 states with the highest black populations are holding key Senate contests in 2014." The key nugget in the Blake post: "Basically every black voter who stays home is a Democratic voter who stays home," he writes. "Black voters generally vote more than 90 percent Democratic, so just about every drop in turnout among black voters pretty clearly comes at Democrats' expense."
More politics and policy below the fold.

I'm sorry...let me rub my eyes and read this again...WHAT did Mr. Bundy say?!
http://t.co/...
http://t.co/...
— @CharlesMBlow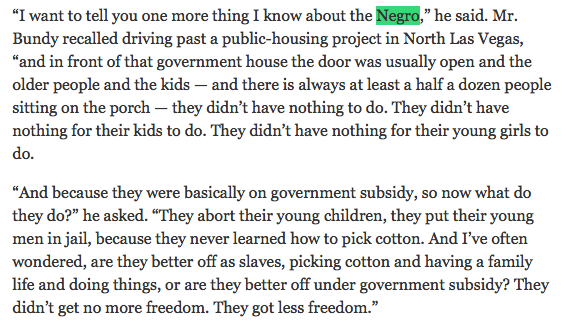 The Upshot
:
Despite strong dislike of President Obama's handling of health care, a majority of people in three Southern states – Kentucky, Louisiana and North Carolina – would rather that Congress improve his signature health care law than repeal and replace it, according to a New York Times Upshot/Kaiser Family Foundation poll.

The poll also found that a majority of Kentucky residents – and a plurality in a fourth state, Arkansas — said they thought the health care marketplace in their state was working well, even as they expressed strong disapproval of the health care law. More than twice as many Kentuckians say their state exchange is working well than say it is not.

The findings in the four states — all with political races that could tip the balance of power in the Senate — underscore the complex and often contradictory views of Mr. Obama's principal domestic legislation four years after it became law
We should just call it Palincare in the South. And while we're at it, Obama should endorse all the GOP candidates for the Senate. They'll vote against them because Obama is for them.
Meanwhile Gallup has O at a bit of a rebound. Noisy data, but not plunging numbers for the WH.
Work to do on Medicaid expansion

I can speak to health reform, whose great tragedy remains states' refusal to expand Medicaid. As Jon Gruber noted here last week, Medicaid expansion is a great financial deal for states, with the federal government initially providing 100 percent of the funding, and then reducing the subsidy to 90 percent. Nonetheless, conservative states have chosen to shut 5 million people out.

A recent Urban Institute report from the Health Reform Monitoring Study quantifies the obvious consequences. The [top of post] chart shows the percentage-point increase in insurance coverage among Americans with incomes low enough to qualify for ACA's Medicaid provisions.
Jonathan Chait
:
Imagine that God were to appear on Earth for the unlikely purpose of settling, once and for all, our disputes over economic policy. And suppose that, to my enormous surprise, he announced that every empirical claim advanced by conservatives was correct. Cutting taxes produces such great economic growth that even the poor benefit. Privatizing or eliminating social programs like Medicare and Social Security will cause the elderly to save more money and enjoy higher living standards. Slashing regulations, by eliminating unintended side effects, actually does a better job helping those whom the regulations were intended to help than the regulations themselves. Suppose that God presented these conclusions so convincingly--if his stature alone did not suffice--that everybody immediately accepted them as truth.

How would liberals respond? No doubt by rethinking and abandoning nearly all their long-held positions. Liberalism, after all, claims to produce certain outcomes: more prosperity and security, especially for the poor and middle classes; a cleaner environment; safer foods and drugs; and so on. If it were proved beyond a doubt that liberal policies fail to produce those outcomes--or even, as conservatives often claim, that such policies hurt their intended beneficiaries--then their rationale would disappear. It may be hard to imagine liberals advocating capital gains tax cuts as a way to lift up the working stiff. But that's just because there's no evidence to show they do. If the evidence were to change, so would the liberal mindset. The point is that liberalism has no justification other than the belief that liberal policies produce beneficial outcomes.

Now imagine the opposite were to happen. God appears in order to affirm liberal precepts: Current tax levels barely affect economic incentives, social programs provide tremendous economic security at modest cost to growth, and most regulations achieve their intended effects without producing undue distortions. Would economic conservatives likewise abandon their views? Some certainly would, but a great many would not. Economic conservatism, unlike liberalism, would survive having all its empirical underpinnings knocked out from beneath it.
Reuters
has a "Citizens United comes to Connecticut" piece:
The U.S. Democratic Governors' Association on Wednesday sued the state of Connecticut, saying its laws on political spending are unconstitutionally broad and limit the ability of political groups to buy independent ads backing candidates.

The group said in papers filed in U.S. District Court in Connecticut that the state unfairly treats independent money spent on ads and other political messages by the national group as contributions to particular candidates, and thus subject to campaign finance limits.

"Connecticut's campaign finance laws ... conflict with Supreme Court First Amendment precedent and place a cloud of uncertainty over what DGA may say or do without fear of prosecution," the group said in a lawsuit asking a federal judge to issue an injunction blocking the State Elections Enforcement Commission from enforcing its rules.

"The Supreme Court has ... held that the right to make independent expenditures is a core First Amendment right."
Lisa Rosenbaum
writing on the big Medicare data dump and what it doesn't tell us:
That's why asking the public to use this information to identify waste belies the complexity of physician decision-making. Do physicians respond to financial incentives? Yes. Should we tolerate care that offers patients no benefit? Absolutely not. But are profit motives the primary drivers of physician behavior? My own sense is that most physicians are primarily motivated by trying to do the right thing for their patients. Combing through these data, however, creates the impression that the pecuniary trumps the humane. What else can one conclude from information that only tells you how much physicians do and what they bill?
You'll find similar themes of what drives doctors in the interview i did with xpostfactoid
here
:
The subtext here is that for Dr. Dworkin, medicine is always about trying to help patients, and he assumes the same is true for the vast majority of doctors. Of ACOs, he says, "like most physician groups they're trying to do the right thing, and the best way to do the right thing is to try to take care of your patients as well as possible -- the rest follows." Incentives that may induce doctors to over-prescribe are not top-of-mind.
Brad DeLong
on Thomas Piketty:
Now everybody has their complaints.

Everybody has 10-20% of the argument that they disagree with, and perhaps another 10 to 20% that they are unsure about. But it is a different 30% for everybody. There is not consensus but majority agreement that each piece of the book is roughly correct. And so there is rough near-consensus that the argument of the book is, broadly, right.
Nate Cohn
:
President Obama's landslide victory in 2008 was supposed to herald the beginning of a new Democratic era. And yet, six years later, there is not even a clear Democratic majority in the country, let alone one poised for 30 years of dominance.

It's not because Mr. Obama's so-called new coalition of young and nonwhite voters failed to live up to its potential. They again turned out in record numbers in 2012. The Democratic majority has failed to materialize because the Republicans made large, countervailing and unappreciated gains of their own among white Southerners.