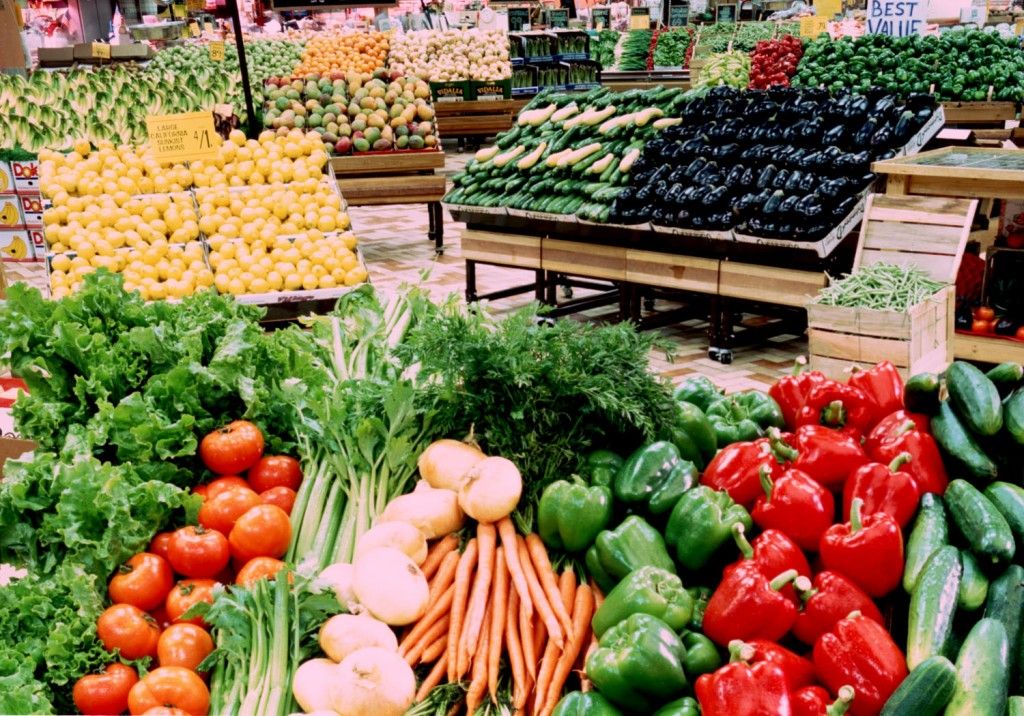 Vermont is poised to become the first state to require GMO labeling on food. Photo by Malakwal City, courtesy of Wikimedia Commons
Talia Mindich, of PBS, brings us the good news that Vermont to become first state to mandate GMO labeling, for food made with genetically modified organisms, starting July 1, 2016, despite opposition from the Grocery Manufacturers Association. Vermont Governor Peter Shumlin says he looks forward to signing it.

"I am proud of Vermont for being the first state in the nation to ensure that Vermonters will know what is in their food," Shumlin said in a statement Wednesday.

Health and environmental concerns prompted a decade-long effort that many Vermonters hope will sweep across the nation. But the Grocery Manufacturers Association, which represents farmers, seed companies and other food producers, has rebuked the measure, saying that GMOs reduce the amount of pesticide and water use on farms and help to feed a growing world population.

According to the World Health Organization, genetically modified foods are derived from organisms whose genetic material has been modified in a way that does not occur naturally. In America, some 90 percent of corn and soybeans are genetically modified.
Bracing for a legal counter-attack from the national Grocery Manufacturers Association, the Vermont legislature has put aside $1.5 million in a legal fund.
Crop plants are often genetically modified so that their roots are more resistant to insects, germs, or herbicides. Both the Food and Drug Administration and the Biotechnology Industry Organization reassure consumers that there is "no material difference between food produced with genetic engineering and those without GMOs."
Many consumers and legislators in Vermont believe there is a lack of consensus in the scientific communities on the safety issues, no long-term epidemiological studies in the United States on their effects, and many other issues with regard to the impact of GMO, and concomitant great use of herbicides, genetic drift of patented GMO pollen contaminating nearby pure seed strains, and issues with regard to health of the soil.
The following Brattleboro Vermont Reformer editorial states that regardless of whatever conclusions scientists, farmers, and regulators may arrive at with regard to these controversies about GMOs, consumers have a right to know what's in their food so the Reformer supports this bill requiring such labeling winning kudos from advocacy and consumer groups from across the nation.
The Brattleboro Reformer proudly proclaims that Vermont is in Our opinion: Leading the charge for GMO labeling.
The Reformer recounts quotes of a number of consumer advocates praising Vermont's GMO labeling law, such as Falko Schilling, a consumer advocate with the Vermont Public Interest Research Group says, "This is a huge victory for consumers everywhere," after his group collected 30,000 signitures in support of GMO labeling.
Jean Halloran, Director of Food Policy Initiatives at Consumers Union, issued a statement, "We urge the food industry to drop its legal war against consumers' right to know and instead begin listening to its consumers on this issue. We urge companies to offer not just the foods that are most convenient to grow or process, but the foods consumers really want, fully labeled."
The Reformer also anticipates a likely lawsuit against the the state law by the food and biotech industries spearheaded by the Washington D.D.-based Grocery Manufacturers Association which has said, "It sets the nation on a costly and misguided path toward a 50-state patchwork of GMO labeling policies that will do nothing to advance the safety of consumers." They complain that a patch work of 50 different states with different rules on packaging, "gets very costly, very confusing and very difficult for the entire food industry to comply with."
To which the Reformer's editors respond:
We might be sympathetic to that argument if not for the fact that the food and biotech industries are also fighting adequate labeling requirements on the federal level. The Safe and Accurate Food Labeling Act of 2014, for example, is a proverbial wolf in sheep's clothing. Despite what the name implies, and what the giant agribusiness industry claims to advocate, it does not create a national, uniform labeling requirement.

In addition to denying states like Vermont the right to enact their own GMO labeling laws, the bill also would codify the existing, inadequate system of voluntary labeling and compel the FDA to define GMOs as natural.

The bottom line is, the industry does not want any type of GMO labels on the food products they make because they know how consumers would react. According to Ronnie Cummins, director of the Organic Consumers Association who wrote an article for the Huffington Post, a seed executive for Monsanto admitted 20 years ago, "If you put a label on genetically engineered food you might as well put a skull and crossbones on it."

Cummins says proof of this "skull and crossbones" effect is evident in the European Union, where mandatory labeling, in effect since 1997, has all but driven genetically engineered foods and crops off the market. And he says it's only a matter of time before that happens here in America. More and more states are likely to follow Vermont's lead. Cummins says America's largest food companies, apparently seeing the writing on the wall, already have quietly begun distancing themselves from Monsanto and the genetic engineering lobby.
The Reformer editorial ends on an upbeat note suggesting that General Mills, Post Foods, Chipoltle, Whole Foods, Trader Joes, and many food companies are already making changes to eliminate GMOs from "some or all of their products," and several hundred companies have enrolled in the Non-GMO project so they can market their products as GMO-free.
In this case public opinion may trump the deep pockets of Monsanto and the biotech firms - but only if we get truth in labeling. Did you catch that key paragraph in the Reformer's editorial about what the Grocery Manufacturer Association lobby is trying to do in the national food labeling law? Let me repeat it so we fully appreciate what we are up against.

In addition to denying states like Vermont the right to enact their own GMO labeling laws, the bill also would codify the existing, inadequate system of voluntary labeling and compel the FDA to define GMOs as natural.
So, how this works folks, First the GMA fights the state labeling efforts in state legislatures with the valid argument that a patchwork of 50 state laws makes their job more challenging. But, then they do not act in good faith by inserting the words "voluntary" into the bill making it toothless, plus as an extra safety redefine "natural" to include "GMO" modified food. Which technically, is true. It's also "organic."
At some point the leadership of some major consumer product companies is going to learn that developing a reputation of integrity, ethics, and trust with their customers will be their most valuable asset. Until then, I'm in favor of every state following Vermont's lead. I probably eat GMO crops everyday, and probably will continue to do so, but I prefer to know about it, and I object to companies trying to suppress our knowledge of what's going on.
Last time I went shopping in the produce section was sort of like a trip to the twilight zone. Strawberries the size of golf balls, so tasty they could be a main course. Green grapes nearly half that big, every one perfect on gigantic clusters, every one so crisp and juicy, it exploded in my mouth with a burst of juicy flavor. Stalks of celery nearly one and half foot long.
Oranges, all bright orange the size of small grapefruits. A gigantic stand of bananas all perfectly yellow. I read an article a few years back about the "evolution" of the modern banana over the last 100 years which suggested if modern customers were presented with some of the varieties of what was often presented as bananas 100 years ago we might barely recognize the taste and texture.
For a moment, I thought maybe I had drifted off to sleep during the Alice in Wonderland sequence of the Blue Man Group. So I've long suspected funny things are going on with our food supply. We should know what they are so we can keep ourselves sufficiently educated that we can make intelligent choices both in the supermarket, and in the ballot boxes, and have some subjective impression, whether it is true or not, that we still understand the world around us and have some control over it.