White adults are the single largest racial or ethnic group in #ACA coverage gap in the South
http://t.co/...
http://t.co/...
— @KaiserFamFound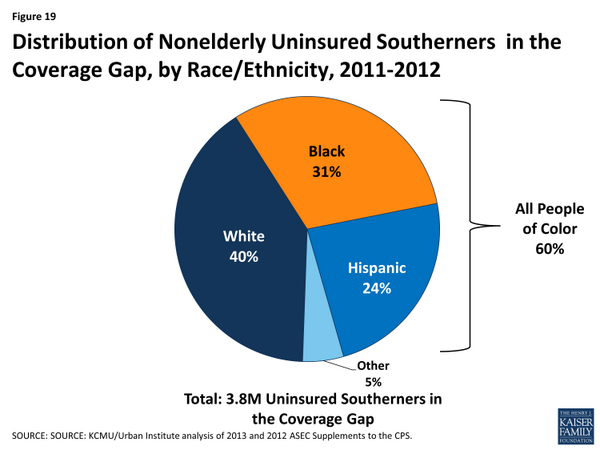 Erik Wemple
:
As we wrote in this space yesterday, those [Cliven Bundy] comments placed [Sean] Hannity in a bind, considering that he'd used his program to popularize Bundy's fight against the Bureau of Land Management over his tendency to allow his cattle to graze on public lands. According to the feds, Bundy owes about $1 million in grazing fees and penalties and the like. No stranger to outrage, Hannity deployed a little bit of it in responding to Bundy's musings about the conditions of the "Negro": "All right, allow me to make myself abundantly clear. I believe those comments are downright racist. They are repugnant. They are bigoted. And it's beyond disturbing. I find those comments to be deplorable, and I think it's extremely unfortunate that Cliven Bundy holds those views."

A good start. The next logical move would have been to repudiate his own coverage of Bundy. But that was too far a walk for Hannity.
Roll Call
:
A bipartisan overhaul of immigration, considered dead in the water just a few weeks ago, is not only alive, according to the House Republican leading efforts to broker a deal — it's gaining steam.

Rep. Mario Diaz-Balart, R-Fla., told CQ Roll Call that pro-rewrite calls earlier this week from two Illinois Republicans, Reps. Adam Kinzinger and Aaron Schock, recent comments from Speaker John A. Boehner, combined with a rash of immigration rallies and protests across the nation in recent days, are indications that momentum has shifted back to those hoping to implement an overhaul of the nation's immigration laws this year.

Diaz-Balart, a major player in ongoing efforts to produce a bill that could balance Republican demands for border security with Democratic calls for legal status for the undocumented, said a solution is closer than ever.

"I think we finally have the policy right," he said in a phone interview. "I think we have figured out a way to secure, to have border and interior security, holding the administration accountable for the enforcement … forcing the administration to enforce the law whether they want to or not. And I think we figured out a way to deal with the folks that are here in a way that is fair — fair, by the way, to those in the legal system … who are doing everything legally, and also deals with the folks that are here in a way that is fair and reasonable. And adheres, strictly adheres, to the rule of law.

"So I think we finally have the policy right. And what we're finding is more and more people out there as they're seeing it, different aspects of the policy, are starting to say, 'Hey, that is something that makes sense.'"

Diaz-Balart said he thinks they're close to a deal that can pass both chambers.
More politics and policy below the fold.
APHA
:
Even though millions of Americans are joining the ranks of the insured and gaining access to affordable health care, access to oral health care is still expected to lag, especially among adults. Under the health reform law, pediatric dental coverage is considered an essential benefit that must be offered within the state and federal health insurance marketplaces. However, adult dental coverage is not an essential benefit. And depending on the state, pediatric coverage could be a mixed bag as well.
Adrianna McIntyre
:
What dental care can teach us about coverage expansions

A simple prediction about the Affordable Care Act's impact on health care access might go something like this: we have too few primary care providers and expanding coverage is going to cause a spike in demand that those providers can't meet. Doctors will either refuse to see Medicaid patients or will do so at the expense of the privately insured, who will see longer wait times. Ergo facto, access will suffer. The outlook is bleak.

Well, maybe. But a new NBER working paper from Tom Buchmueller, Sarah Miller, and Marko Vujicic serves as an important reminder: supply-side effects matter, too. That is, providers can change the way they practice to accommodate new demand, but the studies on provider behavior are much scarcer than demand-side (patient behavior) literature.
Sean Trende
:
At the end of the day, "Bridgegate" is a bad fact for [Chris] Christie. It will certainly feature in 30-second ads. It also effectively sucks up all of the governor's "free time," freezing his campaign in place and preventing him from laying the sort of groundwork that Rand Paul and Jeb Bush are putting in place.

But these are really just two of many problems, ranging from his relative liberalism on some key issues to his weight to his "Jersey" demeanor, which really will matter somewhat in the Midwest. But no candidate comes to an election with a perfect resume -- certainly not Bill Clinton, certainly not George W. Bush, and certainly not Barack Obama (if I'd said in early 2006 that John McCain would be the GOP nominee and Obama the Democratic one, most analysts would have predicted a GOP win).
Jonathan Cohn
:
Here's a sign that the politics of Obamacare are changing: The president is using the law to troll his political adversaries.

Last week, when Obama announced that signups for open enrollment had exceeded 8 million, he declared, "the repeal debate is and should be over. The ACA is working and I know the same people don't want us spending the next two-and-a-half years fighting the settled political debates of the last five years." Republicans and their allies were apoplectic. Sean Spicer, spokesman for the Republican National Committee, promised that Obamacare "is still the number one, number two and number three issue going into this election." It's the same way they reacted the last time Obama said something similar—in early April, when signups climbed past 7 million. "No way, Mr. President," Bill Kristol responded in the Weekly Standard. "We do not accept, we do not acquiesce in, this deplorable piece of legislation. The debate is not over."

In one sense, Obama is quite obviously correct. Repealing the Affordable Care Act is no longer a viable political option. Too many people already count on it for insurance. Too many people now expect that insurers will sell them coverage, no matter what their pre-existing conditions, and rely on federal subsidies to offset the cost. Even House Speaker John Boehner just admitted the cause was futile—although it remains to be seen whether he'll walk away from those remarks, as he quickly did after making similar statements following the 2012 presidential election.

But there is also a sense in which Obama is wrong and the conservatives are right. For all of the hyperbole about plan cancellations and rate shock, there are plenty of people who really are paying higher premiums — or had to relinquish coverage they liked. Some new problems with the law will come up, even as the old ones fade away. This is the single most important piece of legislation in a generation—and the fundamental questions, about priorities and the proper role of government, are timeless. Of course the debate will continue. It should.