I post a weekly diary of historical notes, arts & science items, foreign news (often receiving little notice in the US) and whimsical pieces from the outside world that I often feature in "Cheers & Jeers".
OK, you've been warned - here is this week's tomfoolery material that I posted.
ART NOTES - an exhibit entitled Toulouse-Lautrec and La Vie Moderne: Paris 1880 – 1910 is at the Columbus, Ohio Museum of Art through May 18th.
HAIL and FAREWELL to the NFL quarterback Earl Morrall - who helped both the Baltimore Colts and Miami Dolphins win a Super Bowl (in a crucial back-up role) who has died - a few weeks short of his eightieth birthday.
SATURDAY's CHILD is Charlie Jasper the Cat - a Florida kitteh living in an apartment complex struck by lightning that resulted in a two-alarm fire ... causing Charlie Jasper to jump from a third-story window. Mercifully, she was purring when a first responder picked her up ... and she escaped with burnt paws, a broken jaw and a few minor scrapes.
LEST YOU THINK that this is a phenomena limited to the GOP: in Europe, it's far more pronounced. At one time, the Kremlin's European friends were all far-lefties ... today, the Putin-lovers are on the right wing (albeit for differing reasons).
THE OTHER NIGHT yours truly hosted the Top Comments diary with a look at the noted rail photographer O. Winston Link .... who captured the final days of steam trains in the US, but who had a tempestuous second marriage that left his final years in agony.
SUNDAY's CHILD is Eddie the Fat Cat - a Manitoba kitteh whom an animal hospital is trying to bring down (slowly) from twenty-three pounds .... and will be adoptable when he reaches a target weight. In the meantime, he receives lots of visitors .... in part since he likes tummy rubs.
ALTHOUGH one thinks of Italy when considering olive oil, it is actually Spain which is the world's largest producer - in fact, 1/3 of its imports go to Italy where it is bottled and sold (often for a significant markup) under Italian labels.
BRAIN TEASER - try this Quiz of the Week's News from the BBC.
By Request SEPARATED at BIRTH from the SnoKat - comic Jeff Davis (from "Whose Line is It, Anyway?") and the lead singer of Muse, Matthew Bellamy (who is engaged to Kate Hudson).
.............. and finally, for a song of the week.............. as a child, I first heard of a certain band singer by hearing her voice on the radio with her band's two hit songs of the late 1960's. "Wow, that is some voice" was my thought. Then I saw her photo on an album cover .... and my knees wobbled. Then again: at age 13 with the hormones starting to go into overdrive - well, it didn't take much for that to happen. Yet my heart wasn't truly stolen until I read of all the outrageous things that Grace Slick did: singing 'Wooden Ships' in Germany an emphasizing the line "Who won the war?" and bringing Abbie Hoffman to the White House for a college alumni gathering (that Tricia Nixon organized) just for starters. She became my boyhood crush then .... and although she retired from music twenty-five years ago: I still find her story a fascinating one.
The Chicagoland native's family eventually settled in Palo Alto, California and in her memoirs wrote extensively about her early life.
She was able to talk her parents into sending her to the (now defunct) Finch College in New York: "a finishing school for girls who don't have the grades to get into Vassar but their parents have money" as she put it. So did Tricia Nixon, which is why she received an invite along with other grads to the White House - under her family name, Grace Wing - but was turned down as a "security risk" upon arrival.
She became a model at the I. Magnin flagship department store, and in her memoirs you could see the dichotomy her life is. She was doing something quite traditional (modeling) and yet bristled upon receiving a suggestion: "No, I will not cream my elbows, thank you". She saw the Jefferson Airplane perform and decided that (a) they were making more money than she was, and (b) were also having a lot more fun.
And so she, her then-husband Jerry Slick, brother-in-law Darby Slick and others formed The Great Society in 1965. They didn't last beyond 1966, were not the most talented band and did very little studio work - but years later listening to a compilation album of live material, they are an undiscovered treasure for many people of the early San Francisco sound.
Besides her future hit songs Somebody to Love (actually written by her then brother-in-law Darby) and her Alice-in-Wonderland ode White Rabbit .... they performed wistful cover versions of Sally Go Round the Roses plus Nature Boy - and the band's lack of discipline was more than compensated for by their inventiveness: dabbling with Indian influences, minor key melodic shifts, and reverb-soaked guitar.
In October of 1966, the Jefferson Airplane's strong female vocalist Signe Anderson left the band (for a variety of reasons) and Grace was the obvious choice to replace her. And for the next several years, both she and Marty Balin provided a yin-yang lead vocals for the band, as the Airplane was the first San Francisco band to score a major record contract. She first appeared on the band's second album Surrealistic Pillow with the aforementioned songs that she brought from the Great Society.
She began a relationship with guitarist Paul Kantner that resulted in the birth of their daughter China - and by the end of the 1960's the band began to splinter into mini-cliques, though they remained as a unit until 1973. The Jefferson Starship emerged from the remnants of the band: initially a science fiction extension of the Airplane, later an album-oriented pop-rock band.
At that time, Grace Slick had already started to have problems with alcohol (much moreso than illegal drugs) and run-ins with law enforcement (she was definitely in the "question authority" camp). Along with her 1974 debut solo album Manhole she also participated in two incarnations of the Jefferson Starship: in the mid-1970's (i.e, the Miracles days) and also in the mid-1980's (the "Nothing's Gonna Stop Us Now" era).
In between, she released several more solo albums: Dreams from 1980 and Welcome to the Wrecking Ball from the following year (with a cover of No More Heroes by The Stranglers). Her last album Software from 1984 garnered her best solo album reviews.
Apart from odd guest singing spots, her last major work occurred twenty-five years ago, when the Jefferson Airplane reformed for an album and a concert tour in 1989. In her 1998 memoirs Somebody to Love? - which, like the woman herself, are irreverent, funny, poignant and perceptive at different times - she said that the reunion tour was a wonderful way to wind-up the band: "We were a few pounds heavier, but the music: nice".
Since then, she has devoted herself to the art world - making numerous appearances at art shows, with some rock & roll portraits, and many other different styles. Here is an example of her work that - I believe - was in her memoirs.
Jefferson Airplane was inducted into the Rock & Roll Hall of Fame in 1996, but Slick did not appear, believing that rock is a young person's music. Actually, for a long time, Grace always looked younger than her age: when she complained how old she looked around age 58, Whoopi Goldberg asked "Are you insane?!?" on a talk show she hosted. It was only in this new century that Grace made the decision to let her hair go gray and cut it relatively short.
This October 30th, Grace Slick will turn age 75 - yeah, that seems strange to me, too. But it's nice to know that one's boyhood crush is still a vital force lo these many years later - I suppose it was one of the few good choices I made in my mis-spent youth.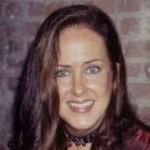 Rather than choose one of her well-known tunes: another favorite is Rejoyce - from the Jefferson Airplane's After Bathing at Baxter's album from 1967. From the title on, it has allusions to James Joyce's "Ulysses" as well as more of the Lewis Carroll imagery that drove "White Rabbit". And below you can hear it.
Mulligan stew for Bloom,
The only Jew in the room
Saxon's sick on the holy dregs
And their constant getting throw-up on his leg

Molly's gone to blazes
Boleyn's crotch amazes
Any woman whose husband sleeps
With his head all buried down at the foot of his bed

Steven won't give his arm
To no gold star mother's farm
War's good business, so give your son
And I'd rather have my country die for me
<