Outside of the meeting hall room in Derby, KS a Wichita suburb a former High School coach referred to the meeting that had just taken place as a 'tear the doors off' gathering.
When young athletes looked for motivation in their peers and others to perform, in their best moments, he told me, the energy in that room made people feel as though when they came out of the locker room the would tear the doors off the building and take to the field and perform at a level they had not imagined they were capable of beforehand.
Today, on Kos and elsewhere people are bemoaning motivation in the 2014 electoral cycle and concerned about the interest of people to get to their polls and motivate others.
No one in Derby last night was unmotivated. No one in Derby felt as though the challenge was too big in a state generally assumed to be deep Republican land.
No, the citizens in Derby on the night of April 28 spoke while legislators sat and listened, refusing to take Q&A or respond publicly on the issues.
So you can be as unmotivated about 2014 as you want to be. We can rec and frontpage articles that promote the idea we should be wringing our hands and worrying about election losses in the fall.
But don't tell that to this crowd. Because as I listened to a coach recount his high school experience I remember mine as well. And it has been YEARS since I've seen that kind of steely resolve in a Kansas meeting for change.
Videos below the fold.
When the Kansas legislators passed HB-2506, a house bill that removed Teacher Due Process and Teacher Certification. Many viewed this as simple union busting. While teachers pointed out the real negatives of these moves, the general public didn't grasp why these requirements mattered.
Governor Brownback and aids believe that teachers are a non-issue or an issue that will work for them because the public will disagree with the stance of teachers on these issues.
Tell that to Leota Coats.
http://www.sumnernewscow.com/...
Now, she's praised as one of the best teachers in her school district. But in 1983, pregnant and teaching Leota Coats had a tough decision to make. A student was failing her coursework. That same student was a popular and successful student athlete. If she stuck by her grades, he would be ineligible to play until his grades improved.
After receiving pressure to change grades, this teacher stood her ground. She realized that in order for a student to improve they had to realize they would face consequences for lack of effort, consequences in the classroom that would mirror hte consequences on a football field.
That April, her contract was revoked. She was pressured out of a job for her decision to not inflate the grade of a student who needed to learn how to work harder.
In a case that reached the Kansas Supreme Court, Due Process saved her job.
Here, Leota Coats discusses her situation and why Due Process is important for teachers everywhere.

As legislators sat, Teachers rallied behind their peers telling stories of their work on behalf of children. Teaches asked how legislators who held meetings in the dark of night (Literally nearly 3AM, see prior entries) could feel they understood the situation in Kansas schools.

Referring to this event as a virtual 'Pearl Harbor' on teachers, the end point is clear: America recovered from Pearl Harbor, and while the battle was lost, that moment woke the nation up to great peril. As he articulates maybe it takes this kind of madness in the state house to wake up a sleeping public to the perils that their society faces.
Even citizens, non-teachers voiced their complaints about issues.. including non-teaching issues. These included concerns about why the state of Kansas refused to accept Federal Medicaid expansion.


It is easy to wring our hands and say 'are we uninterested in voting'? Union registration in Kansas for teachers has INCREASED since Kansas passed this legislation. Participation at Town Halls has grown to the point that many representatives avoid them entirely. Over 50 were invited to this event in Derby.. around 10 completed the meeting, with a few leaving part way through. Senate President Wagle, who hails from this area and had constituents present was a no-show.
So, when lead stories ask us: why aren't we motivated on a day after an event like this, I want to point to these individuals: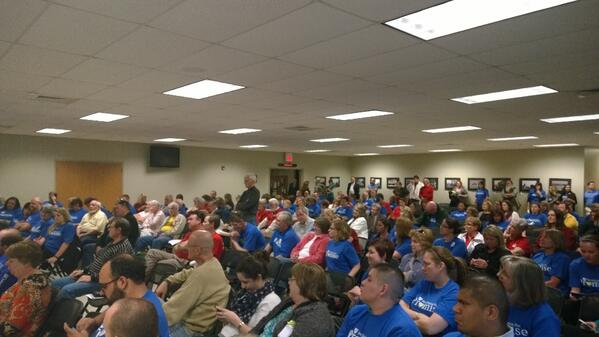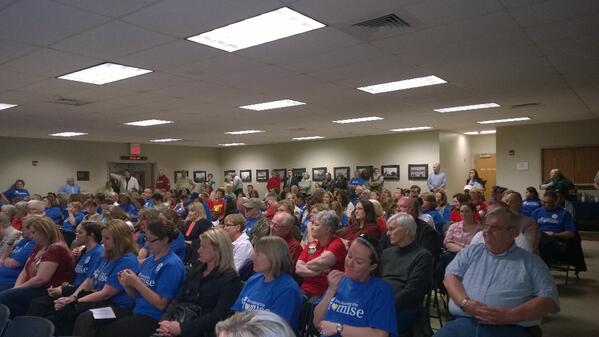 It is easy to feel unmotivated behind a keyboard. Last night a former High School coach knew what he was talking about.. because in that room motivation was not a problem... at least not for candidates they supported. Is that the kind of enthusiasm that will wear down over months? Time will tell.
I wouldn't bet on it though.
10:27 AM PT: Some more videos.
Expanding Medicaid.

.

.
.
If you have Dark of Night meetings, could you let us know? Thanks.
.

They are motivated and getting out in the spring to register voters and to get the word out. How about you? :)
5:38 PM PT: Last Round of Updated Videos.
A woman who has suffered mental health issues puts into very real terms how the loss of expanded medicaid and reclassifications by KanCare work to sabotage her efforts to improve herself.

.
A Construction teacher, Donald Calloway, speaks clearly about what this legislation has actually done. You see a short snippet of this above, this video includes his full comments.

5:41 PM PT: Final Update..
This is a 30 minute segment, of several speaking on the issues (some clips of this are above) but this puts everything in context for those that wonder about it. (in other words LOTS of cheering)