Pre-1870 research. AAAARGH! Especially if you've done any African-American family history research, you know exactly what I'm talking about. You collect your records; birth records, marriage records, death records, census records, family letters, you trace your family's movements back to the south, you get back to 1870 Census, so far so good, and then WHAM! Nuttin' but crickets.
I've been researching my husband's ancestry for about 12 years. At first, it was fairly easy. He was born in New York. Got his birth cert - simple. His parents both died in New York. Got their death certs, both of which indicated where they were born in North Carolina and the names of their parents - piece 'o cake. Located relatives who still live in the area in North Carolina - a little harder, but mission accomplished. Distant relatives, census records and other records I was able to get my hands on helped us get back further - more difficult, but achievable. Records between 1865 and 1870 - few and far between.
I've bounced off that 1870 brick wall enough times to give me a splitting headache - 'twasn't fun. Finding any information about his family before 1870 has required much slow, painstaking, tedious and original research. Most of the tidbits of information I've gleaned are possibilities, rather than proven fact or connection. But in spite of all the obvious obstacles, I have to say that I'm quite proud of the progress that I've made so far, considering that most of my husband's ancestors were enslaved and therefore not to be found in such official records as birth, marriage, death, census, etc.
Where would one then find record of human beings who were considered property? In estate, inventory, sales and deed records. And it makes perfect sense, in a very perverse way. Where else would they be? After all, they were only part of the inventory.

So it probably goes without saying that in order to research my husband's ancestors, I have to research his ancestors' owners. It's really weird cuz I'm not interested at all in them, but I've had to become very knowledgeable about the history of the slaveowners' families to get to my people. In fact, I've come across records of the slaveowners that prove information posted as "commonly accepted fact" by their white descendants is in fact, wrong.
I have been fortunate to locate a number of my husband's ancestors in estate, probate and inventory records of the slaveowners. Whenever I locate the record "Sale of Inventory", or "Division of the Negros", I always feel that sense of apprehension, "Oh no, what am I going to uncover here". Mostly what I dread is finding out that the families have been split up. That, of course, happened on a routine basis (contrary to what that flaming idiot Cliven Bundy believes).
Sometimes though, splitting the family up seemed to happen only on paper, especially when the slaves were not auctioned off to strangers, but rather were divided up (or "purchased") among slaveholding family members who resided with, or often next door to, one another. This was the case of my husband's paternal line, the Edwards of Wake, North Carolina.
My husband's father and mother were born in Wake, both in 1909. My husband's grandfather, Fabius (Fab) Edwards, was born there about 14 Feb 1869 to Henry and Mary Edwards. Mary died between 1871 and 1875, and Henry remarried in 1875 to Candis Yates. Their marriage license indicates Henry's parents were York and Lettitia (also known as Lettice/Letticia) Edwards.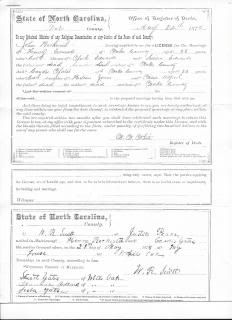 It's a bit hard to read, but at the top of the license the couple is named Henry Edwards and Candis Yates, but at the bottom they are named Henry Beckwith and Candis Yates. Later I'll explain the connection.
In the 1870 census, Henry (born abt 1809-1810) and Mary (born abt 1834-1835) lived next to Seth Edwards, a white man, possibly/probably on Seth's farm. I found Seth on the 1860 census, and I found he owned one slave, and that slave was Henry's age. Therefore, it had always been my assumption that Henry had been the slave of Seth Edwards. So now I had to go chasing down the family of Seth Edwards and all their family records, looking for any information about slaves named Henry, York and Lettitia.
First I noted that Henry indicates on his marriage license that both his parent's names were Edwards. Hopefully that meant that both his parents were actually to be found with Seth Edwards' family.
Seth Edwards married Mary Jane Suggs. The parents of Seth Edwards were James Edwards (died 1835) and Sarah Woodward. The parents of Mary Jane Suggs were Warren Sugg and Mary Wilson.
James Edwards' father was Thomas Swann Edwards, mother unknown. Sarah Woodward's father and mother were unknown, but many family trees posted online claim her father was Corbin Woodward and Charity Jackson.
These are the families whose relations and records I sought. One of the earlier pieces of information I came across was from this website about the Woodward family. There was only one Woodward family in the area in the late 1700s, headed by Christopher Woodward, who died in 1785. The inventory of Christopher Woodward includes this

320 acres in Bladen Co on S side of Cape Fear River; Negroes: York, Nan, Jupiter;
Could this York be
my
York, Henry Edwards' father? The fact that York is listed first usually likely meant York was the oldest, so I estimated that that he would probably have been born before 1770, though I would really expected earlier than that. York Woodward would have been 40-years old or older when Henry Edwards was born in 1809 - a little old but not out of the question.
So is there any way to connect York Woodward to Henry Edwards? That was the hard part.
After years of searching, the connection was finally discovered only a couple of months ago in kind of a "well, DUH!" moment. I had spent considerable time looking for Henry's origins in the online digitized will, estate, inventory and sales records at familysearch.org. But the actual connection was to be found on the online records at the Wake CountyNC Dept of Deeds.
Here is the link to the database where a certain tripartite indenture is to be found, Sarah (Woodward) Edwards, Mary Turner and others to Joshua Rogers, dated 14 Apr 1843. Property and slaves were put up as collateral in exchange for cash. The names of the slaves of Mary Turner were Lettice 55, Henry 22, Clarky 22, July 12, Jani 8, Charles 6, Lydia 4, Henderson 2, and Tyler 14 months.
So, in 1843, Mary Turner was the slave owner of Lettitia/Lettice and Henry. OK, so who the hell was Mary Turner? Part of the answer came in a deed dated 10 November 1843 (filed 16 Jan 1844) Mary Turner to Sarah Edwards

.... in consideration of the affection that I have for my daughter Sarah Edwards ...... give and deliver unto the said Sarah Edwards the following Negros to Wit; Lettis, Clarky, Henry, July, Jiney, Charles, Liddy, Henderson and Tyler ...
This deed shows then how Lettice and Henry moved from the Turners to the Edwards.
Here is the proof that Sarah Woodward Edward's mother was Mary Turner, not Charity Jackson (Listen up all you guys on ancestry.com who have Corbin Woodward and Charity Jackson listed as Sarah's parents - it's not right!).
So, where did Mary (also known as Polly) Turner come from? She was the widow of Augustus B. Turner. Mary/Polly Turner's maiden name was Woodward. She was the youngest daughter of the above mentioned Christopher Woodward, the dude who owned a slave named York.
Why was Sarah Edwards' maiden name Woodward if her mother's maiden name was Woodward? Because Sarah was born to Mary Woodward out of wedlock on 6 Mar 1793. Nathaniel Jones, son of Lewis, was cited on record for conceiving Mary's "bastard child" (neither the child's name nor gender were named in the document).
Mary Woodward had married widower Augustus B. Turner in 1801, and Augustus died in 1829. In his estate inventory record is this information about his slaves that knocked me on my ass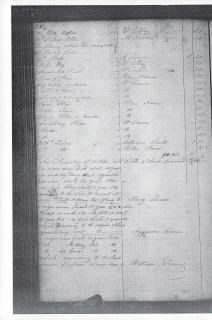 Inventory of Slaves
Lot 1 to Mary Turner
One negro man named Dick about 40 years old, one do [ditto] boy Henry about 10 years old, 1 do Sam about 3-1/2 years old, 1 do girl Clary about 11 years old
Lot 2 to Augustine Turner [Mary's son]
1 negro woman Judah about 21 years old, one child Crudu(?) 10 months old, 1 do Lettice about 47 years old, 1 do girl Sarah 7 years old
Lot 3 to William Turner [Mary's son]
1 negro man York 70 years old, 1 do man Anthony 24 years old, 1 do boy Green about 4 years old
And there you have it. All three of the people who were mentioned in Henry's 1875 marriage record.
If York was abt 70 years old in December 1829, he was about 26 years old in 1785, when he was listed as part of Christopher Woodward's inventory. An elderly slave was in the household of the Turners in 1830, but not 1840. In 1843, he's not mentioned at all in the tripartite indenture, so was most likely dead by then.
My husband had his Y-chromosome DNA testing done a few years ago, and his paternal line that goes through York traces back to the Tsonga tribe of Mozambique. Since the slave trade from Mosambique didn't start up in earnest until the early 1700s, it's likely that either York's father, or certainly York's grandfather was the original captive who made the fateful trip across the Atlantic.
Which makes York one to two generations out of Africa.
I should mention here that I thought it was curious that the Turner household slaves were divided into three lots in 1829, yet in 1843, all the slaves who were still alive were in the sole possession of Mary Woodward Turner. I don't know why that was unless perhaps Mary brought York and others into the Turner marriage with her. It's also worth noting that in the 1800 Census, before his marriage to Mary Woodward, Augustus Turner owned no slaves.
Regarding Henry's mother Lettitia, I found the 1796 will of Jacob Utley in which he gave unto his daughter Winifred the "Negro girl named Lettice". Winifred Utley married Pleasants Woodward, the brother of Mary Woodward. Was this my Lettice? Certainly is quite a coincidence.
In 1937, as part of the effort to capture the history of former slaves who were still living in the south, U.S., Interviews with Former Slaves, 1936-1938, an 83-year old former slave of Cary, NC was interviewed. His name was John Beckwith, the same surname that Henry Edwards occasionally used (as evidenced in Henry's 1975 marriage license). According to the narrative, John Beckwith says he was the son of Green Beckwith. Green Beckwith began life as Green Turner, who you see in A.B. Turner's 1829 inventory above, 4-years old at the time. Green was given to Sarah Woodward Edwards by her mother, Mary Woodward Turner. Sarah in turn gave Green to her son, Joseph Edwards, who died very shortly after his marriage to Martha Helen ??, who kept possession of her husband's slaves. Martha Helen remarried a guy named Marion Gully, who also died prematurely. Martha married once again a guy named Hilliard Beckwith. Henry obviously had a very close relationship wth the Beckwiths. I wonder if Henry and Green were brothers, meaning then that John Beckwith was Henry's nephew.
In any case, the narrative was very interesting, containing detail about life on with the Beckwiths as an enslaved boy. One should keep in mind while reading what are at times John's rather "rosy" descriptions about life on the plantation, his narrative was given during the Great Depression when poverty and hunger were at its peak. Also, John was a very young boy when enslaved and likely not subjected to the harsher treatment that other older slaves suffered.
I'm sure I'll be researching all these various family connections for many years to come.