This is an Open Thread / Coffee Hour and all topics of conversation are welcome. Today's suggested topic is "Art Walks" specifically the Light Up Vallejo - Wine, Music & Art Gala. I hope you will enjoy some pictures from a community event I attended in Vallejo.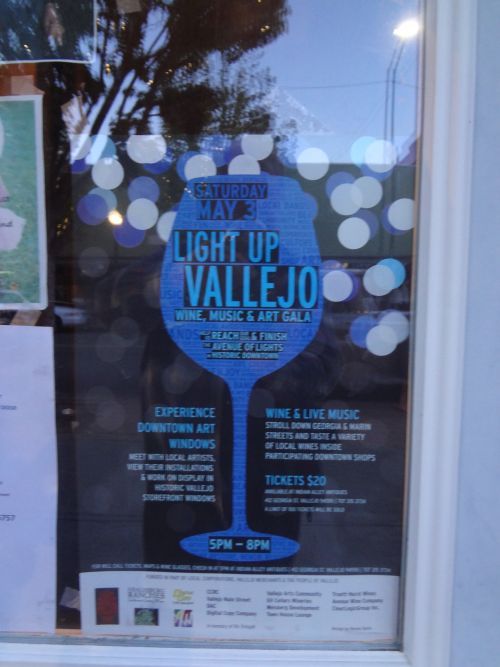 This event was overwhelming and is best described a "Wine, Art and Music" Walk. This community activity is a fund raiser to buy and maintain the decorative lights on Vallejo's Main street. It has been going on for a number of years.
What is for dinner? How are you doing? What is on your mind. If you are new to Street Prophets please introduce yourself beyond the fold in a comment. This is an Open Thread / Coffee Hour and all topics of conversation are welcome.
Jump the fold for pictures of the event. (Warning lots of photos!)
A community Art Walk is an event where artists, studios, and crafts shops open up their stores and workplaces to host a open house with Wine, Snacks, and music. For this event last Saturday night 35 venues opened up. Each one had a stock of different wines that had been donated for the event by local wineries, corporations, and the people of Vallejo.

City Councilperson Katy Miessner with Fred.
Pictured above is Indian Alley Antiques where the one starts the walk. I arrived at the start of the walk at 5 PM. One enters the Antique store and buys a $20.00 a wine glass from the gentleman below. He gives you the glass a map with 35 locations on it each hosting the event. The map details participating locations, those with hosted wine pourings, and those with live entertainment.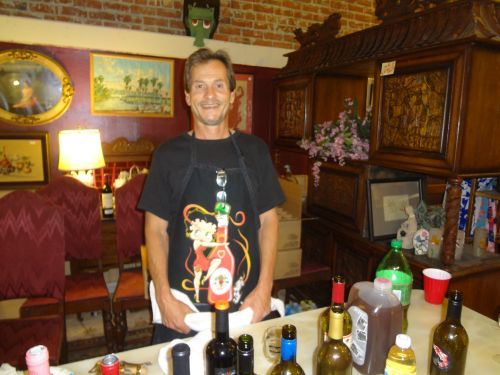 It was about 5:30 PM when started to make my way down to the Hub to catch up on my proposal to do a show at the venue and to say hello. It was number #6 on the list.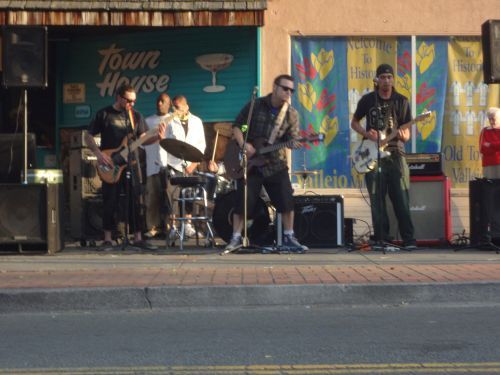 D.U.B! - A SKA PUNK REGGAE Band performing in front of the Town House
On the way I stopped to listen to the band called D.U.B! performing in front of the Town House Lounge. This is our local LGBT and others bar. (Christians, atheists, non declared .... you name it bar)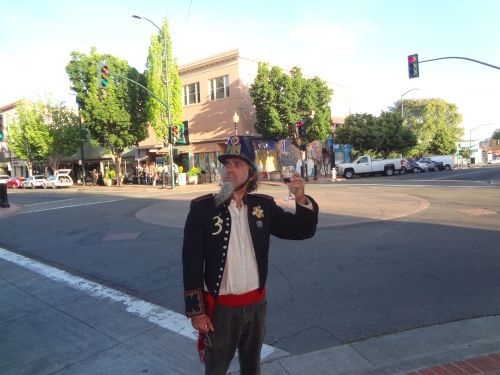 Typical Vallejo citizen I passed on the way to the Hub.
It was now around 6 PM when I got to the hub. I ended up talking quite a bit to the creator of the glasses below. They were hanging on display and are about 7 feet wide. I then I found my self talking to a number of local artists about the importance of municipal broadband for our community.
Around 6:30 I realized I hadn't visited any other places so I left the Hub and started sampling all the other locations. Each of the pictures below are from my visiting about 6 locations. And, in every case I told the principals that the pictures were for Street Prophets. A number of locations and persons did decline permission to be photographed. So, below are a number of photos from my walk and a few more comments.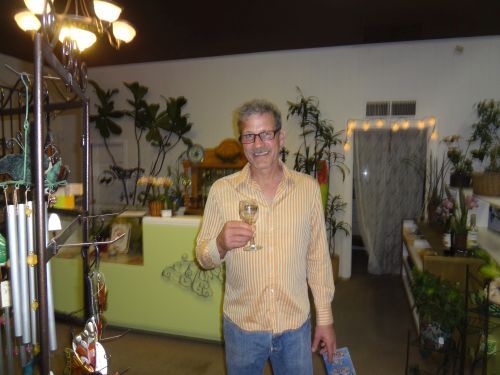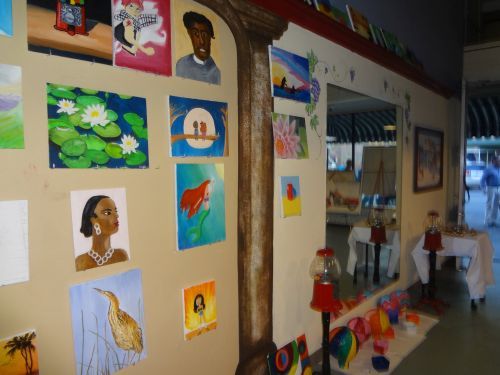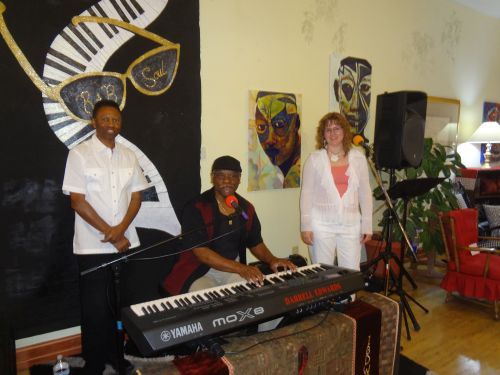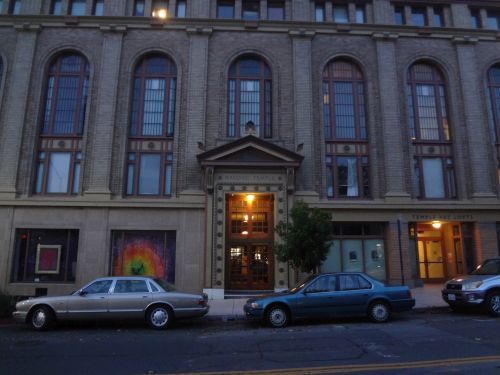 Masonic Temple
The Temple Art Lofts project is what first caught the eye of Preservation magazine, but upon a closer look, a larger story emerged about Vallejo, managing editor Meghan Drueding said.

In a seven-page article, the Preservation magazine's April edition features Temple Art Lofts, but also downtown Vallejo. It describes how affordable housing for artists is helping to revive the city following closure of Mare Island Naval Shipyard, and the city's 2008 bankruptcy.

Preservation is the monthly magazine for the National Trust for Historic Preservation, a private, nonprofit in Washington, D.C. that strives to save historic places and promote new uses for them.

By Sarah Rohrs / Times-Herald staff writer: National magazine eyes Vallejo arts efforts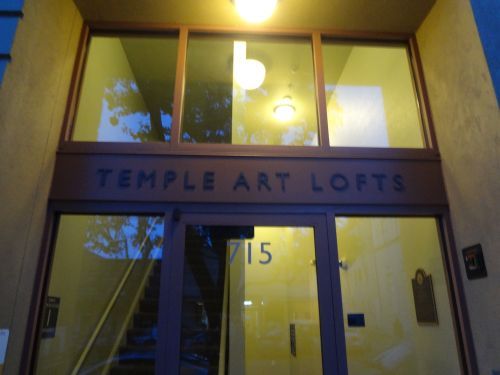 Masonic Temple Artist Loft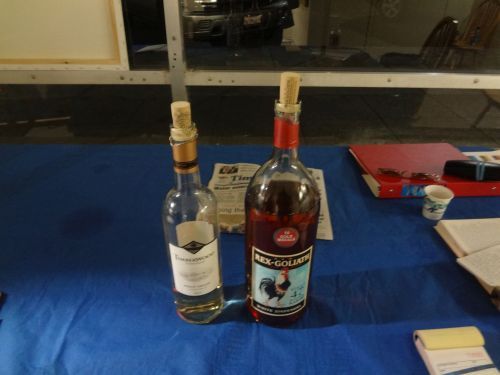 This is an Art Store with classes.
I spent a bit of time in this store considering taking one of the classes offered and talking about painting I envision learning how to make.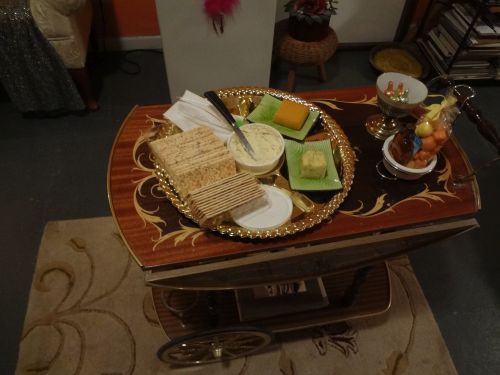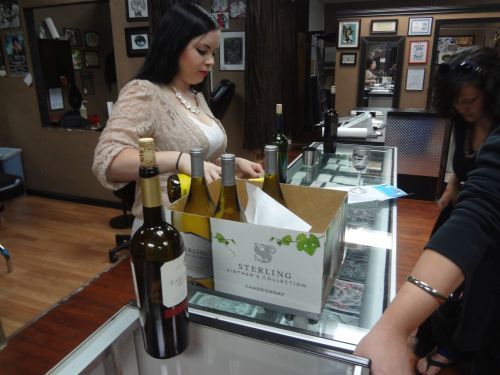 Hot Ink Tattoos
First time I had ever visited a tattoo shop. Nice people cool and professional environment. I found myself thinking .... should I get a small one?

McCree Goudeau Gallery
The McCree Goudeau Gallery was the my last stop on the walk. It was 34 on the list. And, as always, the best was last. Above is one of the pictures in the large gallery of similar and dissimilar, but striking, works. There was a terrific group performing in the lobby. And the owner, not pictured, was a delight to talk to. I asked If I could come back next week and video tape an interview. And, she said yes. I want to learn a bit more about what is behind the artwork and the history of the gallery. If you like this one, and I do, you would love the rest on display.

McCree Goudeau Gallery
I snapped a picture of the lights in the trees on my way walking back home. The lights are a wonderful improvement over the existing street lamps. They fill the night sky with hundreds of lamps and make the downtown festive and bright at night.

The Light Up Vallejo Wine Walk event Saturday, May 3, to raise money to pay for more downtown tree lights has expanded.

Light Up Vallejo includes live music and a chance to taste wine and hors d'oeuvres at participating businesses.

Organizers are in the final stretch in getting trees lit on Marin Street to Florida Street, and will then move onto trying to get trees lit up on Mare Island Way near the ferry building.

Times-Hearald: Light Up Vallejo event expands with live music, wine tasting, food

These are the lights in the trees that the funds raised go towards.
The evening went by too quick and I did manage my time well so I think I only visited about 15 locations. Some I just ducked in and asked If I could take a picture. I got home around 10:00 PM and was exhausted from talking, eating, and sampling wine. And I did not visit the hosted wine pouring featuring Vino Godfather Prohibition Wines at the Empress Theater. I kept to the smaller locations and went after the snacks. I made sure to sample everything.
As a community activist this evening was very productive for me. I made a number of new friends that are interested in the eVallejo municipal broadband project I'm promoting in Vallejo. I'm amazed at the diversity of my community and went home feeling connected and inspired by it.
What are you doing to get out and meet the artistic community in your town? What inspires your feeling of being connected to your community? Does your town have a Art Walk?
This is an Open Thread / Coffee Hour and all topics of conversation are welcome.
JON