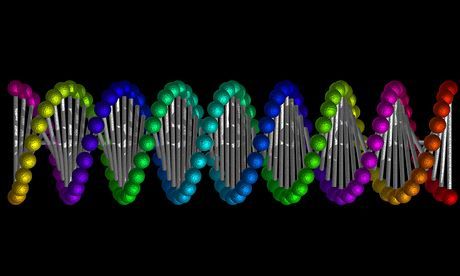 Scientists from The Scripps Research Institute announced today that Scientists Add Letters to DNA's Alphabet, Raising Hope and Fear, reports Andrew Pollack today in The New York Times Nature reports the first "semi-artificial organism was created by inventing two new nucleotides and inserting them into DNA strands that are now self-replicating and stable, after trying more than 300 variations that did not work.

The Scripps researchers chemically created two new nucleotides, which they called X and Y. They inserted an X-Y pair into the common bacterium E. coli. The bacteria were able to reproduce normally, though a bit more slowly than usual, replicating the X and Y along with the natural nucleotides.

Dr. Romesberg dismissed concern that novel organisms would run amok and cause harm, saying the technique was safe because the synthetic nucleotides were fed to the bacteria. Should the bacteria escape into the environment or enter someone's body, they would not be able to obtain the needed synthetic material and would either die or revert to using only natural DNA.

"This could never infect something," he said. That is one reason the company he co-founded, Synthorx, is looking at using the technique to grow viruses or bacteria to be used as live vaccines. Once in the bloodstream, they would conceivably induce an immune response but not be able to reproduce.

"The arrival of this unprecedented 'alien' life form could in time have far-reaching ethical, legal and regulatory implications," Jim Thomas of the ETC Group, a Canadian advocacy organization.
See readers, don't worry. I'm sure "every possible precaution has been taken." Remember these are scientists after all with advanced degrees, and all that. They wouldn't just go do risky things without thinking ahead to every possible consequence. (Snark alert.)
And just to build our confidence Dr. Romesberg immediately rushed out and set up this company called Synthorx - so mankind could benefit from vaccines, antibiotics, and "cellular protein manufacturing" and almost an unimaginable number of highly profitable products that could add jobs in your congressional districts. Why we can imagine so many amazing things that could be done with custom designed artificial organisms that we could almost imagine a world where we didn't even really need real ones anymore. (Snark alert. (is it really necessary for me to put these on every subsequent sentence?))
How could we image a company with a reassuring name like Synthorx could ever do anything risky that might go wrong with overly confident scientists, such as those described in the film Jurassic Park. I'm sure Dr. Romesberg and his colleagues at Synthorx, and the thousands of other new bio-ventures we can anticipate soon incorporating have seen this movie and have learn a valuable lesson from it that they will keep in mind and will guide their future experiments with future artificial organisms.
Seriously, though this is fairly amazing news to me. The ability to control the genetic code will open up a whole new world of scientific opportunities. I hope my little joke here does not distract from this breakthrough.
7:23 PM PT: Organism with artificial DNA alphabet makes its debut - Genetic code of lab-made bacteria includes A, C, G, T and two synthetic molecules
Synthetic biologists have created the first living organism with a genetic code containing two artificial DNA bases in addition to the standard four letters: A, C, G and T.

The letters are the four DNA subunits, or nucleotides, which link together to make strings of genetic code. In most organisms, the nucleotides pair up (A's with T's and C's with G's), forming rungs of a twisted DNA ladder.

Floyd Romesberg of the Scripps Research Institute in La Jolla, Calif., and colleagues expanded the genetic language using a pair of synthetic nucleotides, called d5SICS and dNaM, which together make up a new rung of DNA

.
7:36 PM PT: Synthorx Launches with Breakthrough Synthetic Biology Technology
This is a press release from the company who is hoping we publish the whole thing so not limited to the normal three paragraph fair use limit. It contain substantive information of more detail than in the New York Times article.
First example of in vivo replication of a synthetic DNA base pair published in Nature

SAN DIEGO, May 7, 2014 PRNewswire -- Synthorx Inc. announced today the official launch of the company, which will be focused on using synthetic biology to improve the discovery and development of new medicines, diagnostics and vaccines. In addition, research was published today in Nature by Floyd Romesberg, Ph.D., Synthorx's co-founder and associate professor of The Scripps Research Institute, describing the first example of the in vivo replication of a synthetic DNA base pair. The company has the exclusive rights to this synthetic biology technology from The Scripps Research Institute. Synthorx has received an undisclosed investment from Avalon Ventures and Correlation Ventures.

Dr. Romesberg said, "For the past 14 years, we have been creating and optimizing synthetic DNA bases in my lab. Today we have shown the first example of a synthetic base pair undergoing DNA replication in a single-cell organism. The ability to incorporate and replicate a synthetic DNA base pair in vivo means that we have, for the first time, expanded the genetic alphabet to increase the amount of information that can be stored in DNA."

This is the first reported example of a semi-synthetic organism that is able to stably maintain and replicate a synthetic base pair in its DNA. The 'genetic alphabet' of DNA constitutes two base pairs (A–T and G-–C). Dr. Romesberg and his team have crafted another base pair d5SICSTP and dNaMTP (abbreviated X and Y). The incorporation of X and Y into DNA expands the genetic alphabet, allowing for the increased storage of information to improve the discovery and development of new drugs, diagnostics and vaccines as well as creating innovative products, including research reagents, aptamers and nanomaterials.

Mr. Court R. Turner, venture partner at Avalon Ventures and president of Synthorx said, "The limited combinations of the DNA bases, A, T, G and C, have restricted the types of new proteins, RNA and DNA that we could make. Adding X and Y to the genetic alphabet, we now have an expanded vocabulary to generate a variety of new inputs and materials for drug discovery, improved vaccines and improvements to nanotechnologies, such as microprocessing. We have already begun to further develop Dr. Romesberg's breakthrough technology at Synthorx and will work with partners to synthesize innovative solutions for numerous medical and technological applications."

About Synthorx

Synthorx is a biotechnology company using synthetic biology to synthesize solutions for the discovery and development of novel therapeutics, diagnostics and vaccines. With the revolutionary advancement of synthetic nucleotides that can be maintained and replicated by a single-cell organism, Synthorx is exploring the natural and evolution-directed technologies to improve drug discovery. Using synthetic nucleotides to expand the genetic alphabet, Synthorx is developing novel proteins, RNA and DNA for medical applications. The company was founded by Avalon Ventures based on important discoveries in Dr. Floyd Romesberg's lab at The Scripps Research Institute in La Jolla, CA.

For more information, please visit www.synthorx.com and follow on Twitter @synthorx .
Photo - http://photos.prnewswire.com/...
7:51 PM PT: Thanks to FG for this link to the original article in Nature A semi-synthetic organism with an expanded genetic alphabet Denis A. Malyshev, Kirandeep Dhami, Thomas Lavergne, Tingjian Chen, Nan Dai, Jeremy M. Foster, Ivan R. Corrêa & Floyd E. Romesberg, Nature (2014) doi:10.1038/nature13314

Organisms are defined by the information encoded in their genomes, and since the origin of life this information has been encoded using a two-base-pair genetic alphabet (A–T and G–C). In vitro, the alphabet has been expanded to include several unnatural base pairs (UBPs)1, 2, 3. We have developed a class of UBPs formed between nucleotides bearing hydrophobic nucleobases, exemplified by the pair formed between d5SICS and dNaM (d5SICS–dNaM), which is efficiently PCR-amplified1 and transcribed4, 5 in vitro, and whose unique mechanism of replication has been characterized6, 7. However, expansion of an organism's genetic alphabet presents new and unprecedented challenges: the unnatural nucleoside triphosphates must be available inside the cell; endogenous polymerases must be able to use the unnatural triphosphates to faithfully replicate DNA containing the UBP within the complex cellular milieu; and finally, the UBP must be stable in the presence of pathways that maintain the integrity of DNA. Here we show that an exogenously expressed algal nucleotide triphosphate transporter efficiently imports the triphosphates of both d5SICS and dNaM (d5SICSTP and dNaMTP) into Escherichia coli, and that the endogenous replication machinery uses them to accurately replicate a plasmid containing d5SICS–dNaM. Neither the presence of the unnatural triphosphates nor the replication of the UBP introduces a notable growth burden. Lastly, we find that the UBP is not efficiently excised by DNA repair pathways. Thus, the resulting bacterium is the first organism to propagate stably an expanded genetic alphabet.
8:05 PM PT: This Guardian article brought to us by Greenbird is the best one I've seen in terms of explaining how this works and what the issues are. I made some snark in the main articles which Dr. Romesberg directly raises himself and seems to address well.
The Guardian First lifeforms to pass on artificial DNA engineered by US scientists

From the moment life gained a foothold on Earth the diversity of organisms has been written in a DNA code of four letters. The latest study moves life beyond G, T, C and A – the molecules or bases that pair up in the DNA helix – and introduces two new letters of life: X and Y.

"What we have now, for the first time, is an organism that stably harbours a third base pair, and it is utterly different to the natural ones," Romesberg said. For now the synthetic DNA does not do anything in the cell. It just sits there. But Romesberg now wants to tweak the organism so that it can put the artificial DNA to good use.

Romesberg said that organisms carrying his "unnatural" DNA code had a built-in safety mechanism. The modified bugs could only survive if they were fed the chemicals they needed to replicate the synthetic DNA. Experiments in the lab showed that without these chemicals, the bugs steadily lost the synthetic DNA as they could no longer make it.