Richard Cohen doesn't get it. He doesn't get why Republicans have gone off the deep end over the attack on a US Consulate in Benghazi. Cohen relates tuning into one of the shows on Hate-Talk Radio.

The GOP's Benghazi hangup is baffling

By Richard Cohen

But this is the way the president's opponents talk. It is rude. It is crude. It is disrespectful and it is downright nuts — but it is not limited to radio talkers. It is the lingua franca of the Republican Party.

I feel about the GOP as I do about the religion of others: I don't get it. I know feelings can be strong and reason plays little part in it — faith is faith, after all — and this is the way I see the GOP snits about the Internal Revenue Service and, more pertinent, Benghazi. What are these people talking about?
So what is Benghazi? Beats me, I am tempted to say. But I recognize it as a transparent Republican attempt to provide the party's base with grist for its fantasy mill. Is it possible the Obama administration fudged the nature of the attack, refusing to apply the term "terrorist"? Yes, of course. Did the White House spinmeisters put their hands all over it? Could be. But is any of this so momentous that it has required 13 public hearings and now a select House committee that will delve and delve feverishly — for what?
Right Wing Media routinely revisits stories that never really panned out as full blown scandals that were substantive enough made the jump from the daily poutrage in the Right Wing Echo Chambers to the MSM. But Benghazi has become a feeding frenzy for scandal starved Obama haters. So Republicans want to rehash their inconsequential revelations before a Special Committee. Special in the same sense that a remedial class for those with learning difficulties is special. But we need to keep in mind this is the same bunch that tried to repeal the A.C.A. repeatedly expecting a novel outcome every time. The Republicans' learning curve isn't even discernible.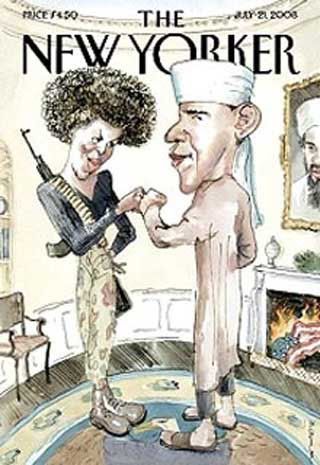 The Far Right's view of Obama.