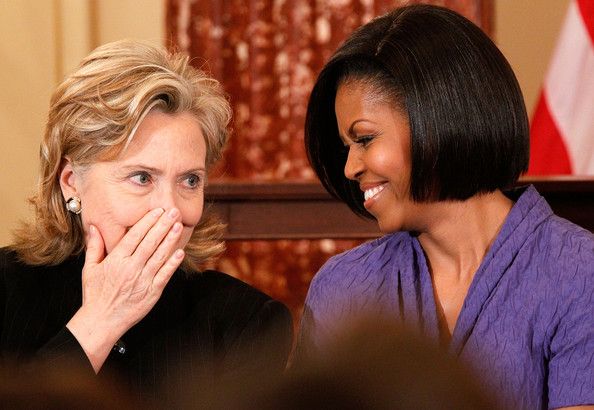 Michelle Obama should follow in the footsteps of another recent Democratic First Lady and run for Illinois Senate in 2016 against incumbent Mark Kirk. If she is reluctant, a grassroots Draft Michelle movement should begin soon.
Now, I know what you might be thinking:
"It's way too early...we have contentious midterms to worry about!"
True, time and resources should absolutely be fully dedicated to 2014. But too early to even discuss? As if. Right now is absolutely the time to start discussing this prospect and even think about a Draft Michelle movement. Because the midterms are now less than six months away...any announcement, exploratory committee, or fundraising would need to begin shortly thereafter.
"That's silly...she has shown absolutely no interest in such a thing!"
While it is true that she hasn't expressed public interest in running for any office yet (that I know of)...would anyone expect her to do this just 16 months into her husband's second term? And even if she hasn't given it much thought, other people have: A December 2012 PPP poll showed her beating incumbent Mark Kirk by 11 points. And that was just hypothetical...I think she could actually beat him by twice that much.
"That's crazy...why would she do something like that?"
Well, Hillary running for New York Senate while First Lady was an unprecedented, unexpected and even crazy idea to many...and we saw how that worked out. Considering Michelle's popularity and zero threat of the "carpetbagger" label that Hillary had to overcome in 2000, in no way is this loony idea.
"What do you know about Illinois politics, dude...you live in Texas!"
Okay, you may have a point there. All I know is, the idea of Michelle Obama being a part of a very possible Democratic Senate landslide in November 2016 alongside President-Elect Hillary Clinton gives me goosebumps. Though just a freshman junior Senator, Michelle would instantly become an inspirational leading progressive voice in the halls of Congress.
Bottom line: An almost guaranteed landslide win in a key Senate race which would free up resources for other Democrats in closer races. After January 2017, the Obamas could remain powerful voices for change in Washington for years to come...one as an amazing Senator, the other as a particularly influential private citizen. And Republicans would be driven absolutely crazy by all this awesomeness.
Sound like a good idea?