I wish I had time to write a more in depth diary tonight in regards to the gathering in Topeka. We began this morning with a roundtable sponsored by AFT/KNEA to address to the media the impact of Brown on our schools and the impact of the current Kansas legislation on the lives of Kansas citizens.
What you can see at the table are:
Lucinda Noches-Talbert, a direct descendant of Lucinda Todd, one of the claimed litigants in Brown V Board. That's me chatting her up about her new role at KC Healthy Kids. On the other side of the table you see Lindsay Baltzell and Heather Ousley, a mother who worked to grow Game On Kansas, an organization of parents aimed at changing minds on public schools.
The appearance of the FLOTUS in Topeka have the town a lot to talk about. But for a few hours in the morning, and then in speeches in the afternoon, we discussed what really has to go into changing the climate toward education in Kansas.
Rather than say a lot of words about the event, I want to provide three simple videos that explain the rally at the capital in Kansas.
I still have more video to edit together, but unfortunately I'm very pressed for time tonight. More will be available on my Youtube Channel as it's edited (click any link here)
But I wanted to get these three to the community because of their power.
Here, Lindsay Baltzell talks to Kansas teachers about why education is important to her as an elementary student.

Next, Paul Davis, Democratic candidate for Governor discussed what Kansas has learned from Brown and how far we have to go. To plug Paul, I'd remind you that any democratic candidate in this state needs help. Davis is pulling off a rare feat.. he's been leading Sam Brownback out of the gate. To keep that together, he will need resources. If you have it, toss Paul Davis just a few $, seeing him force the Kochs to fight for their home turf is good for Democrats everywhere. http://davisforkansas.com/

Finally, I want to close with the words of Heather Ousley. I have always respected the sheer will power of Heather Ousley. Her determination is the kind of thing I wish far more activists had. Unhappy with the state of her school, Heather and others WALKED as a team for 60 miles from her home to the capital to bring a message to legislators: Serve our Children.
Heather has had a tough year this year, as her middle child has battled illness. Her testimony and words of encouragement to teachers in Kansas is heartbreaking, moving, motivating and it is the kind of thing that most parents can relate to.
Teachers show up. They show up for our kids every day. They show up in our lives. If you can make it through this fifteen minutes without a tear in your eye, well, I couldn't. You'll notice too, because in one of those moments, I lost track and let the camera wander a bit. Sorry about that.

How was the walk from the site of Brown? And how many would show up? Let's just say that teachers in Kansas showed what it means to show up. Unlike other recent rallies that purported to show the will of the people.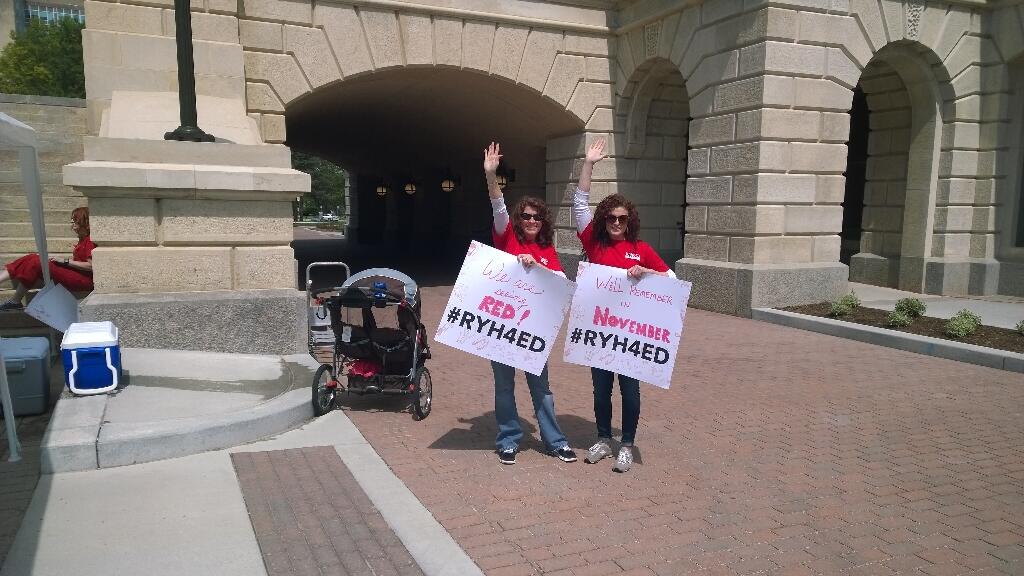 (#RYH4ED = Raise Your Hands for Education!)
.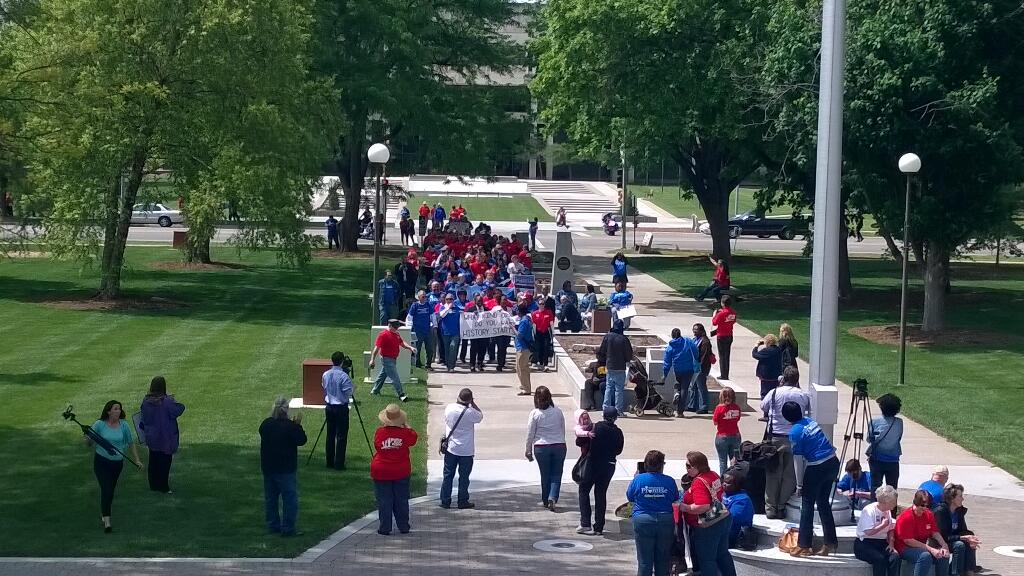 .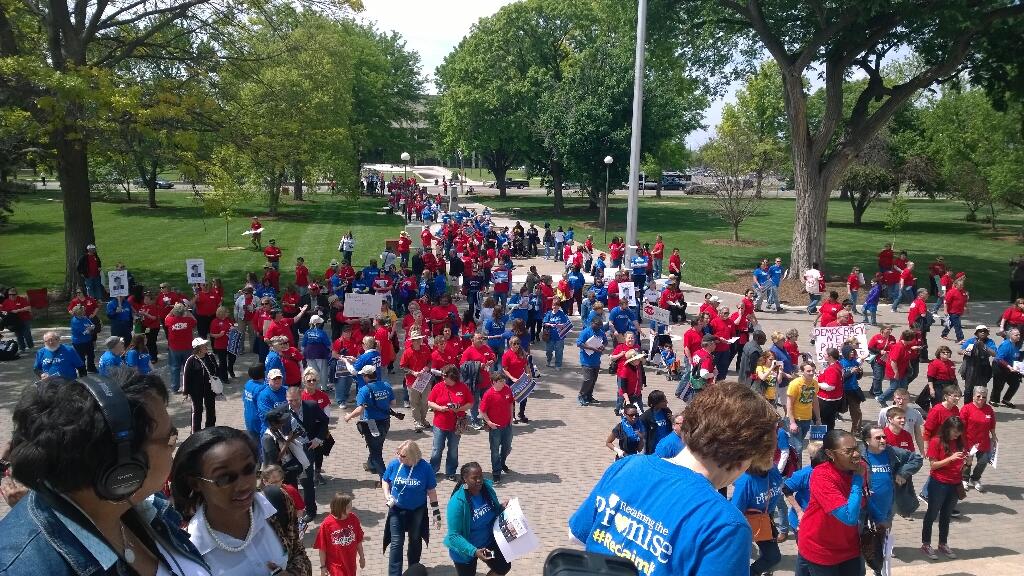 And they kept coming.
Because teachers show up.
Sun May 18, 2014 at 5:26 AM PT: Another vid, here, Rev. Reuben Eckles pastor at Wichita's New day Church speaks to the impact of all policies.