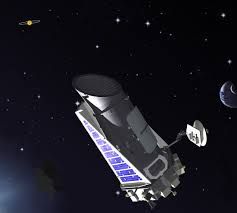 David Perlman of SFGate informs us that the Kepler spacecraft telescope tsails on solar wind after steering jams. The spacecrat designed to hunt for planets capable of supporting life broke down after two of "its steering wheels broke down, is back on its celestial mission again, thanks to the power of sunshine."
NASA has just announced that the Kepler spacecraft has been revived after tragically breaking down in 2012 and will have another two, perhaps, three years, before it runs out of fuel. So far it has detected 3,845 objects in deep space that are candidate planets for being able to support life called, "exoplanets."
The breakdown occurred when two of the "reaction wheels" Kepler uses to turn itself around, and to aim itself at the target stars it intends to observe, stopped functioning in 2012. These reaction wheels also stabilize the spacecraft while it is making time lapse photographs of stars so distant that little light arrives from far across the universe.

Ground-based engineers, however, have figured out an ingenious answer to the stability problem, Soback said, one he called "canoeing with the sun."

Space scientists have long known that the violent sun constantly sends out bursts of high-energy, subnuclear particles known as the "solar wind." It speeds outward at millions of miles per hour, and, for decades, visionaries have dreamed of spacecraft sailing virtually forever on that energetic wind, tacking and steering throughout the solar system and beyond.

NASA, in fact, is supporting research into the "solar sailing" concept - an idea that astronomer Johannes Kepler first dreamed up more than 400 years ago.

Now engineers have devised a system for the spacecraft that uses the delicate pressure of photons in sunlight alone - not the solar wind - to keep Kepler balanced as its two remaining reaction wheels keep its balance steady, Soback said.
Wow, that's an creative and elegant solution that took a moment for me to appreciate. I almost made a joke about the "canoeing with the sun" line noting how lucky it was that some one had thought ahead to put a "solar wind paddle" and a robot on board the Kepler to get out and paddle on this solar wind. Or that maybe it was the "magic solar wind fairies" that came and helped.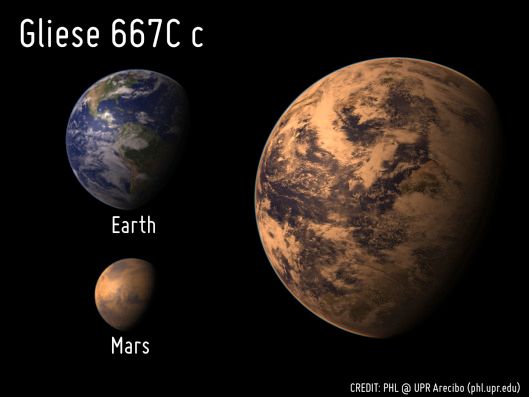 Gliese 667Cc is the planet most like earth found so far.
Apparently, the on-board computers on the Kepler can be reprogrammed by NASA from the ground and scientist realized with this delicate force from the solar wind, acting as a third "leg" the other two steering-stabilizing wheels could be reprogrammed with a different algorithm, which probably takes a lot longer, but can aim and steady the craft sufficiently well to take the high resolution photos they need. Illustrating yet again how incredibly super cool, and inspiring space science and engineering can be.
10:17 AM PT: Wow, I didn't expect this many people to read this when I posted it at 2:44 a.m. EST. Thanks folks. Rei noted that the article makes a point that is even more incredible when you think about what the space craft is actually doing is balancing on the pressure of photons, which is astounding really.



Now engineers have devised a system for the spacecraft that uses the delicate pressure of photons in sunlight alone - not the solar wind - to keep Kepler balanced as its two remaining reaction wheels keep its balance steady, Soback said.

I did notice this last night but since I was mostly writing the article to wind down because I couldn't sleep, and did'n't expect any readers, had already exceeded my 3 page fair use limit, and the entire rest of the article was written around solar wind surfing, I went with it anyway.
Actually, I spent several hours on a much longer draft that originally included information from about five articles I found will finding cool Kepler photo, (I collect Hi Res space photos and enlarge them, and a poll of the 10 most amazing Kepler discoveries to try an experiment to see if I could make a longer diary style work, One of the big-time famous people here recommended I try to write shorter posts "people can wrap their minds around." Which I know works, and I like to do too, but as you know once my fingers get start ... well.
After that project blew up into what could be several chapters of a book I punted on it but I have about two dozen astonishing photos. I may do one of those which amazing Kepler study to you like best polls this week whenever there is a lull in the news. Right now I'm finishing a PolitiFact checkkng of Jerry Brown on Republican climate denial, and earlier this morning after sleeping in I did one one the 3rd case of MERS that I'm saving for whenever the 4h case of MERS come out as it will be "hotter" this third case guy recovered so it not really big news.
I'll retrieve some "space porn" photos. -cheers.
10:27 AM PT: This photo isn't a planet, and may not even have been taken by Kepler, but it was in Kepler's photo archive. It is sufficiently cool, however, that perhaps you will allow me artistic, or in this case, science editorial license to include it here under the rationale of coming space photo attractions, and reasons to support NASA funding.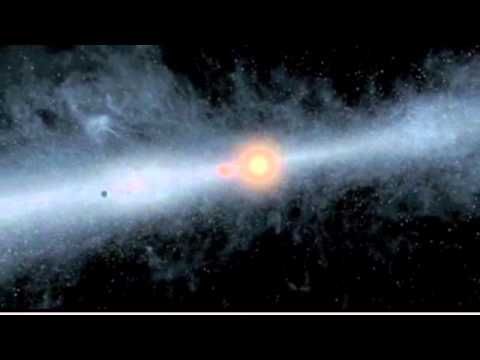 12:40 PM PT: Hold the presses - Breaking New! Amyzex brings us this report which must have come out after the article I fetched the Gliese 667Cc photo from. I'll see if I can find a photo of KOI-3284.01. I had my bags packed for Gliese but now I think KOI looks better. I still have a ways to go on my diet and was not looking forward to all the extra gravity on Gliese . Wouldn't it be cool to find a planet where one didn't have to lose any more weight but could actually eat more. (Humor alert!)
Here is the note from amyzex, Thanx amyzex.
Slight quibble with one of your assertions Gliese 667Cc is the confirmed exoplanet most like Earth, but the candidate exoplanet with the highest Earth Similarity Index is actually KOI-3284.01. Its ESI is .9 as against Gliese 667Cc's .84. Being superterran (so much larger than Earth) makes Gliese 667Cc slightly less like Earth.

by amyzex on Mon May 19, 2014 at 08:28:31 AM PDT