The Monterey formation has a complex burial history. This fold shows how potential oil bearing shale has been complexly deformed by California's active tectonics.
Like a mirage, 96% of the potential oil reserves in California's Monterey formation vanished into thin air, because they never existed, naturally leaked out, or cannot be recovered economically. The incredible projections of billions in wealth and 2 million new jobs had no geologic basis.
Areas in California's Monterey formation where fracking is being considered to recover tight oil in shale.
The natural production of oil in rock is a complex factor of the temperature and burial history of the sediments that contain organic matter capable of becoming oil. If the sediments aren't buried deeply enough the organic matter does not "mature" enough to become oil. It's just dirty rock. If the sediment is buried too deep and gets too hot for too long gas may be produced. If there isn't a good cap rock the gas may escape into the atmosphere along fractures or faults. Oil may also form naturally in the shale, then migrate to the surface along faults then biodegrade over time. Sometimes, faults act as traps, other times faults create vertical conduits. Like the Goldilocks story, the temperature, burial history and geology has to be just right to produce recoverable oil. The new U.S. government estimates, which considered the geologic complexity of the oil-bearing shale deposits in California's Monterey formation, determined that the previous contractor determined estimate, based on a simple layer cake model of California's geology, was about twenty five times higher than a realistic estimate based on the complex burial, folding and faulting in California's highly active geologic setting.
Most of the Monterey formation in California does not contain oil reserves.
Most of the oil producing rock in the Monterey formation in the Salinas valley is too shallow to contain oil. Only the areas around the deep basins, in blue and green produce oil.
Large amounts of oil have already been produced in California by traditional means from traditional oil traps. Oil that formed naturally in the shale units in the Monterey formation has already migrated to higher porosity rocks sealed by impermeable cap rocks.
Very little oil may remain in large volumes of shale.
Based on our drilling results, our view is that the oil has migrated out of the formation and is now found in pockets outside of the Monterey shale,' said Kurt Glaubitz, a spokesman for San Ramon, California-based Chevron, the second-biggest U.S. oil producer.
The inflated estimate of oil reserves appears to have been done by a contractor that was shilling for fracking. In 2013, the Postcarbon Institute published a detailed report that debunked the incredible estimates of enormous amounts of oil in the Monterey forma
tion. Apparently the federal government has independently reached the same conclusion. The federal government is now cutting its estimates of recoverable oil by 96%,
reports the LA Times.
Federal energy authorities have slashed by 96% the estimated amount of recoverable oil buried in California's vast Monterey Shale deposits, deflating its potential as a national "black gold mine" of petroleum.

Just 600 million barrels of oil can be extracted with existing technology, far below the 13.7 billion barrels once thought recoverable from the jumbled layers of subterranean rock spread across much of Central California, the U.S. Energy Information Administration said.

The new estimate, expected to be released publicly next month, is a blow to the nation's oil future and to projections that an oil boom would bring as many as 2.8 million new jobs to California and boost tax revenue by $24.6 billion annually.
California Fracking Moratorium Blogathon: May 20-May 23, 2014
Diary Schedule - All Times Pacific
---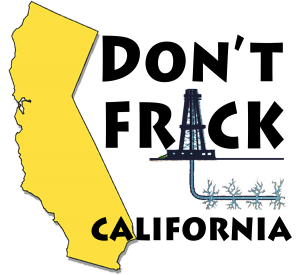 5:00 pm: Blogathon announcement diary - CA Fracking Moratorium Blogathon: SB 1132 in Suspense! by boatsie.
1:00 pm: If Texans can't live with fracking, Californians can't either by Txsharon and Jhon Arbelaez.
2:00 pm: SB 1132 Blogathon — Letters, Comments, Talking Points, Environmental Wisdom, and Music by WarrenS.
3:00 pm: Fight Back, Don't Frack! by Senator Holly J. Mitchell (D-Los Angeles/CA).
5:00 pm: A fracking ban might just have to start at home by Daniel Kessler.
1:00 pm: citisven. Letterman passes fracking torch, Colbert blows it up. SB1132 Blogathon gets comic relief!
3:00 pm: boatsie.Ca Fracking Moratorium: A little Boat, So Many People
5 pm: Environmental Action.
10:00 am: HipHopTC.
11:00 am: James Wells.
1:00 pm: Kandi Mossett, Climate Campaign Organizer for the Indigenous Environmental Network (IEN).
2:00 pm: Linda Capato, Fracking Campaign Coordinator for 350.org.
3:00 pm: FishOutofWater.
5:00 pm: Richard Heinberg, Senior Fellow at the Post Carbon Institute.
11:00 am: Horace Boothroyd III.
3:00 pm: RandW
3:00 pm: Reverend Lennox Yearwood Jr., President and CEO of the Hip Hop Caucus.
Our Daily Kos community organizers are Patriot Daily News Clearinghouse, boatsie, rb137, JekyllnHyde, citisven, peregrine kate, John Crapper, Aji, and Kitsap River, with Meteor Blades serving as the group's adviser.
---
Please tweet all diaries posted during the day, adding the hashtag #SB1132. Feel free to link to your Facebook pages, and remember to republish each diary to your DK Groups. You can also follow all postings by clicking this link for the Climate Change SOS Blogathon Group. Then, click 'Follow' and that will make all postings show up in 'My Stream' of your Daily Kos page. Graphic Credit: 350.org.