With last night's news regarding the 95% reduction in the amount of recoverable oil in the Monterey, California shale formation (from 3.7 billion barrels to just 0.6 billion barrels), it is difficult to believe SB1132 has any chance of failing to make it out of appropriations Friday.
"The oil had always been a statistical fantasy," said geoscientist J. David Hughes, author of Drilling California: A Reality Check on the Monterey Shale, an influential report critical of the EIA's original Monterey estimates. "Left out of all the hoopla was the fact that the EIA's estimate was little more than a back-of-the-envelope calculation."
Add to this an interview with Caltech Seismologist Lucy Jones ("the Earthquake Lady" ) who expressed concerns that wastewater pumped into post-fracked wells could potentially precipitate quakes of 5.0 or larger and it looks like a 'perfect storm.'
It is hard to believe that, unless the Senators on Appropriations are being sequestered this week, they will not move SB 1132 forward for a vote on the Senate floor next week.
But let's play it safe here! After all, we don't exactly live in usual times. And there is NO doubt that money in politics has a way of disconnecting the neurons which form the brussel-sprout-sized lateral frontal pole, where human conscience is located.
Big dirty money has an uncanny way of destroying those controversial 'mirror neurons', which renowned neuroscientist V.S. Ramachandran calls "the basis of civilization" and writes so loving about in The Tell Tale Brain.
So I am going to ask now:
Have you made any calls yet?
Do you realize this is just one battle in an ongoing war. A battle in which, no matter where we live on this fragile planet, there are no winners.

Incan architects used the trapezoidal shape for their windows and doors because of its inherent strength to withstand earthquakes. What shape are you going to tell your children to use to withstand the coming ravages of a changing climate and a disfigured, unrecognizable world?
Let's do this! Lets all show up on this one!
If you have something to write, let us know. There is space for every eco-warrior. We are in this together.
Fight with me. I promise. I've got your back.
Here's a list of all the wonderful writing that has been contributed so far to this week's effort.
California Fracking Moratorium Blogathon: May 20-May 23, 2014
Diary Schedule - All Times Pacific
---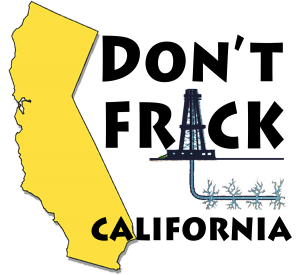 5:00 pm: Blogathon announcement diary - CA Fracking Moratorium Blogathon: SB 1132 in Suspense! by boatsie.
1:00 pm: If Texans can't live with fracking, Californians can't either by Txsharon and Jhon Arbelaez.
2:00 pm: SB 1132 Blogathon — Letters, Comments, Talking Points, Environmental Wisdom, and Music by WarrenS.
3:00 pm: Fight Back, Don't Frack! by Senator Holly J. Mitchell (D-Los Angeles/CA).
5:00 pm: A fracking ban might just have to start at home by Daniel Kessler.
1:00 pm: citisven.Letterman passes fracking torch, Colbert blows it up. SB1132 Blogathon gets comic relief!
3:00 pm: boatsie.
5 pm: Environmental Action.
Our Daily Kos community organizers are Patriot Daily News Clearinghouse, boatsie, rb137, JekyllnHyde, citisven, peregrine kate, John Crapper, Aji, and Kitsap River, with Meteor Blades serving as the group's adviser.
---
Please tweet all diaries posted during the day, adding the hashtag #SB1132. Feel free to link to your Facebook pages, and remember to republish each diary to your DK Groups. You can also follow all postings by clicking this link for the Climate Change SOS Blogathon Group. Then, click 'Follow' and that will make all postings show up in 'My Stream' of your Daily Kos page. Graphic Credit: 350.org.
California Fracking Moratorium Blogathon
May 20-May 23, 2014
---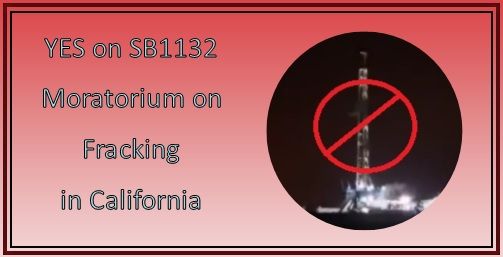 Key votes will be held this week on California Senate Bill 1132, which imposes a moratorium on hydraulic fracturing, or fracking as it commonly known. The fracking process poses many unacceptable public policy risks. These include contaminating water supplies; degrading public health; disproportionately affecting low income families and communities of color; using scarce water supplies in drought-stricken states; causing earthquakes; and harming wildlife and habitat fragmentation. If the bill fails, the legislative process toward moratorium must restart next January.
Please join us for a blogathon May 19-23 in a campaign to tell lawmakers to support this bill. This is a coordinated effort with a coalition of more than a dozen NGOs, including Earth Works, Sierra Club, and Center for Race, Poverty and the Environment.
And please call key lawmakers, ASAP. Tell them YES on SB 1132!
Sen. Darrell Steinberg: (916) 651-4006
Sen. Kevin De Leon: (916) 651-4022
Sen. Ricardo Lara: (916) 651-4033
Sen. Ed Hernandez: (916) 651-4024
Sen. Cathleen Galgiani: (916) 651-4005
Sen. Ben Hueso: (916) 651-4040
Sen. Lou Correa: (916) 651-4034
Sen. Carol Liu: (916) 651-4025
Sen. Richard Roth: (916) 651-4031
Sen. Norma Torres: (916) 651-4032
Please Help Pass a Moratorium on Fracking in California!
---
More details are in this announcement diary by boatsie.
As I started writing this post, I received a text from my daughter who was just about to head down to the basement in Boulder because of a tornado warning. Does Climate change cause tornadoes? According to
climate scientist Kevin Trenberth
of the National Center for Atmospheric Research in Boulder, Co:
The main climate change connection is via the basic instability of the low-level air that creates the convection and thunderstorms in the first place. Warmer and moister conditions are the key for unstable air. The oceans are warmer because of climate change.

The climate change effect is probably only a 5 to 10 percent effect in terms of the instability and subsequent rainfall, but it translates into up to a 33 percent effect in terms of damage. (It is highly nonlinear, for 10 percent it is 1.1 to the power of three = 1.33.) So there is a chain of events, and climate change mainly affects the first link: the basic buoyancy of the air is increased. Whether that translates into a supercell storm and one with a tornado is largely chance weather.
My daugher, who works for Global Health Initiatives, has a Masters in International Development and a certificate in Global Health. She and her significant other have decided NOT to have children because of climate change. She says as a child she never believed that human life on this Planet would last beyond her lifetime.
She is also a photographer and took the picture of the boat on a recent medical trip to villages along the Amazon.
Such a little boat. Yet still what gorgeous light.