Here is a link to the YouTube website so you can watch this video if you do not see it below. For some reason, on my IPad, I only see a white rectangle.
Father of victim: 'Too many have died'>Video of Father of Christopher Martinez: 'Too Many Have Died."
Robinson Chavez of the Los Angeles Times recounts the heartbreaking story of Isla Vista shooting victim's father: 'When will this insanity stop?'
In response to reporters' questions in front of the Santa Barbara County Sheriff's Department headaurters, Saturday, an emotional Richard Martinez said,

"I talked to him about 45 minutes before he died," Richard Martinez said of his son. "Our family has a message for every parent out there: You don't think it'll happen to your child until it does."

"Chris was a really great kid," his father said. "Ask anyone who knew him. His death has left our family lost and broken.

"Why did Chris die? Chris died because of craven, irresponsible politicians and the NRA," Richard
Martinez continued. "They talk about gun rights. What about Chris' right to live? When will this insanity stop?

"When will enough people say, 'Stop this madness.' We do not have to live like this. Too many people have died. We should say to ourselves, 'not one more.'"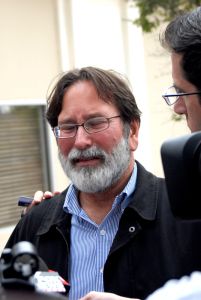 Andrew Hart of the Huffington Post carries the same stories with a slightly different report UCSB Shooting Victim's Father Blames Politicians, NRA For Son's Death

In a press conference Saturday, the father of 20-year-old student who was killed in the University of California Santa Barbara shooting rampage blames "craven, irresponsible politicians and the NRA" for his son's death.

Richard Martinez, says his son Christopher Martinez was one of those killed in the shooting that claimed seven in the Isla Vista area near UCSB on Friday night. The father went on to say "When will this insanity stop? When will enough people say, 'Stop this madness!' Too many have died. We should say to ourselves, 'Not one more!'"

According to the Associated Press, "Martinez says he talked to his son just 45 minutes before he was shot and killed inside a deli. Martinez says his son's roommate tried to revive him, but he died at the scene."

Sorry if this has already been posted. I do not see it. This video of his overwhelming grief, horror, and anger sum up my feelings best, however, I do not know how to express them, or what to do with these emotions. When I imagine that something like this could happen to my son, or loved ones, it is so sad and distressing, that the effort exceeds my emotional capacity for organized, focused, expression and response .
Also, I am at a loss to know what we can do about these ongoing massacres. Richard Martinez has spoken for me, so I thought I would post this video to express my sadness and grief, and I hope the rest of you in your comments can find ways to improve our situation in this regard. Thank you.
Our prayers, sympathies, and best wishes go out to the families of the victims and our whole nation as we try to comprehend this seemingly endless series of national tragedies.