The salutation, "Happy Memorial Day," makes me cringe. The image below is what Memorial Day is about. This is Mountain Home National Cemetery, in Tennessee.

Memorial Day was originally known as Decoration Day. The exact origin of the custom of decorating the graves of those who gave all in service to their country is shrouded by the mists of time and folklore. Decoration Day became official when General John Logan, issued General Order No. 11 on 5 May 1868. The first official observance of Decoration Day was 30 May 1868. On that day, flowers were placed on the graves of Union and Confederate soldiers at Arlington National Cemetery. Every year until 1971, Memorial Day was observed on May 30. That date was chosen for Decoration Day because flowers would be in bloom all across the country.
In 1971, Congress passed the National Holiday Act of 1971, making Memorial Day part of a three-day weekend. When Memorial Day became just another long weekend with a day off from work, it began to lose its meaning as a day of remembrance and reflection. In 2002, the Veterans of Foreign Wars issued a formal proclamation, which stated in part:

"Changing the date merely to create three-day weekends has undermined the very meaning of the day. No doubt, this has contributed greatly to the general public's nonchalant observance of Memorial Day."
Beginning in 1999, Senator Dan Inouye introduced a bill to change the date back to the original date of May 30, no matter what day of the week it falls. Parallel bills were introduced in the House of Representatives. Senator Inouye persisted in his effort to get the date changed back until he died. All the bills failed in committee. The mattress sale, beer, and hot dog lobby appears to be too powerful.
More on the meaning of Memorial Day below the swirl. Lots of photos.
Below: Warner Henry Shugart, Rough Rider. My great grandfather. No, I have not seen Blackhawk Down, and have no intention of seeing it. Some things are too much.

Below: Robert S. Brashears, Captain. Watauga Militia, Overmountain Man, King's Mountain, Yorktown, Beattie's Creek, Cowan's Ford and Fort Sycamore Shoals. My gggg-grandfather.

Below: Samuel Brashears, Captain. Mustang officer. Joined the Militia age 13 as a fife player. Drafted into regular militia as a Private at age 15. A couple of months after his 16th birthday, he was in hand-to-hand combat with Major Patrick Ferguson's Loyalist Troops at King's Mountain. During the following year, he was at the battles of Beattie's Creek, Cowan's Ford and others. Two months after his seventeenth birthday, he was at Yorktown helping relieve General Washington's troops. He and his father, Capt. Robert S. Brashears witnessed Cornwallis' surrender to General Washington. He stayed in the service, and when the US Army was created, he was made Captain.
Because the exact location of his grave is unknown, and there is voluminous documentation of his service, we learned he was entitled to a marker in any of the National Cemeteries. Mountain Home National Cemetery is closest to his home where he lived and died. He received full military honors. This is the 13-Star Betsy Ross flag used at his memorial service, and which was presented to me by the Colonel who presided over the service on 19 October 2009. It now sits on the mantel in it's three-sided cherry wood case.
One of Samuel Brashears' sons was named Sampson. Born in 1788, he was 24 when the War of 1812 started. He joined the army, and is a veteran of the War of 1812. He is buried in a family cemetery in Kentucky. They misspelled his name on the marker, which was not unusual in those days. He was my gg-grandfather.
There is a Veteran's Walk of Honor in Elizabethton, Tennessee. This is where the fort at Sycamore Shoals is located, and was the starting point for the Watauga Militia to begin their fast march across the Blue Ridge Mountains to a place called King's Mountain.
The 1,100 men of the Watauga Militia marched into history as the Overmountain Men.
Overmountan Man statue by local artist and sculptor Mark Estep in front of the Sycamore Shoals Visitor's Center.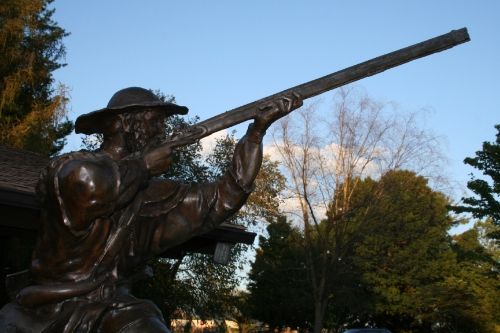 This arch is the beginning of the Walk of Honor.
Looking down one of the two walls of black tiles engraved with the names of heroes from this single east Tennessee county.
This diary is dedicated to Timothy.
United States Coast Guard
Semper Paratus, son.