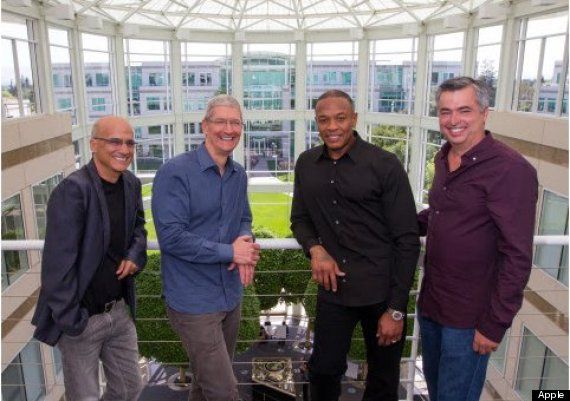 From left: Jimmy Iovine Beats Co-founder, Apple CEO Tim Cook, Dr. Dre Beats Co-founde, and Apple SVP Eddy Cue
Patently Apple reports that Apple Officially Announces the Acquisition of Beats Music & Electronics Prior to their World Wide Developer Conference. The much anticipated aquisition was for a total price of $3 billion.
This afternoon Apple put out a press release titled "Apple to Acquire Beats Music & Beats Electronics." Jimmy Iovine, a recording engineer that worked with John Lennon and helped to produce the great "Born to Run" Album by Bruce Springsteen stated that "I've always known in my heart that Beats belonged with Apple. The idea when we started the company was inspired by Apple's unmatched ability to marry culture and technology. Apple's deep commitment to music fans, artists, songwriters and the music industry is something special." [...] The acquistion will now be etched into Apple's history book as the largest to date.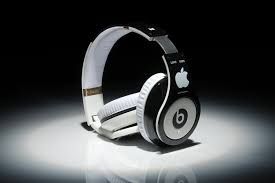 From Apple's Press Release:
Apple's CEO told the Financial Times earlier today that "We've got a streaming service that we believe is the first to get it right. They had the insight that human curation was very important . . . we think they've done an A plus job." Cook added that "Beats was superior to rival streaming services. Some of them are no more than a random set of songs put together."

Apple has timed their announcement of the acquisition of Beats Music and Beats Electronics prior to their World Wide Developer Conference which kicks off on Monday June 2, 2014. Earlier today Apple announced that NTT DoCoMo would begin selling Apple iPads by mid-June which will continue Apple's stronghold in the Japanese market. Whether there will be other announcements made prior to Monday's event is unknown at this time, but the drum is beginning to pound as we get closer to Monday's Keynote

Although tthe Beats brand headphones is not considered to be of the highest quality, it does allow Apple to start selling its own headphones in Apples Stores. The Beats Music steaming business seems to be considered the most important technology piece of the purchase.
Some analysts also mention the infusion of vision and talent of the two co-founders could also be a big plus