The Oregon Air and Space Museum in Eugene, Oregon, occupies two hangers displaying various aircraft and telling the history of aviation. One hanger is filled with experimental aircraft, including kit-built and home-built aircraft, as well as full-sized replicas and smaller scale replicas of classic aircraft. Shown below are photos of some of the kit-built and home-built airplanes which are on display.
Xiamen AD-100T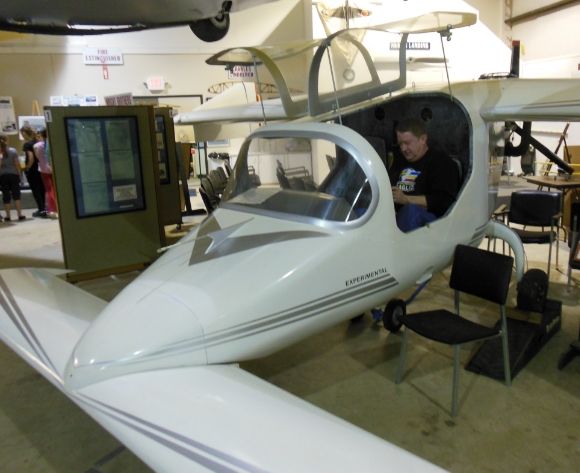 The AD-100 series of very light sport aircraft were designed by Chinese professors Qian Shi Sheng and Hang Liang-Xing. The AD-100s were designed for easy takedown, transport via trailer, and reassemble. The aircraft were built by the Xiamen Light Aircraft Company in Xiamen, China.
The BD-5J: The World's Smallest Jet

Taylor 2100 Bullet
Moulton Taylor of Longview, Washington, began designing innovative aircraft in the 1940s. Together with Jerry Holcomb he designed the Bullet 2100 with a speed of 150 mph as a goal. This aircraft is made from paper: heavy Kraft paper with fiberglass and polyester resin applied to it. It is powered by a modified Volkswagen engine and only has a speed of 120 mph.
Rutan Quickie One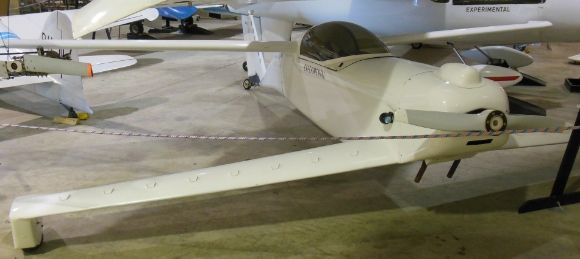 Designed by Burt Rutan and Tom Jewett, the Quickie is a tandem wing aircraft designed in 1977. The goal was to create a homebuilt aircraft that could be completed by the average buyer in about two weekends: hence the name "Quickie." Over 3,000 kits have been produced and sold.
Helicopter
Shown above is the Triumph motorcycle engine which powers the helicopter.
Smith Termite:

This single seat, strut braced parasol wing monoplane was designed by Wilbur Smith of Bloomington, Illinois in 1953 for first-time homebuilders. The plans originally sold for $15 and several hundred Termites were built.
The Breezy: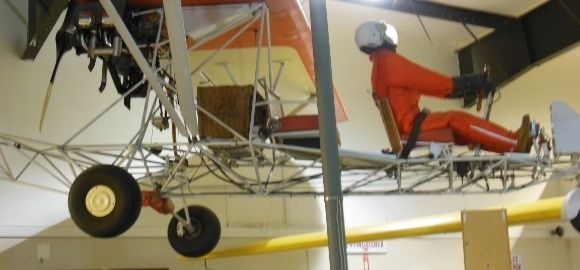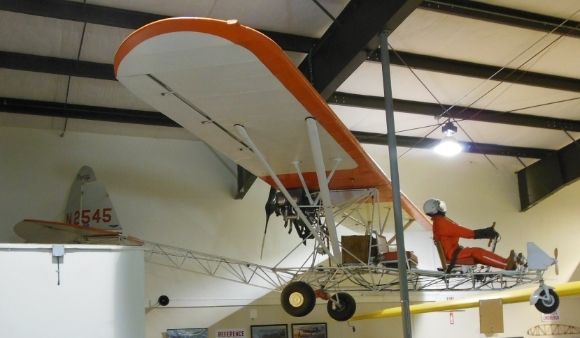 The Breezy was designed by Charles B. Roloff as a home-built high wing parasol pusher. According to oral tradition, the aircraft landed in a meadow at a nudist camp and then took one of the women for a short flight wearing only a helmet. When asked about the ride, she is reported to have said: "It was a little breezy."
Striplin Lone Ranger:
This aircraft was designed by Kenneth Striplin of the Striplin Aircraft Corporation.
Mitchell B-10 Flying Wing:
Designed by Don Mitchell, of Mitchell Aircraft Corporation, Porterville, California, the B-10 was originally a hang glider. An engine, a pilot's cage, and a tricycle landing gear were added. In the mid-1980s, the plans sold for $125. Most builders took 400 to 500 hours to build the aircraft.