Imagine if you turned on your TV and as you're flipping through the channels, everyone, on shows you recognize and on shows you don't, is singing Bob Dylan's "Like A Rolling Stone."
And imagine as you flipped through the channels, the person singing would pick up exactly where the person in the previous channel left off. So you could watch the entire song on one channel, or you could watch the entire song through 2, 3, 16 channels, sung by various TeeVee persons on the Food Channel, Pawn Stars, Real Housewives of Wherever, the News and Business channels, you name it.
The video for this is not embeddable, possibly because of the software that enables it. But you can go to it here. See those up and down buttons on the left hand side of the screen? Go ahead and click on them, up or down, as many times as you want.
Too cool!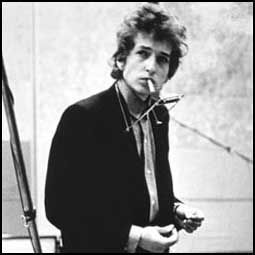 Some background on the song:

"Like a Rolling Stone" is a 1965 song by the American singer-songwriter Bob Dylan. Its confrontational lyrics originate in an extended piece of verse Dylan wrote in June 1965, when he returned exhausted from a grueling tour of England. Dylan distilled this draft into four verses and a chorus. "Like a Rolling Stone" was recorded a few weeks later as part of the sessions for the forthcoming album Highway 61 Revisited.

* * *

The track has been described as revolutionary in its combination of different musical elements, the youthful, cynical sound of Dylan's voice, and the directness of the question "How does it feel?". "Like a Rolling Stone" transformed Dylan's career and is today considered one of the most influential compositions in post-war popular music and has since its release been both a music industry and popular culture milestone which elevated Dylan's image to iconic.
More on the video
here:
Bob Dylan's 1965 classic "Like a Rolling Stone," which Rolling Stone named the greatest song of all time, finally has an official video. Created by the digital agency Interlude, the video is interactive, allowing viewers to flip through 16 television channels as a variety of television personalities lip-sync the lyrics....[.]

"I'm using the medium of television to look back right at us," director Vania Heymann told Mashable. "You're flipping yourself to death with switching channels [in real life]." Adds Interlude CEO Yoni Bloch: "You'll always miss something because you can't watch everything at the same time."